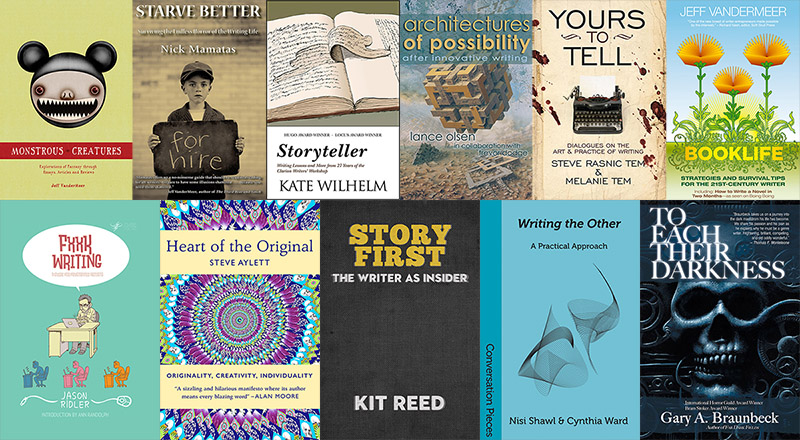 There are as many ways to become a writer as there are writers, and as many styles and voices as there are eager readers for them. One writing guide is not enough, and indeed, one type of writing guide is not enough. The Write Now! StoryBundle empowers you not just to become a better writer, but to discover the myriad ways one can become a writer.
The bundle, perfect for a New Year's Resolution, to start writing, includes practical guides to the particulars of being a working writer, memoiristic explorations of the writing life, specific deep-dives into issues of representation, and explicit attempts to blow your mind!
We have two titles by best-selling author Jeff VanderMeer, from the days before he was a best-seller. Booklife details not just writing, but career strategy, five-year plans and more...the strategy clearly worked. Monstrous Creatures is an examination of monsters both supernatural and human, fantastical and all too real.
Fxxk Writing and Starve Better are straightforward collections of inspiration, specifics, complaints, and warnings for the curious. The late Kit Reed's seminal Story First examines every element of fiction in a way that is both entirely practical and imminently personal, to empower you to write the stories that only you can write.
Yours to Tell by Steve Rasnic Tem and Melanie Tem is a charming duet of sorts between two writers and partners exploring every facet of the writing life. Writing the Other by Nisi Shawl and Cynthia Ward offers another sort of dialogue—one for people looking to write about characters that are different from themselves in a thoughtful and accurate way.
Kate Wilhelm's Storyteller combines professional reminiscences with notes from the venerable Clarion Writers Workshop, which produces many of science fiction and fantasy's most beloved authors. To Each Their Darkness by Gary A. Braunbeck is as singular an examination of writing, but Braunbeck goes it alone.
Lance Olsen's Architectures of Possibility comes from the innovative/experimental stream of contemporary fiction, but its beyond-the-basics questioning of every axiom will be of vital help to a writer of any stripe. And then there is The Heart of the Original by Steve Aylett, which, to put it bluntly, will rewire your mind if you let it, and you should let it.
Ready to be a writer. Download now! – Nick Mamatas
For StoryBundle, you decide what price you want to pay. For $5 (or more, if you're feeling generous), you'll get the basic bundle of four books in any ebook format—WORLDWIDE.
Starve Better by Nick Mamatas
Storyteller: Writing Lessons and More by Kate Wilhelm
Architectures of Possibility by Lance Olsen and Trevor Dodge
Monstrous Creatures by Jeff VanderMeer
If you pay at least the bonus price of just $15, you get all four of the regular books, plus SEVEN more books!
To Each Their Darkness by Gary A. Braunbeck
Yours to Tell by Steven Rasnic Tem and Melanie Tem
Story First - The Writer as Insider by Kit Reed
Fxxk Writing: A Guide for Frustrated Artists by Jason S. Ridler
Writing the Other by Nisi Shawl and Cynthia Ward
Heart of the Original by Steve Aylett
Booklife by Jeff VanderMeer
This bundle is available only for a limited time via http://www.storybundle.com. It allows easy reading on computers, smartphones, and tablets as well as Kindle and other ereaders via file transfer, email, and other methods. You get multiple DRM-free formats (.epub and .mobi) for all books!
It's also super easy to give the gift of reading with StoryBundle, thanks to our gift cards – which allow you to send someone a code that they can redeem for any future StoryBundle bundle – and timed delivery, which allows you to control exactly when your recipient will get the gift of StoryBundle.
Why StoryBundle? Here are just a few benefits StoryBundle provides.
Get quality reads: We've chosen works from excellent authors to bundle together in one convenient package.
Pay what you want (minimum $5): You decide how much these fantastic books are worth. If you can only spare a little, that's fine! You'll still get access to a batch of exceptional titles.
Support authors who support DRM-free books: StoryBundle is a platform for authors to get exposure for their works, both for the titles featured in the bundle and for the rest of their catalog. Supporting authors who let you read their books on any device you want—restriction free—will show everyone there's nothing wrong with ditching DRM.
Give to worthy causes: Bundle buyers have a chance to donate a portion of their proceeds to Books Through Bars and the Prisoners Literature Project!
Receive extra books: If you beat the bonus price, you'll get the bonus books!
StoryBundle was created to give a platform for independent authors to showcase their work, and a source of quality titles for thirsty readers. StoryBundle works with authors to create bundles of ebooks that can be purchased by readers at their desired price. Before starting StoryBundle, Founder Jason Chen covered technology and software as an editor for Gizmodo.com and Lifehacker.com.
For more information, visit our website at storybundle.com, tweet us at @storybundle and like us on Facebook. For press inquiries, please email press@storybundle.com.