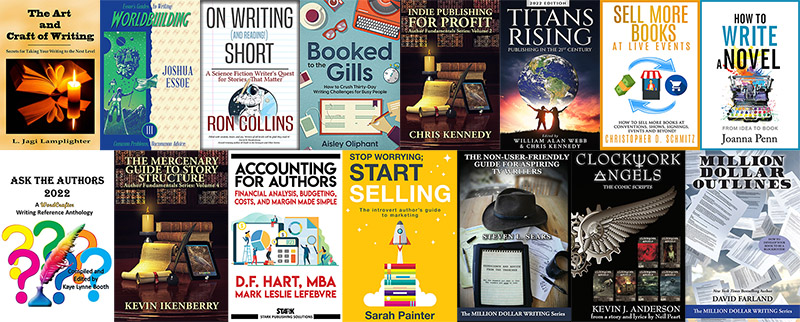 The Writer's Career Toolkit Bundle - Curated by Kevin J. Anderson
This is the time of year when a lot of people turn their thoughts to writing. Challenges such as the National Novel Writing Month (November) and other writing groups and workshops encourage you to push your craft and productivity.
So, each year I put together a big writing StoryBundle packed with insightful books on a wide range of topics relevant to writers, both newbies and old pros. I include craft books, basic advice, time-management and productivity, careers planning, publishing, and marketing—the complete bag of tricks!
This year we have fifteen titles, enough to keep you busy planning your next project and your entire writing career.
For basics, I've included Kaye Lynn Booth's comprehensive Ask the Authors, the ultimate writing reference anthology, with writing tips and advice from eleven different authors on everything from pre-writing rituals, to character development and world building, editing and revision, publishing, book marketing and more. L. Jagi Lamplighter's sharply insightful The Art and Craft of Writing delves into the nature of storytelling itself to discover simple and practical steps that can bring our writing to the next level. And if today's most successful publishers, editors, and writers wanted to share the lessons they've learned, would you listen? Here's your chance in Titans Rising: The Business of Writing Science Fiction, Fantasy, and Horror in the 21st Century by William Alan Webb and Chris Kennedy.
Next, if you're ready to write that novel, Joanna Penn will get you started with How to Write a Novel, everything you need to write your book from idea to finished final draft. David Farland's Million Dollar Outlines is the seminal writing manual on outlining and structuring a book to make it reach the largest audience, written by well-known master and teacher. And Kevin Ikenberry's Mercenary Guide to Story Structure gives a great overview of your story: All stories have structure—learn the ins and outs of the most common modern structures and how they enhance your characters and the stories they inhabit.
And you can't get anything done unless you learn how to find and organize your writing time. Booked to the Gills: How to Crush Thirty-Day Writing Challenges for Busy People teaches time management, workload distribution, and other skills for writers who feel they have no time to participate in writing challenges such as National Novel Writing Month.
Now to more specific skills, depending on what you're writing. Joshua Essoe continues his series of Guides with Worldbuilding, written by an editor from the perspective of tackling all the most-common issues writers struggle with when creating worlds. On Writing (and Reading!) Short by Ron Collins is a celebration of writing, reading, and living short fiction. Interested in writing scripts? My own book of Clockwork Angels: The Comic Scripts contains nitty-gritty inside examples of how to write a comic script, all six complete scripts for the BOOM! Studios comic series from bestelling author and award-winning comic writer. In The Non-User-Friendly Guide for Aspiring TV Writers by Steven L. Sears, a veteran successful TV writer shares tips and inside knowledge on how to break in to writing for TV.
Once you have your masterpiece completed, you need to turn your mind to the business. If you decide to go the indie publishing route, a vital guidebook is Chris Kennedy's Indie Publishing for Profit: How to Get Your Book Out of Your Head and Into the Stores, which teaches both the craft and business of writing. Sarah Painter's Stop Worrying; Start Selling:The Introvert Author's Guide to Marketing shows you how to take control of your success as an author and build your readership through authentic, low-stress marketing. Christopher D. Schmitz sells thousands of paperbacks every year by identifying his fanbase and targeting where those folks go... and he shows you how to replicate his success in Sell More Books at Live Events.
And finally, you can't forget about the numbers. Read Accounting for Authors by D.F. Hart and Mark Leslie Lefebvre. Regardless of how you are publishing, having a solid understanding of basic accounting principles allows you to make the most out of your author earnings and calculate your pathways to success.
With this StoryBundle, you'll be well equipped for your writing and publishing journey. – Kevin J. Anderson
"Bonus for StoryBundle—discount on Superstars Writing Seminars! Use code BUNDLE2023 for $100 off a new member or Student/military registration to Superstars Writing Seminars 2023! See details here.
* * *
For StoryBundle, you decide what price you want to pay. For $5 (or more, if you're feeling generous), you'll get the basic bundle of five books in any ebook format—WORLDWIDE.
On Writing (and Reading!) Short by Ron Collins
The Art and Craft of Writing by L. Jagi Lamplighter
Essoe's Guides to Writing: Worldbuilding by Joshua Essoe
Indie Publishing for Profit by Chris Kennedy
Booked to the Gills by Aisley Oliphant
If you pay at least the bonus price of just $20, you get all five of the regular books, plus ten more books for a total of 15!
Million Dollar Outlines by David Farland
Clockwork Angels - The Comic Scripts by Kevin J. Anderson
The Non-User-Friendly Guide for Aspiring TV Writers by Steven L. Sears
Stop Worrying; Start Selling by Sarah Painter
Accounting for Authors by D.F. Hart, MBA and Mark Leslie Lefebvre
The Mercenary Guide to Story Structure by Kevin Ikenberry
Ask the Authors 2022 edited by Kaye Lynne Booth
How to Write a Novel - From Idea to Book by Joanna Penn
Sell More Books at Live Events by Christopher D. Schmitz
Titans Rising edited by William Alan Webb and Chris Kennedy
This bundle is available only for a limited time via http://www.storybundle.com. It allows easy reading on computers, smartphones, and tablets as well as Kindle and other ereaders via file transfer, email, and other methods. You get multiple DRM-free formats (.epub, .mobi) for all books!
It's also super easy to give the gift of reading with StoryBundle, thanks to our gift cards – which allow you to send someone a code that they can redeem for any future StoryBundle bundle – and timed delivery, which allows you to control exactly when your recipient will get the gift of StoryBundle.
Why StoryBundle? Here are just a few benefits StoryBundle provides.
Get quality reads: We've chosen works from excellent authors to bundle together in one convenient package.
Pay what you want (minimum $5): You decide how much these fantastic books are worth. If you can only spare a little, that's fine! You'll still get access to a batch of exceptional titles.
Support authors who support DRM-free books: StoryBundle is a platform for authors to get exposure for their works, both for the titles featured in the bundle and for the rest of their catalog. Supporting authors who let you read their books on any device you want—restriction free—will show everyone there's nothing wrong with ditching DRM.
Give to worthy causes: Bundle buyers have a chance to donate a portion of their proceeds to the Challenger Center for Space Education!
Receive extra books: If you beat the bonus price, you'll get the bonus books!
StoryBundle was created to give a platform for independent authors to showcase their work, and a source of quality titles for thirsty readers. StoryBundle works with authors to create bundles of ebooks that can be purchased by readers at their desired price. Before starting StoryBundle, Founder Jason Chen covered technology and software as an editor for Gizmodo.com and Lifehacker.com.
For more information, visit our website at storybundle.com, tweet us at @storybundle and like us on Facebook. For press inquiries, please email press@storybundle.com.