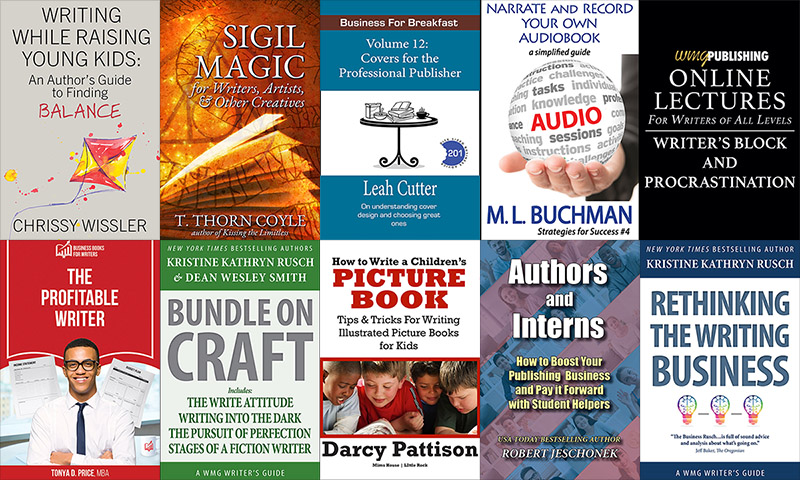 The Write Stuff 2020 Bundle - Curated by Kristine Kathryn Rusch
In the past two months, while sheltering at home, I've heard from writers I haven't heard from in years. It seems, with this break in everyday life, they've had a chance to think about lost dreams, old hopes, and abandoned futures. Many of these writers have started writing again, after more than a decade of hiatus.
They're entering a new world. One filled with the same old pitfalls and a whole bunch of new ones. The writers whose careers will survive the Twenties will know how to manage money, how to improve their craft, and how to properly publish their work.
I thought of all those things as I put this bundle together. I mentally divided the bundle into three categories:
• How to work at home: Dean Wesley Smith narrates a lecture that will help writers overcome procrastination (an at-home problem), and to see writer's block for what it really is. Chrissy Wissler provides much needed help for all the parents struggling to balance their kids' needs with their own.
• How to improve your writing: We have a number of books on that. The Bundle on Craft includes four writing books on craft. Thorn Coyle teaches how to use Sigil Magic to improve creativity. Darcy Pattison uses her years of expertise as an award-winning children's book writer to help others excel in that difficult genre.
• How to increase your profitability: Leah Cutter will help you improve your covers, which will help your sales. Tonya D. Price's business advice will help you keep more of your hard-earned money. Robert Jeschonek's Authors and Interns will show you how to get great help. Matt Buchman will teach you how to narrate your own audio books, and my Rethinking The Writing Business will show you how licensing your work will put more money in your pocket even if you never write another word.
Lots of great stuff here for as little as $15. And one of the best parts? Half of this bundle is exclusive. You can't buy the books anywhere else.
In addition, we're going to try to improve the quality of life for people we've never even met. If you feel so inclined, you can give a portion of your fee to our charity, AbleGamers. AbleGamers makes it possible for people with disabilities to participate in the world of online gaming, by providing everything from equipment personalized for each person's needs to advice to the game developers on how to make their entertainment accessible. Online gaming isn't just about relaxation and fun. It also provides support and a large community for players, and is especially important to people who are house- or bedbound. So, please, give a few dollars to AbleGamers as you pick up all of this knowledge for yourself.
This bundle excites me a great deal. You'll find a lot of learning here, not just for writing and publishing, but also for enjoying life. I hope the bundle thrills you as much as it thrills me. Pick up yours now—and thanks! – Kristine Kathryn Rusch
* * *
For StoryBundle, you decide what price you want to pay. For $5 (or more, if you're feeling generous), you'll get the basic bundle of four books in any ebook format—WORLDWIDE.
Writing While Raising Young Kids by Chrissy Wissler (StoryBundle Exclusive!)
Business For Breakfast - Vol 12: Covers for the Professional Publisher by Leah Cutter
Narrate and Record Your Own Audiobook by M.L. Buchman
Sigil Magic by T. Thorn Coyle
If you pay at least the bonus price of just $15, you get all four of the regular books, plus six more more books, for a total of ten! That's a total of five StoryBundle exclusives!
How to Write a Children's Picture Book by Darcy Pattison
The Profitable Writer by Tonya D. Price, MBA (StoryBundle Exclusive!)
Authors and Interns by Robert Jeschonek (StoryBundle Exclusive!)
Rethinking the Writing Business by Kristine Kathryn Rusch (StoryBundle Exclusive!)
Bundle On Craft by Kristine Kathryn Rusch and Dean Wesley Smith (StoryBundle Exclusive!)
WMG Publishing Presents: Writer's Block and Procrastination? by Dean Wesley Smith
This bundle is available only for a limited time via http://www.storybundle.com. It allows easy reading on computers, smartphones, and tablets as well as Kindle and other ereaders via file transfer, email, and other methods. You get multiple DRM-free formats (.epub, .mobi) for all books!
It's also super easy to give the gift of reading with StoryBundle, thanks to our gift cards – which allow you to send someone a code that they can redeem for any future StoryBundle bundle – and timed delivery, which allows you to control exactly when your recipient will get the gift of StoryBundle.
Why StoryBundle? Here are just a few benefits StoryBundle provides.
Get quality reads: We've chosen works from excellent authors to bundle together in one convenient package.
Pay what you want (minimum $5): You decide how much these fantastic books are worth. If you can only spare a little, that's fine! You'll still get access to a batch of exceptional titles.
Support authors who support DRM-free books: StoryBundle is a platform for authors to get exposure for their works, both for the titles featured in the bundle and for the rest of their catalog. Supporting authors who let you read their books on any device you want—restriction free—will show everyone there's nothing wrong with ditching DRM.
Give to worthy causes: Bundle buyers have a chance to donate a portion of their proceeds to AbleGamers!
Receive extra books: If you beat the bonus price, you'll get the bonus books!
StoryBundle was created to give a platform for independent authors to showcase their work, and a source of quality titles for thirsty readers. StoryBundle works with authors to create bundles of ebooks that can be purchased by readers at their desired price. Before starting StoryBundle, Founder Jason Chen covered technology and software as an editor for Gizmodo.com and Lifehacker.com.
For more information, visit our website at storybundle.com, tweet us at @storybundle and like us on Facebook. For press inquiries, please email press@storybundle.com.