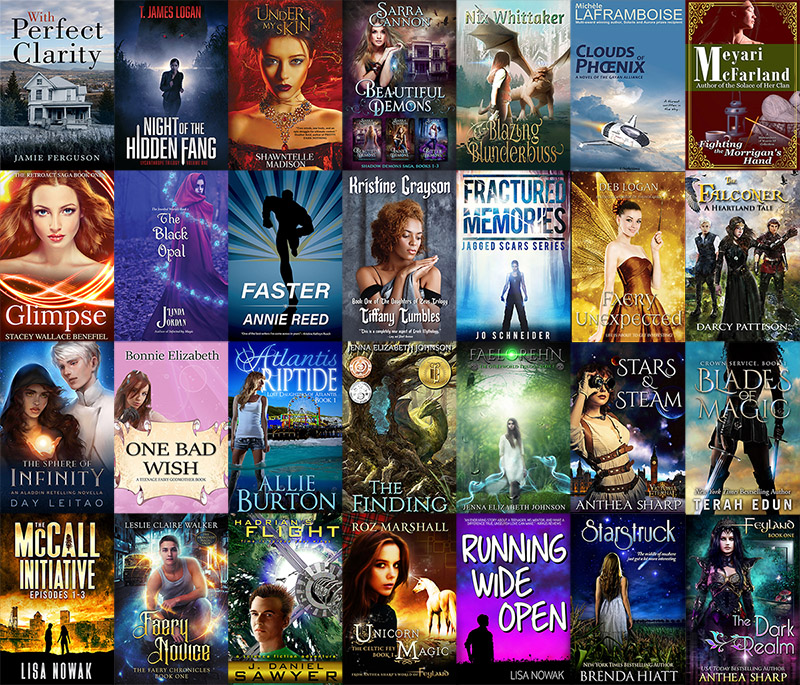 The Young Adult Charity MegaBundle - Curated by Anthea Sharp
When StoryBundle owner Jason approached me a couple weeks ago about putting together a YA MegaBundle for a super-low price, I jumped at the opportunity. I love connecting authors with one another, and with readers. This huge multi-genre project is a perfect chance to benefit a good cause (children's literacy) and bring a little brightness into the world—for parents and teens alike—during this difficult time.
We've gathered a truly exceptional collection of YA books for you in a range of SF/F genres. Whether you're looking for a pulse-pounding action in space, a witchy urban fantasy mystery, or a sweeter tale of unicorns and magic, this MegaBundle delivers.
And not only are these 28 books packed with fabulous adventure, the bundle itself is an amazing deal. In the spirit of generosity and providing hope, authors have included books that, combined, would cost over $50 if bought at regular retail price. Half the MegaBundle profits will go to Mighty Writers, a non-profit organization benefiting children's literacy that is also doing some important food security outreach right now for the disadvantaged population it serves. Check out more at Mightywriters.org.
Pay what you want! Since money is tight for a lot of people, we've set the floor of this bundle at a mere dollar, but if you're in a position to spend a little more for this great collection, please do. It's worth it.
So scoop up this bundle, get over two dozen novels (including award-winning books from NYT and USA Today bestselling authors), AND make the world a better place. What are you waiting for? – Anthea Sharp
* * *
For StoryBundle, you decide what price you want to pay. For this special MegaBundle, you get all 28 books for a price you name, in multiple formats—WORLDWIDE.
Glimpse by Stacey Wallace Benefiel
Night of the Hidden Fang by T. James Logan
Under My Skin by Shawntelle Madison
Beautiful Demons - Books 1-3 by Sarra Cannon
Blazing Blunderbuss by Nix Whittaker
Clouds of Phoenix by Michèle Laframboise
Fighting the Morrigan's Hand by Meyari McFarland
The Black Opal by Linda Jordan
Faery Novice by Leslie Claire Walker
Tiffany Tumbles by Kristine Grayson
Fractured Memories by Jo Schneider
With Perfect Clarity by Jamie Ferguson
Faery Unexpected by Deb Logan
The Falconer by Darcy Pattison
The Sphere of Infinity by Day Leitao
One Bad Wish by Bonnie Elizabeth
Faster by Annie Reed
Atlantis Riptide by Allie Burton
Running Wide Open by Lisa Nowak
The McCall Initiative - Episodes 1-3 by Lisa Nowak
Blades Of Magic: Crown Service Book #1 by Terah Edun
Unicorn Magic by Roz Marshall
Hadrian's Flight by J. Daniel Sawyer
Stars & Steam by Anthea Sharp
The Dark Realm by Anthea Sharp
Starstruck by Brenda Hiatt
Faelorehn by Jenna Elizabeth Johnson
The Finding by Jenna Elizabeth Johnson
This bundle is available only for a limited time via http://www.storybundle.com. It allows easy reading on computers, smartphones, and tablets as well as Kindle and other ereaders via file transfer, email, and other methods. You get multiple DRM-free formats (.epub, .mobi) for all books!
It's also super easy to give the gift of reading with StoryBundle, thanks to our gift cards – which allow you to send someone a code that they can redeem for any future StoryBundle bundle – and timed delivery, which allows you to control exactly when your recipient will get the gift of StoryBundle.
Why StoryBundle? Here are just a few benefits StoryBundle provides.
Get quality reads: We've chosen works from excellent authors to bundle together in one convenient package.
Pay what you want (minimum $1): You decide how much these fantastic books are worth. If you can only spare a little, that's fine! You'll still get access to a batch of exceptional titles.
Support authors who support DRM-free books: StoryBundle is a platform for authors to get exposure for their works, both for the titles featured in the bundle and for the rest of their catalog. Supporting authors who let you read their books on any device you want—restriction free—will show everyone there's nothing wrong with ditching DRM.
Give to worthy causes: Bundle buyers have a chance to donate a portion of their proceeds to Mighty Writers!
StoryBundle was created to give a platform for independent authors to showcase their work, and a source of quality titles for thirsty readers. StoryBundle works with authors to create bundles of ebooks that can be purchased by readers at their desired price. Before starting StoryBundle, Founder Jason Chen covered technology and software as an editor for Gizmodo.com and Lifehacker.com.
For more information, visit our website at storybundle.com, tweet us at @storybundle and like us on Facebook. For press inquiries, please email press@storybundle.com.