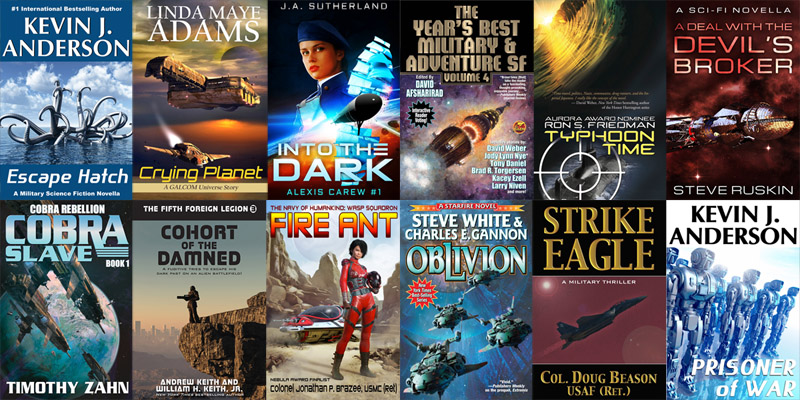 The 2018 Military SF Bundle - Curated by Kevin J. Anderson
Strap in, adjust your uniform, fire up the engines, and get ready to defend the Earth against all threats, extraterrestrial and domestic! I've curated a new Military Science Fiction StoryBundle with a dozen great books from the high-tech battlefields right here on our home planet to the farthest reaches of the galaxy.
This StoryBundle contains two of my standalone military SF novellas, ESCAPE HATCH and PRISONER OF WAR, and COBRA SLAVE by Timothy Zahn, as well as OBLIVION by Steve White and Charles E. Gannon, part of the New York Times bestselling Starfire series. Baen Books provided the brand new, hot-off-the-presses YEAR'S BEST MILITARY AND ADVENTURE SF, edited by David Afsharirad, with excellent stories by David Weber, Jody Lynn Nye, Larry Niven, and more.
Three of these books are written by veterans of the armed services, who bring their own gritty experiences into writing, FIRE ANT by Jonathan Brazee, CRYING PLANET by Linda Maye Adams, and STRIKE EAGLE by Doug Beason.
Ron Friedman's time travel thriller TYPHOON TIME, J.A. Sutherland's INTO THE DARK, Steve Ruskin's A DEAL WITH THE DEVIL'S BROKER, and Andrew and William Keith's COHORT OF THE DAMNED round out the bundle.
As always with StoryBundle, you name your own price. Get the base level of four books for $5 or the entire dozen for as little as $15. You support independent authors and small presses, and a portion of the proceeds goes to benefit the remarkable work of the Challenger Learning Center for Space Science Education. The Military SF StoryBundle is available for only three weeks here: https://storybundle.com/military – Kevin J. Anderson
The initial titles in the The 2018 Military SF Bundle (minimum $5 to purchase) are:
Escape Hatch by Kevin J. Anderson
Strike Eagle by Doug Beason
The Year's Best Military & Adventure SF Vol. 4 by David Afsharirad
Oblivion by Steve White and Charles E. Gannon
If you pay at least the bonus price of just $15, you get all four of the regular titles, plus EIGHT more!
Cohort of the Damned by Andrew Keith and William H. Keith, Jr.
Typhoon Time by Ron S. Friedman
Prisoner of War by Kevin J. Anderson
A Deal with the Devil's Broker by Steve Ruskin
Into the Dark - Alexis Carew #1 by J.A. Sutherland
Crying Planet by Linda Maye Adams
Fire Ant by Jonathan P. Brazee
Cobra Slave - Cobra Rebellion Book 1 by Timothy Zahn
This bundle is available only for a limited time via http://www.storybundle.com. It allows easy reading on computers, smartphones, and tablets as well as Kindle and other ereaders via file transfer, email, and other methods. You get multiple DRM-free formats (.epub and .mobi) for all books!
It's also super easy to give the gift of reading with StoryBundle, thanks to our gift cards – which allow you to send someone a code that they can redeem for any future StoryBundle bundle – and timed delivery, which allows you to control exactly when your recipient will get the gift of StoryBundle.
Why StoryBundle? Here are just a few benefits StoryBundle provides.
Get quality reads: We've chosen works from excellent authors to bundle together in one convenient package.
Pay what you want (minimum $5): You decide how much these fantastic books are worth. If you can only spare a little, that's fine! You'll still get access to a batch of exceptional titles.
Support authors who support DRM-free books: StoryBundle is a platform for authors to get exposure for their works, both for the titles featured in the bundle and for the rest of their catalog. Supporting authors who let you read their books on any device you want—restriction free—will show everyone there's nothing wrong with ditching DRM.
Give to worthy causes: Bundle buyers have a chance to donate a portion of their proceeds to The Challenger Center for Space Education!
Receive extra books: If you beat the bonus price, you'll get the bonus books!
StoryBundle was created to give a platform for independent authors to showcase their work, and a source of quality titles for thirsty readers. StoryBundle works with authors to create bundles of ebooks that can be purchased by readers at their desired price. Before starting StoryBundle, Founder Jason Chen covered technology and software as an editor for Gizmodo.com and Lifehacker.com.
For more information, visit our website at storybundle.com, tweet us at @storybundle and like us on Facebook. For press inquiries, please email press@storybundle.com.