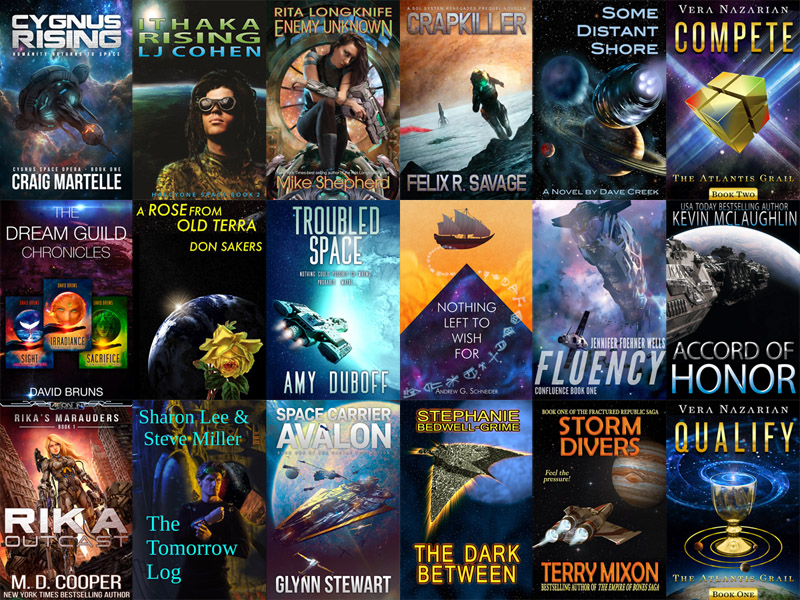 The Sci-Fi SFWA Space Bundle - Curated by Daniel Potter
Welcome to the largest, grandest and most out there bundle SFWA has ever done: the Sci-Fi SFWA Space Bundle! With 17 books that range from hardcore military sci-fi to character-focused alien encounters, we might have gone through the wormhole and out the other side.
SFWA serves authors at all points in their careers and we've embraced that diversity for this bundle. First, the Self-Publishing Committee reached out to a number of sci-fi authors throughout the genre who we know have enthusiastic and diverse fanbases. Then we opened the bundle up for submissions to our entire membership. We received far more submissions than we could actually put in this bundle, but after some rousing debate, we settled on a total of 17 spectacular titles.
Some highlights include:
The Dark Between by Stephanie Bedwell-Grime: Want something a bit different? I always do. This story starts with the spacehulk trope and goes in a direction that is totally unexpected. Space is a big strange place and Stephanie nails that with these interlocking characters.
Troubled Space by Amy Duboff:
Amy has honored us with a true treat, launching her new novel with our Storybundle. I went inblind expecting a plucky smuggler story but as the absurdities built I realized we'd gone from space opera to Spaceballs. Warning, this one may cause giggling as the absurities pile up.
Crapkiller by Felix R. Savage: On Ganymede, nothing is what it seems and this story straight up surprised me. I had been expecting an action-packed bug hunt, but what I got was a thoughtful adventure that serves as a crucible for its characters to mature into. Combined with Felix's rich world-building, this is a journey that shouldn't be missed.
These are but 3 of the 17 books we are bringing to you today. There are many wonders within this bundle and I'm sure every reader will find something to love within. When you do find gems that fits you, I urge you to reach out to the authors to let them know, write a review, or simply share the book with a friend.
Some of the proceeds of the bundle go to support SFWA in its mission to support, promote, inform, defend, and advocate for professional fantasy and science fiction writers. For more about the organization, see sfwa.org. For its grants program, see http://www.sfwa.org/2017/09/call-grants-2017/ – Daniel Potter
The initial titles in the The Sci-Fi SFWA Space Bundle (minimum $5 to purchase) are:
Cygnus Rising by Craig Martelle
Some Distant Shore by Dave Creek
Rita Longknife - Enemy Unknown by Mike Shepherd
Crapkiller by Felix R. Savage
Ithaka Rising by LJ Cohen
Compete - The Atlantis Grail Book 2 by Vera Nazarian
If you pay at least the bonus price of just $15, you get all six of the regular titles, plus ELEVEN more!
Nothing Left to Wish For by Andrew G. Schneider
Troubled Space by Amy DuBoff
The Dream Guild Chronicles Boxed Set (Books 1-3) by David Bruns
A Rose From Old Terra by Don Sakers
Fluency by Jennifer Foehner Wells
Accord of Honor by Kevin McLaughlin
Rika Outcast by M. D. Cooper
Space Carrier Avalon by Glynn Stewart
The Dark Between by Stephanie Bedwell-Grime
Storm Divers by Terry Mixon
The Tomorrow Log by Sharon Lee and Steve Miller
Not only that, but during our 3 week run, all StoryBundle newsletter subscribers get Qualify - The Atlantis Grail Book 1 by Vera Nazarian for free. Make sure to get that so you can enjoy Compete - The Atlantis Grail Book 2 by Vera Nazarian, available in the bundle!
This bundle is available only for a limited time via http://www.storybundle.com. It allows easy reading on computers, smartphones, and tablets as well as Kindle and other ereaders via file transfer, email, and other methods. You get multiple DRM-free formats (.epub and .mobi) for all books!
It's also super easy to give the gift of reading with StoryBundle, thanks to our gift cards – which allow you to send someone a code that they can redeem for any future StoryBundle bundle – and timed delivery, which allows you to control exactly when your recipient will get the gift of StoryBundle.
Why StoryBundle? Here are just a few benefits StoryBundle provides.
Get quality reads: We've chosen works from excellent authors to bundle together in one convenient package.
Pay what you want (minimum $5): You decide how much these fantastic books are worth. If you can only spare a little, that's fine! You'll still get access to a batch of exceptional titles.
Support authors who support DRM-free books: StoryBundle is a platform for authors to get exposure for their works, both for the titles featured in the bundle and for the rest of their catalog. Supporting authors who let you read their books on any device you want—restriction free—will show everyone there's nothing wrong with ditching DRM.
Give to worthy causes: Bundle buyers have a chance to donate a portion of their proceeds to the Science Fiction and Fantasy Writers of America!
Receive extra books: If you beat the bonus price, you'll get the bonus books!
StoryBundle was created to give a platform for independent authors to showcase their work, and a source of quality titles for thirsty readers. StoryBundle works with authors to create bundles of ebooks that can be purchased by readers at their desired price. Before starting StoryBundle, Founder Jason Chen covered technology and software as an editor for Gizmodo.com and Lifehacker.com.
For more information, visit our website at storybundle.com, tweet us at @storybundle and like us on Facebook. For press inquiries, please email press@storybundle.com.