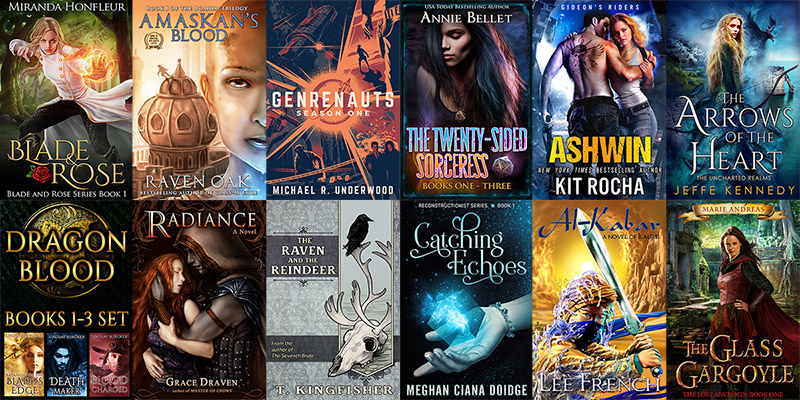 The 2019 SFWA Fantasy Bundle - Curated by Terry Mixon
Welcome to the Science Fiction and Fantasy Writers of America Fantasy StoryBundle of 2019! We're pleased to be working with StoryBundle to bring you some amazing stories this year, both from bestselling authors and bright stars on the rise.
It was a real pleasure reading the submissions from SFWA members this year and, as every year, we had a rough time narrowing the selection to just a few books. We think you'll be delighted as there is something for everyone in this great bundle.
SFWA is over 50 years old and its membership consists of professional writers and publishing professionals from around the globe. It administers the Nebula Awards each year, and so very much more. Check out the SFWA website at sfwa.org for information on genre writing, the field, and other services.
If you want to know more about other SFWA offerings, sign up for our quarterly newsletter, which features new and backlist releases from our members in the area of fiction, games, and other offerings.
Some of the highlights in this bundle are:
• The Arrows of the Heart by Jeffe Kennedy. What do you do when your boyfriend is an animal? Really. An animal.
• The Twenty-Sided Sorceress, Books 1-3 by Annie Bellet. Gamer. Nerd. Sorceress. After twenty-five years fleeing from a powerful sorcerer, a mostly-human woman is finally safe – if she can resist using her magic. Or can she?
• The Dragon Blood Collection, Books 1-3 by Lindsay Buroker. A dashing pilot, a comely sorceress, and a smart-mouthed soulsword all come together in a world intent on killing them.
• Radiance by Grace Draven. A marriage between alien kingdoms – and two "spares" who find beauty in each other, and that heroism comes in many forms.
• Ashwin by Kit Rocha. Can a genetically manipulated soldier be a hero? A healer finds a way to love a man without feelings—and fight for brightness in a dark world.
• The Raven and the Reindeer by Ursula Vernon. An enthralling remix of a classic fairy tale, with a practical heroine who follows her heart to a very different ending.
The SFWA Fantasy bundle only runs for three weeks, so don't hesitate. It's a great deal with a ton of terrific fiction just waiting for you click the button. We had a great time reading every book in this bundle. So should you.
For StoryBundle, you decide what price you want to pay. For $5 (or more, if you're feeling generous), you'll get the basic bundle of five books in any ebook format—WORLDWIDE.
The Twenty-Sided Sorceress - Books 1-3 by Annie Bellet
Ashwin by Kit Rocha
Blade & Rose by Miranda Honfleur
Amaskan's Blood by Raven Oak
Genrenauts - The Complete Season One by Michael R. Underwood
If you pay at least the bonus price of just $15, you get all five of the regular books, plus SEVEN more!
Radiance by Grace Draven
The Arrows of the Heart by Jeffe Kennedy
The Raven and the Reindeer by T. Kingfisher
Dragon Blood - Books 1-3 by Lindsay Buroker
Al-Kabar by Lee French
The Glass Gargoyle by Marie Andreas
Catching Echoes - Reconstructionist Series Book 1 by Meghan Ciana Doidge
This bundle is available only for a limited time via http://www.storybundle.com. It allows easy reading on computers, smartphones, and tablets as well as Kindle and other ereaders via file transfer, email, and other methods. You get multiple DRM-free formats (.epub and .mobi) for all books!
It's also super easy to give the gift of reading with StoryBundle, thanks to our gift cards – which allow you to send someone a code that they can redeem for any future StoryBundle bundle – and timed delivery, which allows you to control exactly when your recipient will get the gift of StoryBundle.
Why StoryBundle? Here are just a few benefits StoryBundle provides.
Get quality reads: We've chosen works from excellent authors to bundle together in one convenient package.
Pay what you want (minimum $5): You decide how much these fantastic books are worth. If you can only spare a little, that's fine! You'll still get access to a batch of exceptional titles.
Support authors who support DRM-free books: StoryBundle is a platform for authors to get exposure for their works, both for the titles featured in the bundle and for the rest of their catalog. Supporting authors who let you read their books on any device you want—restriction free—will show everyone there's nothing wrong with ditching DRM.
Give to worthy causes: Bundle buyers have a chance to donate a portion of their proceeds to the Science Fiction and Fantasy Writers of America!
Receive extra books: If you beat the bonus price, you'll get the bonus books!
StoryBundle was created to give a platform for independent authors to showcase their work, and a source of quality titles for thirsty readers. StoryBundle works with authors to create bundles of ebooks that can be purchased by readers at their desired price. Before starting StoryBundle, Founder Jason Chen covered technology and software as an editor for Gizmodo.com and Lifehacker.com.
For more information, visit our website at storybundle.com, tweet us at @storybundle and like us on Facebook. For press inquiries, please email press@storybundle.com.