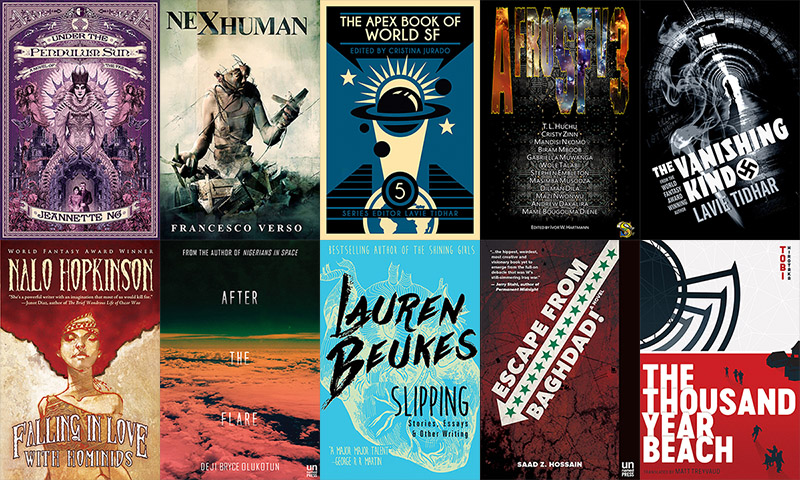 The 2019 World SF Bundle - Curated by Lavie Tidhar
I've been working to promote international speculative fiction for over ten years and, in that time, the landscape of the genre has changed beyond recognition. Back when I put together the first Apex Book of World SF anthology, material was short on the ground. I borrowed the very term "World SF" from a defunct organisation that was set up during the Cold War to allow Western and Soviet authors to get together (for what were, by all accounts, pleasant enough drinking opportunities, if not much else) and repurposed it. Now, as we near the third decade of the 21st century, the field is, if not exactly crowded, nevertheless filled with new anthologies, translations, novels and short stories from around the world, by a new generation of truly global writers.
The success of last year's World SF Bundle was such that I got the opportunity to put together a second one. Jeannette Ng's Under The Pendulum Sun blew me away straight off the gate – I begged the publishers for an advance reading copy before it was ever published, and wasn't disappointed. It's one of the most original takes on Fairyland in years. A friend introduced me to Saad Z. Hossain's Escape From Baghdad!, and again, this was such a fabulous debut novel – and so funny! – that I knew I had to include it if I just got the chance.
Nalo Hopkinson is a name that needs no introduction – she's been a significant voice in SF ever since publication of Brown Girl In The Ring in 1998. And as an anthologist she's been an inspiration for my own editing work. I jumped at the opportunity to include her latest short story collection here.
We partnered with Japanese SF-in-translation imprint Haikasoru before, and they were kind enough to let me include The Thousand Year Beach by TOBI Hirotaka this time around, an elegiac tale of A.I.s and virtual worlds. Another SF novel here is Italian Francesco Verso's NexHuman, about a trash scavenger in the near future. Francesco – who under the imprint Future Fiction dedicates much of his time to the promotion of World SF – is an accomplished SF writer in his own right, with a passion for near-future SF that burns bright.
Deji Bryce Olukotun made quite a splash with his debut, Nigerians in Space, and I'm delighted to be able to include his follow up, After The Flare, an SF novel set in Nigeria. Spanish author Cristina Jurado takes the reigns of the fifth – yes, fifth! – Apex Book of World SF anthology for a trip round the world of science fiction, fantasy, horror and everything in between, while my own The Vanishing Kind makes up a part of the bundle – it's a story I'm very fond of.
Ivor Hartmann is another person dedicated to the promotion of World SF. His Afro SF anthologies have been revolutionary, providing a home for a wide variety of African SF/F, and I'm delighted I got the chance to include the latest one here. South African author Lauren Beukes went on to international success with the best-selling The Shining Girls, and here I get the chance to include her superb first collection of short stories, Slipping.
As last time, our chosen charity for this bundle is English PEN. They work tirelessly to promote translated works into English, championing literature beyond national and linguistic borders. They provide funding for translation projects, are the founding centre of a worldwide writers' association with 145 centres in more than 100 countries, and are also a founding member of the Free Word Centre. They campaign to defend writers and readers in the UK and around the world whose human right to freedom of expression is at risk. I couldn't think of a better partner for this bundle, and hope you help us support them and their work.
I hope you enjoy this selection of novels as much as I did putting it together and find both familiar favourites and intriguing new voices to read! – Lavie Tidhar
For StoryBundle, you decide what price you want to pay. For $5 (or more, if you're feeling generous), you'll get the basic bundle of four books in any ebook format—WORLDWIDE.
Afro SF V3 by Ivor W. Hartmann
The Apex Book of World SF 5 by Cristina Jurado and Lavie Tidhar
Nexhuman by Francesco Verso
Under the Pendulum Sun by Jeannette Ng
If you pay at least the bonus price of just $15, you get all four of the regular books, plus SIX more!
Escape from Baghdad! by Saad Z. Hossain
After the Flare by Deji Bryce Olukotun
The Thousand Year Beach by TOBI Hirotaka
Slipping by Lauren Beukes
Falling in Love with Hominids by Nalo Hopkinson
The Vanishing Kind by Lavie Tidhar
This bundle is available only for a limited time via http://www.storybundle.com. It allows easy reading on computers, smartphones, and tablets as well as Kindle and other ereaders via file transfer, email, and other methods. You get multiple DRM-free formats (.epub and .mobi) for all books!
It's also super easy to give the gift of reading with StoryBundle, thanks to our gift cards – which allow you to send someone a code that they can redeem for any future StoryBundle bundle – and timed delivery, which allows you to control exactly when your recipient will get the gift of StoryBundle.
Why StoryBundle? Here are just a few benefits StoryBundle provides.
Get quality reads: We've chosen works from excellent authors to bundle together in one convenient package.
Pay what you want (minimum $5): You decide how much these fantastic books are worth. If you can only spare a little, that's fine! You'll still get access to a batch of exceptional titles.
Support authors who support DRM-free books: StoryBundle is a platform for authors to get exposure for their works, both for the titles featured in the bundle and for the rest of their catalog. Supporting authors who let you read their books on any device you want—restriction free—will show everyone there's nothing wrong with ditching DRM.
Give to worthy causes: Bundle buyers have a chance to donate a portion of their proceeds to English PEN!
Receive extra books: If you beat the bonus price, you'll get the bonus books!
StoryBundle was created to give a platform for independent authors to showcase their work, and a source of quality titles for thirsty readers. StoryBundle works with authors to create bundles of ebooks that can be purchased by readers at their desired price. Before starting StoryBundle, Founder Jason Chen covered technology and software as an editor for Gizmodo.com and Lifehacker.com.
For more information, visit our website at storybundle.com, tweet us at @storybundle and like us on Facebook. For press inquiries, please email press@storybundle.com.