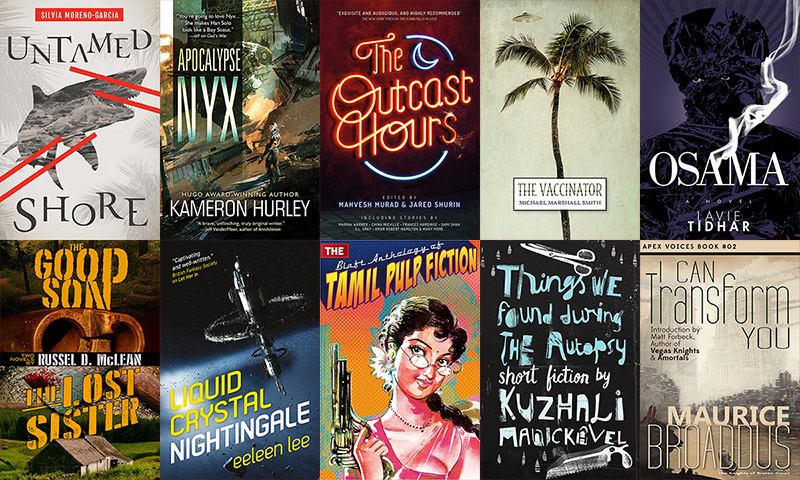 The International Noir Bundle - Curated by Lavie Tidhar
Noir. Venetian blinds casting lines of shadows, the smoke of a cigarette curling in the air, a silhouette in the doorway signalling danger. There is something about noir that is both of its own aesthetic and transcends time and place. All we know is that there is a moral ambiguity at play, that small people in a corrupt world can too easily come to a messy end, even if they fight. I love noir in all its forms because it is so pliable, pure enough to be recognisable yet diverse enough to keep adapting. For as long as there are crooks there'll be noir.
Here, then, is a sample of the form. Some of it is hard, classical noir. Some veers into science fiction or fantasy. Some it's impossible to categorise. Here are the delights of Tamil pulp fiction, the slow-building menace of strangers with secrets in a sleepy Mexican village in the 1970s, of Scottish hardmen and science fiction avengers.
Come in, try the water, though there might be sharks hidden under the calm surface of the sea. And there are things we only find during the autopsy. – Lavie Tidhar
About The Charity
English PEN work tirelessly to promote translated works into English, championing literature beyond national and linguistic borders. They provide funding for translation projects, are the founding centre of a worldwide writers' association with 145 centres in more than 100 countries, and are also a founding member of the Free Word Centre. They campaign to defend writers and readers in the UK and around the world whose human right to freedom of expression is at risk.
* * *
For StoryBundle, you decide what price you want to pay. For $5 (or more, if you're feeling generous), you'll get the basic bundle of four books in any ebook format—WORLDWIDE.
The Vaccinator by Michael Marshall Smith
Apocalypse Nyx by Kameron Hurley
The Outcast Hours by edited by Mahvesh Murad & Jared Shurin
Untamed Shore by Silvia Moreno-Garcia
If you pay at least the bonus price of just $15, you get all four of the regular books, plus six more!
Osama by Lavie Tidhar
Things We Found During the Autopsy by Kuzhali Manickavel
The Blaft Anthology of Tamil Pulp Fiction by Pritham K. Chakravarthy
I Can Transform You by Maurice Broaddus
Liquid Crystal Nightingale by Eeleen Lee
The Good Son and The Lost Sister Omnibus by Russel D. McLean
This bundle is available only for a limited time via http://www.storybundle.com. It allows easy reading on computers, smartphones, and tablets as well as Kindle and other ereaders via file transfer, email, and other methods. You get multiple DRM-free formats (.epub, .mobi) for all books!
It's also super easy to give the gift of reading with StoryBundle, thanks to our gift cards – which allow you to send someone a code that they can redeem for any future StoryBundle bundle – and timed delivery, which allows you to control exactly when your recipient will get the gift of StoryBundle.
Why StoryBundle? Here are just a few benefits StoryBundle provides.
Get quality reads: We've chosen works from excellent authors to bundle together in one convenient package.
Pay what you want (minimum $5): You decide how much these fantastic books are worth. If you can only spare a little, that's fine! You'll still get access to a batch of exceptional titles.
Support authors who support DRM-free books: StoryBundle is a platform for authors to get exposure for their works, both for the titles featured in the bundle and for the rest of their catalog. Supporting authors who let you read their books on any device you want—restriction free—will show everyone there's nothing wrong with ditching DRM.
Give to worthy causes: Bundle buyers have a chance to donate a portion of their proceeds to English PEN!
Receive extra books: If you beat the bonus price, you'll get the bonus books!
StoryBundle was created to give a platform for independent authors to showcase their work, and a source of quality titles for thirsty readers. StoryBundle works with authors to create bundles of ebooks that can be purchased by readers at their desired price. Before starting StoryBundle, Founder Jason Chen covered technology and software as an editor for Gizmodo.com and Lifehacker.com.
For more information, visit our website at storybundle.com, tweet us at @storybundle and like us on Facebook. For press inquiries, please email press@storybundle.com.