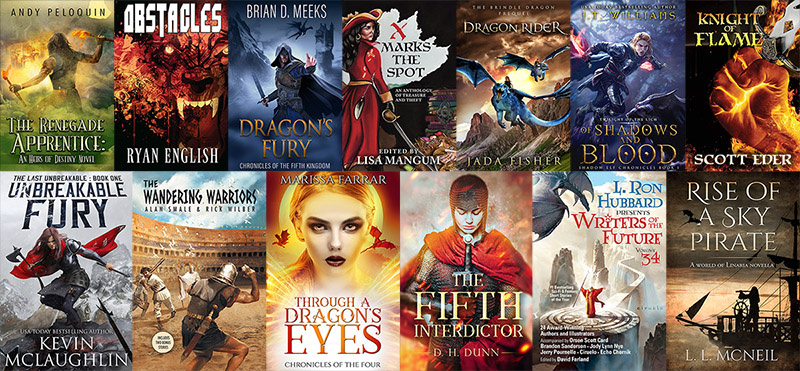 The 2020 Truly Epic Fantasy Bundle - Curated by Kevin J. Anderson
It's Truly Epic, 2020!
Even in a pandemic, you can still go on an epic quest in your imagination. Your travel companions can stay socially distant as they charge across fantastic landscapes and battle dragons or mythic monsters…all while you stay safe at home with your e-reader.
I've curated a Truly Epic Fantasy StoryBundle, with thirteen legendary stories of swords, dragons, wizards, maps, and everything else you need for your quest. You name your own price, a portion of the proceeds goes to a good cause, and you support indie authors. One StoryBundle to rule them all!
Andy Peloquin's The Renegade Apprentice: Evren's life as an apprentice priest is an endless torment, but when the chance to escape his slavery arises, he may find his freedom—and his life—cut very short in the dark, dangerous alleys of his city!
Ryan English's Obstacles is "300" meets "Lone Wolf and Cub": In a Greek-inspired fantasy world, a veteran soldier finds himself protecting a small group of orphans against bandits, monsters, and worse—and the consequences may be higher than he realizes.
Brian D. Meeks's Dragon's Fury: Most dragons crave gold, one dragon wants only power and revenge.
X Marks the Spot, edited by Lisa Mangum, is a swashbuckling anthology featuring a treasure trove of stories about pirates of all kinds and across all genres, from science fiction to historical to fantasy, and more.
Jada Fisher's Dragon Rider: Myradepf must overcome the odds, and her small stature, if she hopes to fulfill her dream of soaring through the skies on the back of dragon. In the process, she just might save the world.
J.T. Williams's Of Shadows and Blood: Kealin the Rogue Elf struggles with vampirism in a land where a bloody ideology threatens to destroy his only hope of salvation. Can he find a cure before he becomes like the very demons he fights?
Scott Eder's Knight of Flame: Tainted by the very element he's supposed to control, an elemental Knight must overcome a centuries-old tragedy and find the balance to his fire-stoked rage to prevent his clandestine Order's ancient enemy from destroying all life in modern-day Tampa.
Kevin McLaughlin's Unbreakable Fury: The last of a cadre of magical warriors who went into retirement when her queen was killed and her kingdom fell, she finds herself dragged back into action when the corruption and chaos threatens her daughter's life.
Alan Smale and Rick Wilber's The Wandering Warriors: Two award-winning writers take you on a thrilling romp through time, space, and ancient Rome as a barnstorming 1940s baseball team find themselves fighting for their lives in a deadly ballgame in the Colosseum.
Marissa Farrar's Through a Dragon's Eyes: In a world where dragons are extinct, and magic is banned, can four races come together to restore the power of the Dragonstone and the Dragonsayer?
D.H. Dunn's The Fifth Interdictor: A magically enhanced warrior discovers her life has been an elaborate lie. What would you trade for the truth?
Writers of the Future, Volume 34, contains 12expertly crafted and award-winning sci-fi and fantasy stories, from humorous to bone-chilling, with bonus stories by Brandon Sanderson, Jody Lynn Nye, and L. Ron Hubbard, and essays on the craft of writing by Orson Scott Card and Jerry Pournelle.
And L.L. McNeil's Rise of a Sky Pirate: When an opportunity to escape servitude presents itself, Amarah cannot resist the temptation to take it—yet there is no reward without risk, especially when it comes to sky pirates.
All these epic fantasy books will turn your e-reader into a doorstop! And the 2020 Truly Epic Fantasy StoryBundle runs for only three weeks! – Kevin J. Anderson
* * *
For StoryBundle, you decide what price you want to pay. For $5 (or more, if you're feeling generous), you'll get the basic bundle of four books in any ebook format—WORLDWIDE.
The Renegade Apprentice by Andy Peloquin
Dragon's Fury by Brian D. Meeks
Obstacles by Ryan English
X Marks the Spot by Lisa Mangum
If you pay at least the bonus price of just $15, you get all four of the regular books, plus NINE more books, for a total of thirteen!
Dragon Rider by Jada Fisher
Of Shadows and Blood by J.T. Williams
Unbreakable Fury by Kevin McLaughlin (StoryBundle Exclusive!)
Knight of Flame by Scott Eder
The Wandering Warriors by Alan Smale and Rick Wilber
Through a Dragon's Eyes by Marissa Farrar
Writers of the Future Volume 34 by David Farland
The Fifth Interdictor by D.H. Dunn
Rise of a Sky Pirate by L. L. McNeil
This bundle is available only for a limited time via http://www.storybundle.com. It allows easy reading on computers, smartphones, and tablets as well as Kindle and other ereaders via file transfer, email, and other methods. You get multiple DRM-free formats (.epub, .mobi) for all books!
It's also super easy to give the gift of reading with StoryBundle, thanks to our gift cards – which allow you to send someone a code that they can redeem for any future StoryBundle bundle – and timed delivery, which allows you to control exactly when your recipient will get the gift of StoryBundle.
Why StoryBundle? Here are just a few benefits StoryBundle provides.
Get quality reads: We've chosen works from excellent authors to bundle together in one convenient package.
Pay what you want (minimum $5): You decide how much these fantastic books are worth. If you can only spare a little, that's fine! You'll still get access to a batch of exceptional titles.
Support authors who support DRM-free books: StoryBundle is a platform for authors to get exposure for their works, both for the titles featured in the bundle and for the rest of their catalog. Supporting authors who let you read their books on any device you want—restriction free—will show everyone there's nothing wrong with ditching DRM.
Give to worthy causes: Bundle buyers have a chance to donate a portion of their proceeds to the Challenger Center for Space Education!
Receive extra books: If you beat the bonus price, you'll get the bonus books!
StoryBundle was created to give a platform for independent authors to showcase their work, and a source of quality titles for thirsty readers. StoryBundle works with authors to create bundles of ebooks that can be purchased by readers at their desired price. Before starting StoryBundle, Founder Jason Chen covered technology and software as an editor for Gizmodo.com and Lifehacker.com.
For more information, visit our website at storybundle.com, tweet us at @storybundle and like us on Facebook. For press inquiries, please email press@storybundle.com.