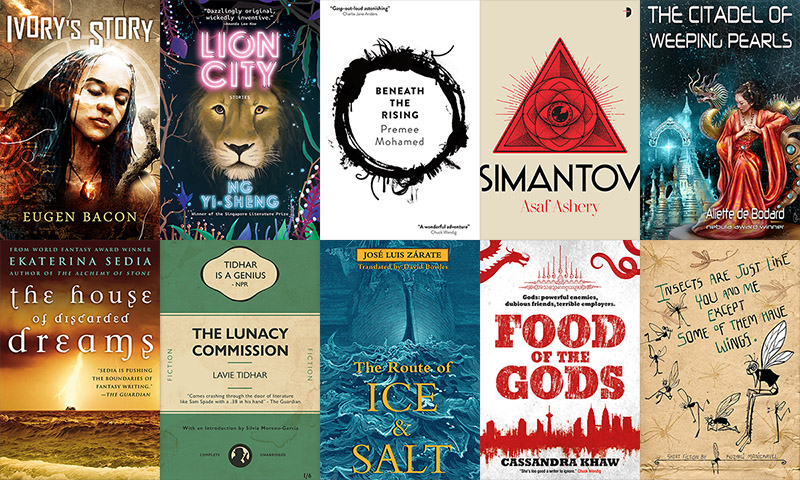 The 2021 World SF Bundle - Curated by Lavie Tidhar
It is my great pleasure to introduce the fourth in what has become an annual series of World SF bundles for StoryBundle.
What the last year has shown is how truly linked our world is, how many fine threads and strands run through it and link us all into a single network. On this fragile Earth, more than ever, international fiction matters, international voices need amplifying, as the discussions we have – about our present, about our future – are ones that must be undertaken together, across the planet.
You may have less time to read now, without a commute. You may have more, sitting at home during yet another lockdown. It is hard to concentrate, I'm sure. My own desk is piled with books, yet I have little time to open them. But we all need fiction right now: to make us think, to make us laugh, to escape or face reality – or both. Here you'll find the fevered dream of Dracula's journey to England as conjured by a Mexican author; tales of Singapore imagined and re-imagined as a city endlessly inventing itself; space operas and steampunk and murderous gods, hardboiled detectives and cosmic awe. They are each of them different, but all of them fun, and I hope you love them as much as I do. – Lavie Tidhar
* * *
For StoryBundle, you decide what price you want to pay. For $5 (or more, if you're feeling generous), you'll get the basic bundle of four books in any ebook format—WORLDWIDE.
Simantov by Asaf Ashery, Translated by Marganit Weinberger-Rotman
Ivory's Story by Eugen Bacon
Lion City by Ng Yi-Sheng
Beneath the Rising by Premee Mohamed
If you pay at least the bonus price of just $15, you get all four of the regular books, plus SIX more! That's 10 books total!
The Citadel of Weeping Pearls by Aliette de Bodard
Food of the Gods by Cassandra Khaw
The Route of Ice and Salt by José Luis Zárate translated by David Bowles
Insects Are Just Like You and Me except Some of Them Have Wings by Kuzhali Manickavel
The Lunacy Commission by Lavie Tidhar (StoryBundle Exclusive)
The House of Discarded Dreams by Ekaterina Sedia
This bundle is available only for a limited time via http://www.storybundle.com. It allows easy reading on computers, smartphones, and tablets as well as Kindle and other ereaders via file transfer, email, and other methods. You get multiple DRM-free formats (.epub, .mobi) for all books!
It's also super easy to give the gift of reading with StoryBundle, thanks to our gift cards – which allow you to send someone a code that they can redeem for any future StoryBundle bundle – and timed delivery, which allows you to control exactly when your recipient will get the gift of StoryBundle.
Why StoryBundle? Here are just a few benefits StoryBundle provides.
Get quality reads: We've chosen works from excellent authors to bundle together in one convenient package.
Pay what you want (minimum $5): You decide how much these fantastic books are worth. If you can only spare a little, that's fine! You'll still get access to a batch of exceptional titles.
Support authors who support DRM-free books: StoryBundle is a platform for authors to get exposure for their works, both for the titles featured in the bundle and for the rest of their catalog. Supporting authors who let you read their books on any device you want—restriction free—will show everyone there's nothing wrong with ditching DRM.
Give to worthy causes: Bundle buyers have a chance to donate a portion of their proceeds to English PEN!
Receive extra books: If you beat the bonus price, you'll get the bonus books!
StoryBundle was created to give a platform for independent authors to showcase their work, and a source of quality titles for thirsty readers. StoryBundle works with authors to create bundles of ebooks that can be purchased by readers at their desired price. Before starting StoryBundle, Founder Jason Chen covered technology and software as an editor for Gizmodo.com and Lifehacker.com.
For more information, visit our website at storybundle.com, tweet us at @storybundle and like us on Facebook. For press inquiries, please email press@storybundle.com.