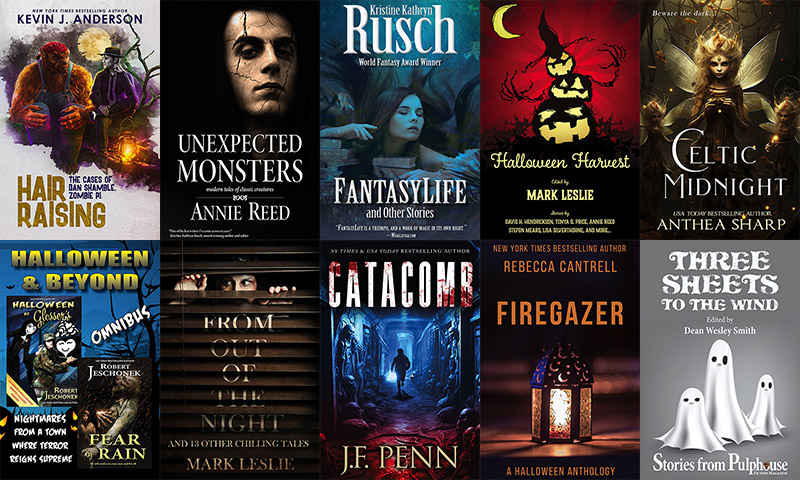 The 2023 Halloween Bundle - curated by Kristine Kathryn Rusch
I love Halloween. I like it much more than the winter holidays, including Christmas and New Year's, even though I edit annual winter holiday projects. If I'm going to buy holiday merchandise, I'll get Halloween merchandise. I love a good Halloween short story too.
Because scary stuff is fun.
Unless it's real life scary stuff. The people of Lahaina on Maui are going through a very scary time right now. Most of them have lost everything. The fires that tore through that part of the island must have been horrific.
That kind of horror is the kind we don't want to experience. I thought of them as I put together this StoryBundle of made-up horrors, realizing that real-life horrors are much, much worse. That's why Maui Strong is our charity for this bundle.
I don't usually start introductions like this with the charity, but I am with this bundle. You can get all kinds of wonderful Halloween fiction, from collections to novels to anthologies, all for the low price of $20. Four volumes are exclusive to this bundle, and two of the others are so brand-new the shine hasn't worn off them yet.
The bundle came together quickly. I already knew that I wanted to include my omnibus, FantasyLife And Other Stories, because it's set on a beach with a lot of terror. We have a real holiday calendar of stories with the anthology Halloween Harvest, edited by Mark Leslie. Mark has his own book of short stories here, which is exclusive to the bundle.
Kevin J. Anderson's Hair Raising is a brand new book in his popular Dan Shamble zombie series. J.F. Penn let us include her brand new novella, Catacomb, as well. Annie Reed's Unexpected Monsters shows why she's gaining a heck of an impressive reputation in the mystery and fantasy field. And then, because we need a bit of levity and strangeness, we've included Three Sheets To The Wind, an anthology from the pages of Pulphouse Magazine, edited by Dean Wesley Smith.
However, if you're counting, you'll note that there's only one exclusive listed so far, and I mentioned four. The other three are: Halloween & Beyond by the ever-inventive Robert Jeschonek, Firegazer by Rebecca Cantrell, and Celtic Midnight by Anthea Sharp. You can't find those books anywhere else, no matter how hard you try.
We started this bundle at the end of September to give you a marvelous reading experience throughout the month of October. But, as you make your purchase, please make sure to add a few dollars for Maui. Help them deal with their real life horrors. In this case, every dollar counts. – Kristine Kathryn Rusch
* * *
For StoryBundle, you decide what price you want to pay. For $5 (or more, if you're feeling generous), you'll get the basic bundle of four books in .epub format—WORLDWIDE.
Unexpected Monsters by Annie Reed
Hair Raising by Kevin J. Anderson
FantasyLife and Other Stories by Kristine Kathryn Rusch
Halloween Harvest edited by Mark Leslie
If you pay at least the bonus price of just $20, you get all four of the regular books, plus six more books for a total of 10!
Celtic Midnight by Anthea Sharp (StoryBundle Exclusive)
Three Sheets to the Wind edited by Dean Wesley Smith
Catacomb by J.F. Penn
From Out of the Night: And 13 Other Chilling Tales by Mark Leslie (StoryBundle Exclusive)
Firegazer by Rebecca Cantrell (StoryBundle Exclusive)
Halloween & Beyond by Robert Jeschonek (StoryBundle Exclusive)
This bundle is available only for a limited time via http://www.storybundle.com. It allows easy reading on computers, smartphones, and tablets as well as Kindle and other ereaders via file transfer, email, and other methods. You get a DRM-free .epub for all books!
It's also super easy to give the gift of reading with StoryBundle, thanks to our gift cards – which allow you to send someone a code that they can redeem for any future StoryBundle bundle – and timed delivery, which allows you to control exactly when your recipient will get the gift of StoryBundle.
Why StoryBundle? Here are just a few benefits StoryBundle provides.
Get quality reads: We've chosen works from excellent authors to bundle together in one convenient package.
Pay what you want (minimum $5): You decide how much these fantastic books are worth. If you can only spare a little, that's fine! You'll still get access to a batch of exceptional titles.
Support authors who support DRM-free books: StoryBundle is a platform for authors to get exposure for their works, both for the titles featured in the bundle and for the rest of their catalog. Supporting authors who let you read their books on any device you want—restriction free—will show everyone there's nothing wrong with ditching DRM.
Give to worthy causes: Bundle buyers have a chance to donate a portion of their proceeds to Maui Strong!
Receive extra books: If you beat the bonus price, you'll get the bonus books!
StoryBundle was created to give a platform for independent authors to showcase their work, and a source of quality titles for thirsty readers. StoryBundle works with authors to create bundles of ebooks that can be purchased by readers at their desired price. Before starting StoryBundle, Founder Jason Chen covered technology and software as an editor for Gizmodo.com and Lifehacker.com.
For more information, visit our website at storybundle.com, tweet us at @storybundle and like us on Facebook. For press inquiries, please email press@storybundle.com.