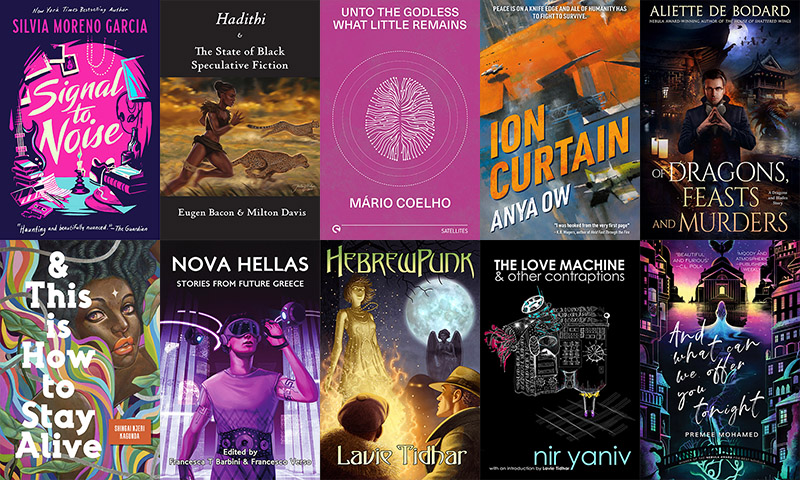 The 2023 World SF Bundle - Curated by Lavie Tidhar
It's been my great privilege over the past [mumble mumble] years to edit several anthologies devoted to international speculative fiction in all its forms, beginning with the first volume of The Apex Book of World SF back in 2009, done on a budget of chewing gum-and-string, and culminating this year with The Best of World SF: Volume 3 from Head of Zeus, the third in a series of huge, handsome hardcover volumes. Along the way I got to publish the World SF Blog for four years, and write about many international titles in a regular column for the Washington Post. But perhaps the most fun of these has been putting together these annual bundles for StoryBundle – a direct opportunity to offer readers a selection of wonderful books from around the world, at one low price, while directly benefiting the authors and their publishers. It is a reality of today's publishing environment that the most exciting titles usually come from smaller presses, that in a crowded field it is hard to stand up, and that even a small bundle like this can often make a real difference to a book and its author.
I'm delighted to present here the sixth annual World SF bundle, with a selection of the latest exciting titles from around the world. Some might be familiar to you, others will be new. But they are all worth checking out!
– Lavie Tidhar
* * *
For StoryBundle, you decide what price you want to pay. For $5 (or more, if you're feeling generous), you'll get the basic bundle of four books in .epub format—WORLDWIDE.
Unto the Godless What Little Remains by Mário Coelho
Signal to Noise by Silvia Moreno-Garcia
Ion Curtain by Anya Ow
Hadithi & the State of Black Speculative Fiction by Eugen Bacon and Milton Davis
If you pay at least the bonus price of just $20, you get all four of the regular books, plus six more books for a total of 10!
Nova Hellas: Stories from Future Greece edited by Francesca T Barbini and Francesco Verso
The Love Machine & Other Contraptions by Nir Yaniv
& This is How to Stay Alive by Shingai Njeri Kagunda
And What Can We Offer You Tonight by Premee Mohamed
Of Dragons, Feasts and Murders by Aliette de Bodard
HebrewPunk by Lavie Tidhar (StoryBundle Exclusive)
This bundle is available only for a limited time via http://www.storybundle.com. It allows easy reading on computers, smartphones, and tablets as well as Kindle and other ereaders via file transfer, email, and other methods. You get a DRM-free .epub for all books!
It's also super easy to give the gift of reading with StoryBundle, thanks to our gift cards – which allow you to send someone a code that they can redeem for any future StoryBundle bundle – and timed delivery, which allows you to control exactly when your recipient will get the gift of StoryBundle.
Why StoryBundle? Here are just a few benefits StoryBundle provides.
Get quality reads: We've chosen works from excellent authors to bundle together in one convenient package.
Pay what you want (minimum $5): You decide how much these fantastic books are worth. If you can only spare a little, that's fine! You'll still get access to a batch of exceptional titles.
Support authors who support DRM-free books: StoryBundle is a platform for authors to get exposure for their works, both for the titles featured in the bundle and for the rest of their catalog. Supporting authors who let you read their books on any device you want—restriction free—will show everyone there's nothing wrong with ditching DRM.
Give to worthy causes: Bundle buyers have a chance to donate a portion of their proceeds to English PEN!
Receive extra books: If you beat the bonus price, you'll get the bonus books!
StoryBundle was created to give a platform for independent authors to showcase their work, and a source of quality titles for thirsty readers. StoryBundle works with authors to create bundles of ebooks that can be purchased by readers at their desired price. Before starting StoryBundle, Founder Jason Chen covered technology and software as an editor for Gizmodo.com and Lifehacker.com.
For more information, visit our website at storybundle.com, tweet us at @storybundle and like us on Facebook. For press inquiries, please email press@storybundle.com.