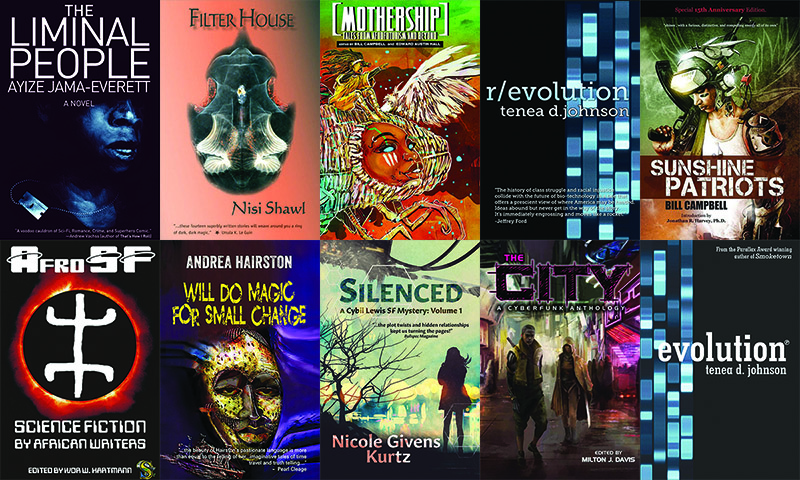 The Afrofuturism Bundle - Curated by Tenea D. Johnson
The future is inclusive. You're invited. So am I. Let's explore Afrofuturism. Afrofuturism, the word, can be fraught and full, the concept long overdue and long overlooked. For this engaging group of work, consider it shorthand for Black futures bound up in science and magic, past and present. These are diasporic extrapolations that mirror the beauty and struggle of life—on this plane and the next, this planet and ones further out. Read these and encounter the as yet unknown soon to be named.
Big words, huh? Helluva promise, right? Right.
Imagine what it would take to satisfy such a tall order. I invite you to take a taste because that's what we have here: a satisfying multitude.
Nisi Shawl's Tiptree Award-winning Filter House collects fourteen tales that encompass a wide and wonderful universe of experience from a Pragmatic Princess's feminist twist on a fairy tale trope to The Huts of Ajala's transactional monster sex and its consequences and rewards. Each story's unforgettable characters and deft, lyrical writing carry you from each reality to the next.
Ayize Jama-Everett's The Liminal People provides an original take on superpowers and those living in transitional intersections where creation, crime, and romance coexist. Taggert can hurt or heal with a touch. Navigating underground cultures and the superpowered people that inhabit them, he decides to save his ex's daughter, and discovers power far beyond his own.
The inaugural volume of the AfroSF anthology series features the work of Hugo, Nebula and World Fantasy Award-winning author, Nnedi Okorafor, as well as Tade Thompson and other stars of African SF. In this first ever exclusively Pan-African anthology, Ivor Hartmann has assembled an excellent introduction to and appreciation of some of the best speculative fiction written by African authors.
Andrea Hairston's Will Do Magic for Small Change, recognized on the Tiptree Award Honor List and as a finalist for both the Lambda Literary and Mythopoeic Awards, shares Cinnamon Jones' world and in doing so brings together a Dahomean warrior woman, an alien from another dimension, theatre culture and family secrets.
R/evolution and Evolution comprise the Revolution duology, an exploration of a near-future U.S. where biogenetic adaptations are as rampant as inequality. When a genius decides to give them away first as reparations for slavery and then to subsidize the survival of poor people who and what will decide how humanity evolves? R/evolution was a Parallax Award honorable mention, and Evolution is hot of the electronic press.
Nicole Givens Kurtz's Silenced serves up future noir. Meet Cybil Lewis, a 22nd century private investigator. Come along as she unravels a murder mystery involving a mayor of one of the collapsed United States' Quadrants.
Bill Campbell's Sunshine Patriots is more than multicultural space opera with gravity and real consequence. It's cyborg military sci fi with an ecological sensibility and humor. Enlist and see what happens when rebellion erupts on the paradise planet of Elysia, and an elite corps from United Earth arrives.
Milton J. Davis, not satisfied just with sharing new worlds is sharing a unique subgenre. Cyberfunk is front and center in The City, a work of linked stories with a common setting. No one has left or entered the city in 20 centuries. Welcome to it.
Edited by Edward Austin Hall and Bill Campbell, the modern classic, Mothership: Tales of Afrofuturism and Beyond presents leading and rising voices of Black speculative fiction including Nalo Hopkinson (Aurora and World Fantasy Winner), N.K. Jemisin (three-time Hugo winner), Linda Addison (Horror Writers Association Lifetime Achievement Winner), and genre forefather, Charles Saunders.
Whether you're an Afrofuturism aficionado, new to it, or just looking to visit new worlds, for three weeks come get your 'what if?' on at a great price. You'll get infinite possibilities with sophisticated cultural sensibilities, plus an opportunity: the chance to donate to a great organization helping kids shape the future. – Tenea D. Johnson
For StoryBundle, you decide what price you want to pay. For $5 (or more, if you're feeling generous), you'll get the basic bundle of four books in any ebook format—WORLDWIDE.
r/evolution by Tenea D. Johnson
The Liminal People by Ayize Jama-Everett
Filter House by Nisi Shawl
Mothership: Tales from Afrofuturism and Beyond by Bill Campbell and Edward Austin Hall
If you pay at least the bonus price of just $15, you get all four of the regular books, plus SIX more!
evolution by Tenea D. Johnson
Silenced - A Cybil Lewis SF Mystery Volume 1 by Nicole Givens Kurtz
AfroSF - Science Fiction by African Writers by Ivor W. Hartmann
Will Do Magic for Small Change by Andrea Hairston
Sunshine Patriots by Bill Campbell
The City - A Cyberfunk Anthology by Milton Davis
This bundle is available only for a limited time via http://www.storybundle.com. It allows easy reading on computers, smartphones, and tablets as well as Kindle and other ereaders via file transfer, email, and other methods. You get multiple DRM-free formats (.epub and .mobi) for all books!
It's also super easy to give the gift of reading with StoryBundle, thanks to our gift cards – which allow you to send someone a code that they can redeem for any future StoryBundle bundle – and timed delivery, which allows you to control exactly when your recipient will get the gift of StoryBundle.
Why StoryBundle? Here are just a few benefits StoryBundle provides.
Get quality reads: We've chosen works from excellent authors to bundle together in one convenient package.
Pay what you want (minimum $5): You decide how much these fantastic books are worth. If you can only spare a little, that's fine! You'll still get access to a batch of exceptional titles.
Support authors who support DRM-free books: StoryBundle is a platform for authors to get exposure for their works, both for the titles featured in the bundle and for the rest of their catalog. Supporting authors who let you read their books on any device you want—restriction free—will show everyone there's nothing wrong with ditching DRM.
Give to worthy causes: Bundle buyers have a chance to donate a portion of their proceeds to Mighty Writers!
Receive extra books: If you beat the bonus price, you'll get the bonus books!
StoryBundle was created to give a platform for independent authors to showcase their work, and a source of quality titles for thirsty readers. StoryBundle works with authors to create bundles of ebooks that can be purchased by readers at their desired price. Before starting StoryBundle, Founder Jason Chen covered technology and software as an editor for Gizmodo.com and Lifehacker.com.
For more information, visit our website at storybundle.com, tweet us at @storybundle and like us on Facebook. For press inquiries, please email press@storybundle.com.