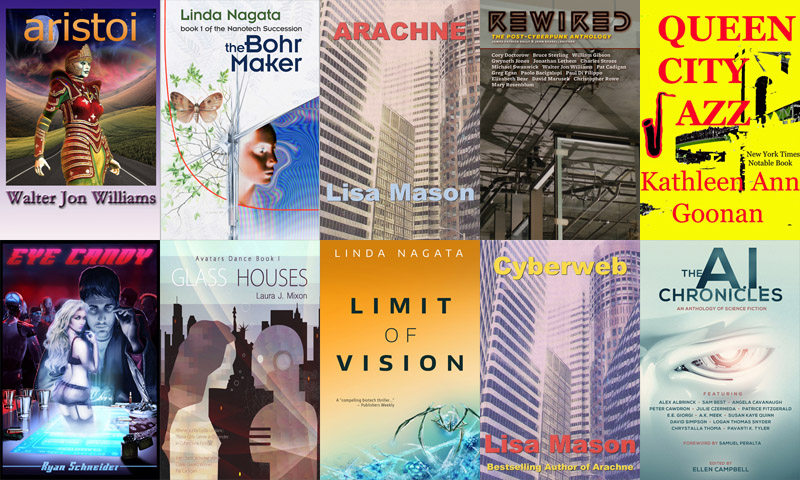 The A.I. Bundle - Curated by Lisa Mason
Artificial Intelligence—A.I. When computer technology becomes conscious. Self-aware. Genuinely as intelligent as human beings. Will A.I. benefit us? Or become our greatest enemy? Theoretical physicist Stephen Hawking told the BBC, "Full artificial intelligence could spell the end of the human race."
Futurist Ray Kerzweil, Bill Gates, and others have concluded that the Singularity—that moment when A.I. truly exists—has not yet arrived. Or has it?
From the early 1980s to this day, science fiction writers have tackled difficult questions about A.I., speculating about the future and asking what if? You must check out these thought-provoking books from authors—bestselling, award-winning, as well as popular indies—in the A.I. StoryBundle.
In Aristoi, by New York Times bestselling author Walter Jon Williams, an elite class holds dominion over a glittering interstellar culture with virtual reality, genetic engineering, faster-than-light travel, artificial intelligence, nanotechnology, telepathic links with computers, and more. But murder threatens to rip that world apart. In The Bohr Maker, by multiple-award-winning Linda Nagata, a powerful, illicit device is a microscopic factory full of self-replicating machines programmed to transform a human host into a genius-level nanotech engineer. In Limit of Vision, also by Nagata, biotechnologists have enhanced their cognitive abilities when the experiment goes terribly wrong. In Locus Hardcover Bestsellers Arachne and Cyberweb, by Philip K. Dick Award Finalist Lisa Mason, telelinker Carly Quester confronts an A.I. therapist and finds herself entangled in the machinations of powerful A.I. entities. In Rewired: The Post-Cyberpunk Anthology, editors John Kessel and James Patrick Kelly present stories about A.I. and the future by William Gibson, Bruce Sterling, Pat Cadigan, Jonathan Lethem, Walter Jon Williams, and eleven others. In Queen City Jazz, award-winning Kathleen Ann Goonan's teenage heroine Verity journeys to the technologically superior but dangerously insane ``enlivened'' city of Cincinnati. In Glass Houses: Avatars Dance, acclaimed Laura J. Mixon takes us to a dystopian Manhattan of the next century where Ruby and her Golem run into serious trouble. In Eye Candy, popular indie author Ryan Schneider takes us to Los Angeles of 2047 where a roboticist famous for his books about artificially-intelligent beings finds himself on a blind date with a beautiful robopsychologist. Physicist and award-winning editor Samuel Peralta offers thirteen stories addressing the Singularity in The A.I. Chronicles Anthology.
As always at StoryBundle, you the reader name your price—whatever you feel the books are worth. You may designate a portion of the proceeds to go to a charity. For the A.I. StoryBundle, that's Science Fiction and Fantasy Writers of America ("SFWA"). SFWA champions writers' rights, sponsors the Nebula Award for excellence in science fiction, and promotes numerous literacy groups.
The initial titles in the AI Bundle (minimum $5 to purchase) are:
Aristoi by Walter Jon Williams
Arachne by Lisa Mason
The Bohr Maker by Linda Nagata
Queen City Jazz by Kathleen Ann Goonan
Rewired - The Post-Cyberpunk Anthology by James Patrick Kelly and John Kessel
If you pay more than the bonus price of just $15, you get all five of the regular titles, plus FIVE more!
The A.I. Chronicles by Samuel Peralta and Ellen Campbell
Eye Candy by Ryan Schneider
Cyberweb by Lisa Mason
Limit of Vision by Linda Nagata
Glass Houses by Laura J. Mixon
So there you have it! Stock up your ereader for the Spring and beyond with award-winning, best-selling, and indie speculations about A.I. and our future. The Artificial Intelligence StoryBundle is historic and unique, provocative and diverse, an excellent addition to your elibrary providing world-class reading for the Spring, through the Summer, and beyond. – Lisa Mason, Curator
This bundle is available only for a limited time via http://www.storybundle.com. It allows easy reading on computers, smartphones, and tablets as well as Kindle and other ereaders via file transfer, email, and other methods. You get multiple DRM-free formats (.epub and .mobi) for all books!
It's also super easy to give the gift of reading with StoryBundle, thanks to our gift cards – which allow you to send someone a code that they can redeem for any future StoryBundle bundle – and timed delivery, which allows you to control exactly when your recipient will get the gift of StoryBundle.
Why StoryBundle? Here are just a few benefits StoryBundle provides.
Get quality reads: We've chosen works from excellent authors to bundle together in one convenient package.
Pay what you want (minimum $5): You decide how much these fantastic books are worth. If you can only spare a little, that's fine! You'll still get access to a batch of exceptional titles.
Support authors who support DRM-free books: StoryBundle is a platform for authors to get exposure for their works, both for the titles featured in the bundle and for the rest of their catalog. Supporting authors who let you read their books on any device you want—restriction free—will show everyone there's nothing wrong with ditching DRM.
Give to worthy causes: Bundle buyers have a chance to donate a portion of their proceeds to The Science Fiction and Fantasy Writers of America!
Receive extra books: If you beat the bonus price, you'll get the bonus books!
StoryBundle was created to give a platform for independent authors to showcase their work, and a source of quality titles for thirsty readers. StoryBundle works with authors to create bundles of ebooks that can be purchased by readers at their desired price. Before starting StoryBundle, Founder Jason Chen covered technology and software as an editor for Gizmodo.com and Lifehacker.com.
For more information, visit our website at storybundle.com, tweet us at @storybundle and like us on Facebook. For press inquiries, please email press@storybundle.com.