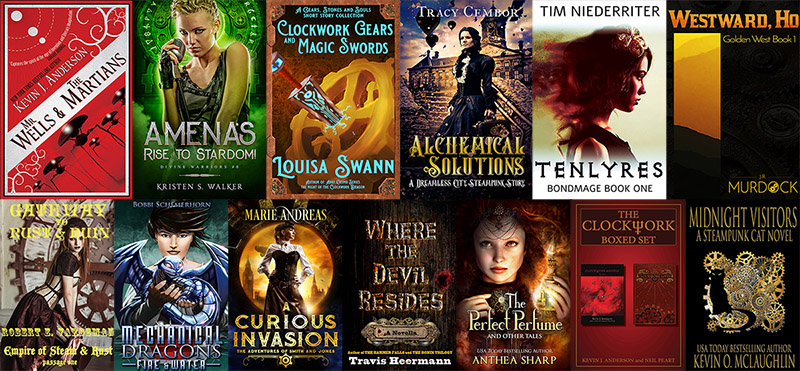 The Airships and Clockwork Steampunk Bundle - Curated by Kevin J. Anderson
We are building up reading steam for a brand-new collection, the Airships and Clockwork Steampunk StoryBundle.
I've put together a baker's dozen titles of gears and zeppelins, mechanical dragons, lost cities, frock coats, and tea, the best books from indie authors, all for whatever price you choose to pay. A portion of the money directly benefits the Challenger Learning Center for Space Science Education, and the earnings support indie authors.
In my own Mr. Wells & the Martians, join H.G. Wells and his professor T.H. Huxley on an urgent mission to Mars to prevent the war of the worlds. Also, specially created for this StoryBundle, the Clockwork Boxed Set includes both of my steampunk fantasy adventure novels coauthored with Neil Peart, the late, legendary lyricist and drummer from Rush—Clockwork Angels and Clockwork Lives.
Anthea Sharp's The Perfect Perfume shows you the Victorian era like you've never imagined it before! Twelve enthralling alternate-history tales featuring intrepid heroines, hidden magic, and rollicking steampunk adventure. Marie Andreas brings Vampires, aliens, and tea—oh my! to A Curious Invasion.
Clockwork Gears and Magic Swords by Louisa Swann is a StoryBundle exclusive! Magic and gears and a taste of the weird—seven grand adventures that tickle the soul and tease the imagination. Imagine moving from New York to California on a steam-powered horse with a giant for a companion in J.R. Murdock's Golden West: Westward, Ho!
Robert E. Vardeman's Gateway to Rust and Ruin: Their world was used up. Now they want ours, steam and all. Kristen S. Walker puts on steampunk lenses to show the truth about a pop singer's dark past in Amena's Rise to Stardom. Kevin McLaugliin's Midnight Visitors: When her person becomes the target of assassination, what's a poor cat to do? Solve the problem with tooth, claw, and brains!
In Mechanical Dragons: Fire and Water, Bobbi Schemerhorn warns that mixing inexperience with magic may cause dragons! Gun magic fuels an epic adventure in Tenlyres by Timothy Niederriter. Stroll through Tracy Cembor's Gaslight Carnival, where fancy and freak walk hand in hand. And finally, Travis Heermann has a steampunk-horror novella, Where the Devil Resides—a supernatural Apocalypse Now. With alligators. – Kevin J. Anderson
For StoryBundle, you decide what price you want to pay. For $5 (or more, if you're feeling generous), you'll get the basic bundle of four books in any ebook format—WORLDWIDE.
Mr. Wells & the Martians by Kevin J. Anderson
Alchemical Solutions by Tracy Cembor
Clockwork Gears and Magic Swords by Louisa Swann
Amena's Rise to Stardom! by Kristen S. Walker
If you pay at least the bonus price of just $15, you get all four of the regular books, plus NINE more books!
The Clockwork Boxed Set by Kevin J. Anderson and Neil Peart
Midnight Visitors by Kevin McLaughlin
Tenlyres - Bondmage Book One by Tim Niederriter
Gateway to Rust & Ruin by Robert E. Vardeman
A Curious Invasion by Marie Andreas
Westward, Ho - Golden West Book 1 by J.R. Murdock
Where the Devil Resides by Travis Heermann
Mechanical Dragons by Bobbi Schemerhorn
The Perfect Perfume and Other Tales by Anthea Sharp
This bundle is available only for a limited time via http://www.storybundle.com. It allows easy reading on computers, smartphones, and tablets as well as Kindle and other ereaders via file transfer, email, and other methods. You get multiple DRM-free formats (.epub and .mobi) for all books!
It's also super easy to give the gift of reading with StoryBundle, thanks to our gift cards – which allow you to send someone a code that they can redeem for any future StoryBundle bundle – and timed delivery, which allows you to control exactly when your recipient will get the gift of StoryBundle.
Why StoryBundle? Here are just a few benefits StoryBundle provides.
Get quality reads: We've chosen works from excellent authors to bundle together in one convenient package.
Pay what you want (minimum $5): You decide how much these fantastic books are worth. If you can only spare a little, that's fine! You'll still get access to a batch of exceptional titles.
Support authors who support DRM-free books: StoryBundle is a platform for authors to get exposure for their works, both for the titles featured in the bundle and for the rest of their catalog. Supporting authors who let you read their books on any device you want—restriction free—will show everyone there's nothing wrong with ditching DRM.
Give to worthy causes: Bundle buyers have a chance to donate a portion of their proceeds to the Challenger Center for Space Education!
Receive extra books: If you beat the bonus price, you'll get the bonus books!
StoryBundle was created to give a platform for independent authors to showcase their work, and a source of quality titles for thirsty readers. StoryBundle works with authors to create bundles of ebooks that can be purchased by readers at their desired price. Before starting StoryBundle, Founder Jason Chen covered technology and software as an editor for Gizmodo.com and Lifehacker.com.
For more information, visit our website at storybundle.com, tweet us at @storybundle and like us on Facebook. For press inquiries, please email press@storybundle.com.