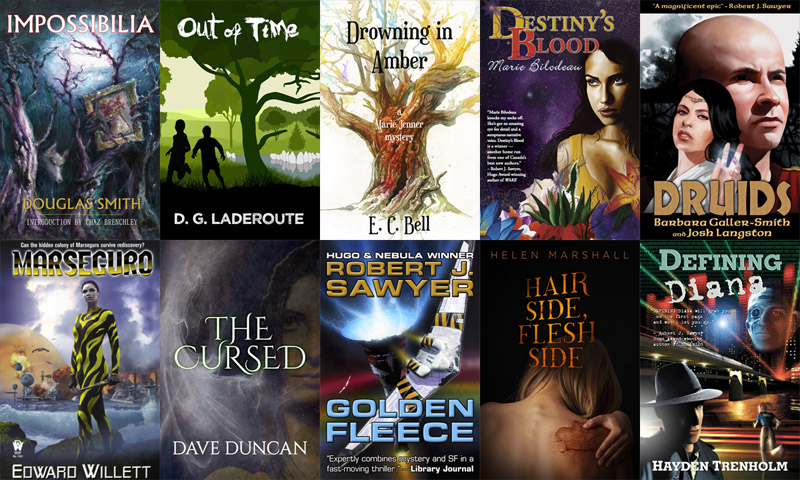 The Aurora Award Bundle 2 - Curated by Douglas Smith
How would you like to own, at an incredible bargain, ten books that readers like yourself have already voted to be the best examples of speculative fiction published in Canada? Well, here's your chance. I'm once again curating an ebook bundle for StoryBundle that contains more winners and finalists for Canada's premier speculative fiction award, the Aurora Award.
The Auroras are awarded annually by the Canadian Science Fiction & Fantasy Association (CSFFA) for excellence in Science Fiction and Fantasy. The award started in 1980 as the Casper and was renamed the Aurora for the 1990 awards. I'm honored to have won the Aurora three times and to have been on the final ballot another sixteen.
This Aurora bundle again delivers a great mix of SF and fantasy, adult and YA novels, as well as a selection of short fiction. The books included reflect the long history of the Auroras, with titles spanning a quarter century of Canadian speculative fiction from 1992 to 2016.
This time, the bundle provides a great introduction to several wonderful series, including the first book in four separate series and the second book in a series that can be read as a stand-alone title. It also lets you sample the rich tradition of Canadian short speculative fiction, with two acclaimed collections.
In Destiny's Blood, Marie Bilodeau delivers action, romance, and mystery in an interstellar SF tale of two sisters fighting to save each other—and all life. And it all begins in a flower shop.
E. C. Bell's Drowning in Amber is a fast-paced paranormal murder mystery featuring amateur detective Marie Jenner who can talk with ghosts.
Druids, by Barbara Galler-Smith and Josh Langston, kicks off a magnificent epic historical fantasy trilogy, set a thousand years ago when the Celts ruled Europe.
D.G. Laderoute's Out of Time is a YA fantasy adventure combining time travel with First Nations lore as two fourteen-year-old boys—one white, one Anishinabe—join forces across time to battle a monster.
Dave Duncan's fantasy The Cursed takes place in a fallen empire where a plague leaves its survivors ostracized but with magical powers, powers that might be the key to rebuilding their world.
In Defining Diana, Hayden Trenholm updates the locked room mystery to 2043, where nuclear war, biotechnology, and all-powerful corporations have changed the Earth we know.
Golden Fleece, which was the first novel by Canada's best known SF writer, Robert J. Sawyer, is an SF mystery set on a colony ship as told by the artificial intelligence controlling the ship.
In Ed Willett's Marseguro, modified humans on a distant water world finds themselves in a battle for survival with a future Earth ruled by a fanatical theocracy.
Hair Side, Flesh Side, Helen Marshall's award-winning first collection of short stories, is a brilliant introduction to one of the brightest new lights in Canadian speculative fiction.
Finally, my own collection, Impossibilia, delivers a mix of SF and fantasy, including an Aurora winner, a finalist, and the story prequel to my novel, The Wolf at the End of the World.
And if you are looking for still more pedigree, the bundle includes two CSFFA Hall of Fame inductees (Sawyer and Duncan). – Douglas Smith
The initial titles in the Aurora Bundle 2 (minimum $5 to purchase) are:
Destiny's Blood by Marie Bilodea
Drowning in Amber by E.C. Bell
Impossibilia by Douglas Smith
Out of Time by D.G. Laderoute
Druids by Barbara Galler-Smith and Josh Langston
If you pay more than the bonus price of just $15, you get all five of the regular titles, plus five more!
Golden Fleece by Robert J. Sawyer
Hair Side, Flesh Side by Helen Marshall
Defining Diana by Hayden Trenholm
Marseguro by Edward Willett
The Cursed by Dave Duncan
This bundle is available only for a limited time via http://www.storybundle.com. It allows easy reading on computers, smartphones, and tablets as well as Kindle and other ereaders via file transfer, email, and other methods. You get multiple DRM-free formats (.epub and .mobi) for all books!
It's also super easy to give the gift of reading with StoryBundle, thanks to our gift cards – which allow you to send someone a code that they can redeem for any future StoryBundle bundle – and timed delivery, which allows you to control exactly when your recipient will get the gift of StoryBundle.
Why StoryBundle? Here are just a few benefits StoryBundle provides.
Get quality reads: We've chosen works from excellent authors to bundle together in one convenient package.
Pay what you want (minimum $5): You decide how much these fantastic books are worth. If you can only spare a little, that's fine! You'll still get access to a batch of exceptional titles.
Support authors who support DRM-free books: StoryBundle is a platform for authors to get exposure for their works, both for the titles featured in the bundle and for the rest of their catalog. Supporting authors who let you read their books on any device you want—restriction free—will show everyone there's nothing wrong with ditching DRM.
Give to worthy causes: Bundle buyers have a chance to donate a portion of their proceeds to Mighty Writers and Girls Write Now!
Receive extra books: If you beat the bonus price, you'll get the bonus books!
StoryBundle was created to give a platform for independent authors to showcase their work, and a source of quality titles for thirsty readers. StoryBundle works with authors to create bundles of ebooks that can be purchased by readers at their desired price. Before starting StoryBundle, Founder Jason Chen covered technology and software as an editor for Gizmodo.com and Lifehacker.com.
For more information, visit our website at storybundle.com, tweet us at @storybundle and like us on Facebook. For press inquiries, please email press@storybundle.com.