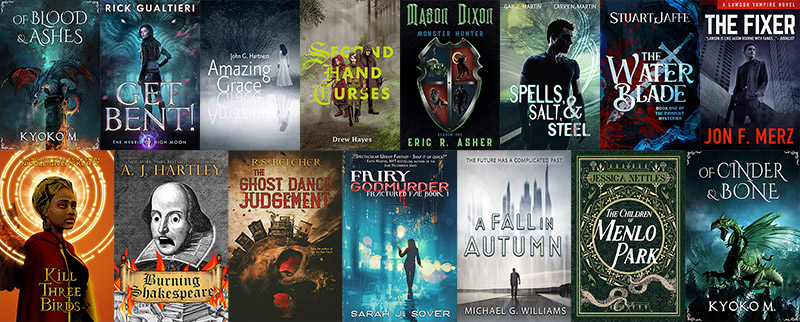 How do you pick "the best" of anything? You can't. Not really. I can't pick "the best of the indies" because I haven't read all of the indie books out there. But "This Awesome Selection of Really Great Self-Published and Small Press Books by a Killer Mix of Debut Authors, Award Winners, and NY Times Best Sellers" was too big to fit at the top of the website. So this is "The Best of the Indies!"
Are these the best books written in the last few years by self-published or small press authors? I have no idea. Are they really, really good books from self-published or small press authors, ranging in experience from debut novels (The Children of Menlo Park) to the 24th novel from a multiple award winner and best seller (Burning Shakespeare)? Yes. One hundred percent. This sampling of awesomeness has everything you could want in a fistful of books, from comedy to drama to mystery to action to love to despair.
We have award winners like A Fall in Autumn, a noir far-future mystery that won the Manly Wade Wellman Award. We have the newest novel from NY Times best seller A.J. Hartley (The Mask of Atraeus), merging his incredible depth of knowledge about Shakespeare with his talent for fantasy into a Terry Pratchett-esque hilarious time travel novel. We have science fiction, mystery, fantasy, urban fantasy, weird westerns, and dragons. Because how do you even call yourself a fantasy bundle if there are no dragons? I mean, for real.
In the base bundle, you'll get Kyoko M.'s dragons, Rick Gualtieri's humor, Stuart Jaffe's mystery, and Eric R. Asher's cryptid-hunting craziness. That's four novels for just five bucks, but the real win is when you step up to the twenty dollar level, which gets you ten more books! That's fourteen books for just a bit more than a buck a book, which is a savings of some large number of dollars over buying them all individually (Don't judge me, Jim. I'm a writer, not an accountant.)!
Some of these writers have long, established track records of telling excellent stories. A.J. Hartley has been a multiple time best seller and award-winner. Gail Z. Martin's books have been read millions of times all over the world. Drew Hayes has his own subreddit dedicated to one of his book series. And I own a publishing company, so I get to work with all these incredible people! That last bit isn't really about how awesome I am, more just how lucky I am. And now you get to share in my good fortune by picking up a massive bundle of fantastic books for just the tiniest bit of money.
And since I have three rescued kittens of my own, one of which is sleeping on my desk as I type this blog, our charity for this bundle is Saved Whiskers Rescue, a non-profit dedicated to rescuing animals from abusive or neglectful environments and putting them into loving homes. It's been a rough few years for a lot of people, and I can't even begin to describe the mental health boost I've gotten from chasing this adorable trio of psychopaths around my house. So I wanted to help more of our furry friends find homes, and maybe help a few animals rescue some humans, like this trio of nutjobs has rescued me.
So thanks for stopping by, thanks for picking up a few books, and thanks for helping us rescue a few fuzzballs, so they can rescue us right back.
– John G. Hartness
* * *
For StoryBundle, you decide what price you want to pay. For $5 (or more, if you're feeling generous), you'll get the basic bundle of four books in any ebook format—WORLDWIDE.
Of Blood and Ashes by Kyoko M.
Mason Dixon Monster Hunter by Eric R. Asher
The Water Blade by Stuart Jaffe
Get Bent! by Rick Gualtieri
Of Cinder and Bone by Kyoko M.
If you pay at least the bonus price of just $20, you get all four of the regular books, plus ten more books for a total of 14!
Second Hand Curses by Drew Hayes
The Fixer by Jon F. Merz
Kill Three Birds by Nicole Givens Kurtz
A Fall in Autumn by Michael G. Williams
Amazing Grace by John G. Hartness
Burning Shakespeare by A.J. Hartley
The Children of Menlo Park by Jessica Nettles
Fairy Godmurder by Sarah J. Sover
The Ghost Dance Judgement by R.S. Belcher
Spells, Salt & Steel by Gail Z. Martin and Larry N. Martin
Plus as a special extra for our StoryBundle newsletter subscribers, you get a copy of Of Cinder and Bone by Kyoko M. until this bundle is over! Make sure to grab this book before you read Of Cinder and Bone by Kyoko M., part of the bundle itself.
This bundle is available only for a limited time via http://www.storybundle.com. It allows easy reading on computers, smartphones, and tablets as well as Kindle and other ereaders via file transfer, email, and other methods. You get multiple DRM-free formats (.epub, .mobi) for all books!
It's also super easy to give the gift of reading with StoryBundle, thanks to our gift cards – which allow you to send someone a code that they can redeem for any future StoryBundle bundle – and timed delivery, which allows you to control exactly when your recipient will get the gift of StoryBundle.
Why StoryBundle? Here are just a few benefits StoryBundle provides.
Get quality reads: We've chosen works from excellent authors to bundle together in one convenient package.
Pay what you want (minimum $5): You decide how much these fantastic books are worth. If you can only spare a little, that's fine! You'll still get access to a batch of exceptional titles.
Support authors who support DRM-free books: StoryBundle is a platform for authors to get exposure for their works, both for the titles featured in the bundle and for the rest of their catalog. Supporting authors who let you read their books on any device you want—restriction free—will show everyone there's nothing wrong with ditching DRM.
Give to worthy causes: Bundle buyers have a chance to donate a portion of their proceeds to Saved Whiskers Rescue!
Receive extra books: If you beat the bonus price, you'll get the bonus books!
StoryBundle was created to give a platform for independent authors to showcase their work, and a source of quality titles for thirsty readers. StoryBundle works with authors to create bundles of ebooks that can be purchased by readers at their desired price. Before starting StoryBundle, Founder Jason Chen covered technology and software as an editor for Gizmodo.com and Lifehacker.com.
For more information, visit our website at storybundle.com, tweet us at @storybundle and like us on Facebook. For press inquiries, please email press@storybundle.com.