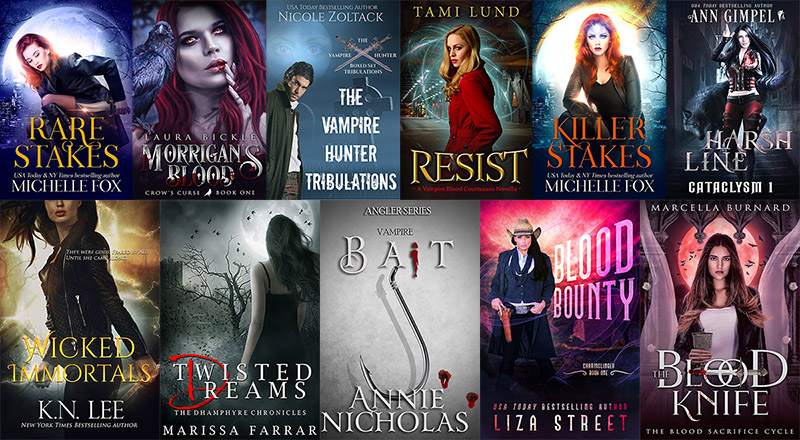 The Beyond Twilight Bundle - Curated by Michelle Fox
Why a Beyond Twilight bundle? It's been more than fifteen years since Bella and Edward became household names, and while Twilight captured the imagination of a generation, today's world is very different. From #metoo, to politics to science and culture, the world is beyond Twilight.
Vampires have evolved.
This bundle is about what's next.
We want Bellas who are smart and strong in their own right, and Edwards who are harder, faster, more heroic—or, depending on the story, more sinister.
What takes a heroine Beyond Twilight? She stands on her own and is just as likely to rescue the vampire as be rescued. Our heroines range from clever, sardonic Mel, the psychic FBI agent who becomes mired in vampire politics to Gracie, the loner slayer in a western setting who redefines grit while charming us with her homespun heart. There's also cool, calm, collected Garnet who isn't looking to be saved by anyone as she learns of her own hidden legacy.
In addition, we've arranged for the bundle to take you to Budapest and Jamaica to kick some vampire ass extra hard. The Greek gods have been invited to take vampires out for a spin as well. There are assassins and witches and even college students, all sharpening themselves in opposition to vampires.
Our vampires and heroines break the mold and tell new stories.
So, load up on stakes, grab your go bag, and follow us Beyond Twilight. – Michelle Fox
* * *
For StoryBundle, you decide what price you want to pay. For $5 (or more, if you're feeling generous), you'll get the basic bundle of four books in any ebook format—WORLDWIDE.
Resist by Tami Lund
The Vampire Hunter Tribulations by Nicole Zoltack
Rare Stakes by Michelle Fox
Morrigan's Blood by Laura Bickle
If you pay at least the bonus price of just $15, you get all four of the regular books, plus seven more books, for a total of eleven!
Killer Stakes by Michelle Fox
Twisted Dreams by Marissa Farrar
The Blood Knife by Marcella Burnard
Blood Bounty by Liza Street
Wicked Immortals by K.N. Lee
Vampire Bait by Annie Nicholas
Harsh Line by Ann Gimpel
This bundle is available only for a limited time via http://www.storybundle.com. It allows easy reading on computers, smartphones, and tablets as well as Kindle and other ereaders via file transfer, email, and other methods. You get multiple DRM-free formats (.epub, .mobi) for all books!
It's also super easy to give the gift of reading with StoryBundle, thanks to our gift cards – which allow you to send someone a code that they can redeem for any future StoryBundle bundle – and timed delivery, which allows you to control exactly when your recipient will get the gift of StoryBundle.
Why StoryBundle? Here are just a few benefits StoryBundle provides.
Get quality reads: We've chosen works from excellent authors to bundle together in one convenient package.
Pay what you want (minimum $5): You decide how much these fantastic books are worth. If you can only spare a little, that's fine! You'll still get access to a batch of exceptional titles.
Support authors who support DRM-free books: StoryBundle is a platform for authors to get exposure for their works, both for the titles featured in the bundle and for the rest of their catalog. Supporting authors who let you read their books on any device you want—restriction free—will show everyone there's nothing wrong with ditching DRM.
Give to worthy causes: Bundle buyers have a chance to donate a portion of their proceeds to Southern Ohio Wolf Sanctuary!
Receive extra books: If you beat the bonus price, you'll get the bonus books!
StoryBundle was created to give a platform for independent authors to showcase their work, and a source of quality titles for thirsty readers. StoryBundle works with authors to create bundles of ebooks that can be purchased by readers at their desired price. Before starting StoryBundle, Founder Jason Chen covered technology and software as an editor for Gizmodo.com and Lifehacker.com.
For more information, visit our website at storybundle.com, tweet us at @storybundle and like us on Facebook. For press inquiries, please email press@storybundle.com.