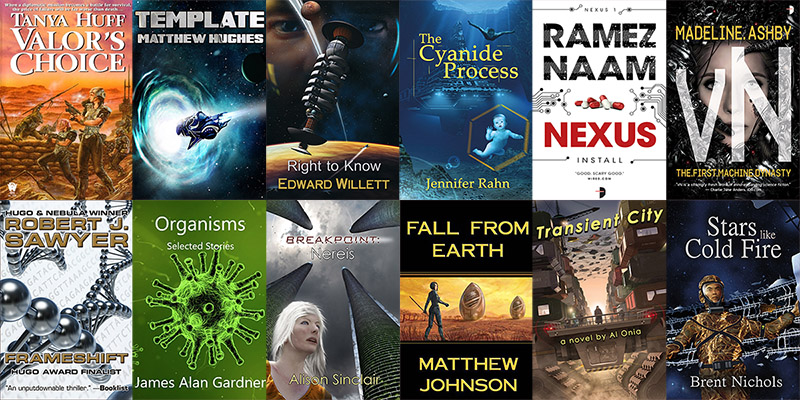 Science fiction is our conversation with the future. That's the philosophy of Bundoran Press Publishing House. But how can you have a conversation without friends? That's why I'm curating this twelve-book science fiction bundle for www.storybundle.com, made up of eleven novels and one short story collection from established greats and rising stars. Half of the books were published by the Press and the other six come from some fabulous authors who have been our friends and supporters for years. As always, at StoryBundle, you decide what the books are worth and a portion of the proceeds go to charity.
The Bundoran Buddies Book Bundle includes a never before published collection of selected stories from Hugo and Nebula nominated author, James Alan Gardner, available no where else.
Award winners and nominees abound in this collection. Hugo and Nebula award-winning author Robert J. Sawyer offers up his genetics-based near future novel, Frameshift, while Arthur C Clarke Award finalist, Alison Sinclair, presents the first book of her SF Plague Confederacy series: Breakpoint: Nereis. Aurora Award winning Edward Willett gives us a rousing space opera with Right to Know.
If your taste runs to near-future, Ramez Naam's mind-expanding and globe covering Nexus is right up your alley. Or you might prefer, Madelaine Ashby's vN, a gripping tale of designer self-replicating robots meant to both thrill and terrify.
At the other end of the temporal spectrum, we have military space opera, Valor's Choice, from multi-award-winning author Tanya Huff – still producing best sellers after over two decades in the field or Stars Like Cold Fire from relative newcomer, Brent Nichols, both of whose novels from Bundoran Press have garnered Aurora Award nominations. Jennifer Rahn's The Cyanide Process gives us a fun romp in a hard science thriller that includes robot ninjas and space Vikings.
But wait, there's more. Fall from Earth is a far-future first contact novel set in an empire based on Chinese philosophies and traditions while Matt Hughes mystery SF novel, Template, spans multiple worlds and human cultures smeared across half the galactic arm. Mystery lovers will also enjoy Al Onia's diesel punk noir, Transient City, with one of the most unusual and engaging detectives you will ever meet.
The Bundoran Buddies Book bundle only runs for three weeks. It's a great deal and a chance to pick up books by some of your favorite SF writers and discover some new favorites at the same time. – Hayden Trenholm
For StoryBundle, you decide what price you want to pay. For $5 (or more, if you're feeling generous), you'll get the basic bundle of four books in any ebook format—WORLDWIDE.
Valor's Choice by Tanya Huff
Template by Matthew Hughes
The Cyanide Process by Jennifer Rahn
Right to Know by Edward Willett
If you pay at least the bonus price of just $15, you get all four of the regular books, plus EIGHT more!
Frameshift by Robert J. Sawyer
Nexus by Ramez Naam
vN - The First Machine Dynasty by Madeline Ashby
Breakpoint Nereis by Alison Sinclair
Stars Like Cold Fire by Brent Nichols
Fall From Earth by Matthew Johnson
Organisms - Selected Stories by James Alan Gardner
Transient City by Al Onia
This bundle is available only for a limited time via http://www.storybundle.com. It allows easy reading on computers, smartphones, and tablets as well as Kindle and other ereaders via file transfer, email, and other methods. You get multiple DRM-free formats (.epub and .mobi) for all books!
It's also super easy to give the gift of reading with StoryBundle, thanks to our gift cards – which allow you to send someone a code that they can redeem for any future StoryBundle bundle – and timed delivery, which allows you to control exactly when your recipient will get the gift of StoryBundle.
Why StoryBundle? Here are just a few benefits StoryBundle provides.
Get quality reads: We've chosen works from excellent authors to bundle together in one convenient package.
Pay what you want (minimum $5): You decide how much these fantastic books are worth. If you can only spare a little, that's fine! You'll still get access to a batch of exceptional titles.
Support authors who support DRM-free books: StoryBundle is a platform for authors to get exposure for their works, both for the titles featured in the bundle and for the rest of their catalog. Supporting authors who let you read their books on any device you want—restriction free—will show everyone there's nothing wrong with ditching DRM.
Give to worthy causes: Bundle buyers have a chance to donate a portion of their proceeds to Mighty Writers and Girls Write Now!
Receive extra books: If you beat the bonus price, you'll get the bonus books!
StoryBundle was created to give a platform for independent authors to showcase their work, and a source of quality titles for thirsty readers. StoryBundle works with authors to create bundles of ebooks that can be purchased by readers at their desired price. Before starting StoryBundle, Founder Jason Chen covered technology and software as an editor for Gizmodo.com and Lifehacker.com.
For more information, visit our website at storybundle.com, tweet us at @storybundle and like us on Facebook. For press inquiries, please email press@storybundle.com.