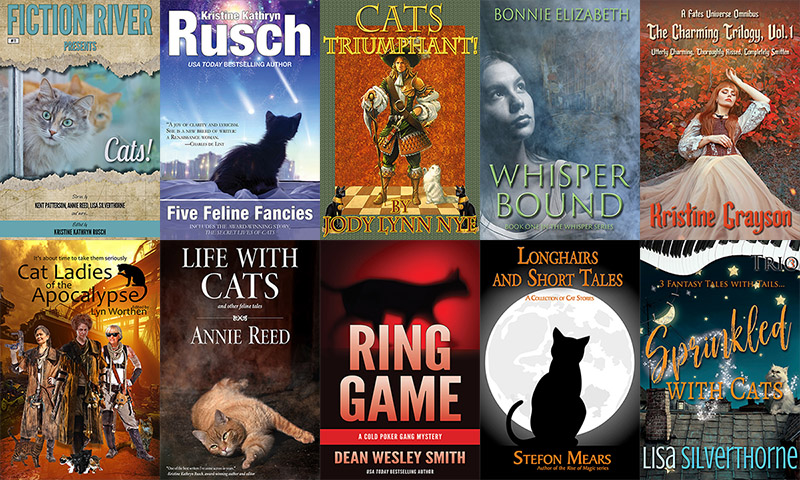 The Cats! Bundle - Curated by Kristine Kathryn Rusch
On Facebook the other day, someone wrote: I signed up for the 2020 90-day free trial and I would like to cancel my subscription. Yeah. It's been a heck of a year, these past three months.
And what do people do in tough times? They run to cat memes. On the day that I write this, #QuarantineCats is trending on Twitter, not because cats need to be quarantined, but because cats are stuck with their shelter-in-place humans and are not happy about it. Especially since humans are practicing social distancing these days, and as a result, cats are getting more hugs.
Cats hate hugs…unless they're on the cat's terms.
Yeah. I live with cats. And yes, they're annoyed at me at the moment. I'm screwing up their routine, dang it. So rather than getting an extra hug or two, I'm sharing cat videos, like everyone else. Cats dressed up like fashion models, walking the "cat walk," cats getting startled, cats falling off counters, cats playing with their own images in a mirror—you understand. I'll bet you've shared a few yourself.
This StoryBundle is the written equivalent of cat videos. Only better, longer, and with more plot. You'll find all kinds of cats—cats who save the world (using magical powers), cats who solve mysteries (simply by being observant), cats who facilitate romance (because that's what cats do [mostly to keep us from bothering them too much]). Aloof cats, cuddly cats, mysterious cats. If you want a cat, you'll find one right here.
Six of the books are exclusive to this bundle. You won't find the books anywhere else.
All of the authors in this bundle live with cats. We all know the ups and downs of dwelling with creatures who were once worshipped as gods (and who still miss those good old days). Because we live with cats, we write about them. They inspire us. They also make us laugh and sometimes, they cuddle with us of their own free will.
Annie Reed, Stefon Mears, Lisa Silverthorne, and I have contributed collections of our own cat stories. Fiction River Presents: Cats! and Cat Ladies of the Apocalypse are anthologies of cat stories, written by a variety of writers.
Then we have the novels. Bonnie Elizabeth gives us the first in the Whisper series. Dean Wesley Smith shares the long-awaited next standalone novel in his Cold Poker Gang series, and Kristine Grayson contributes a complete trilogy.
These books should keep you reading—and smiling—until you can leave the house again (and please your cats by restoring their routines).
As you pick up copies for yourself, I also urge you to give a few dollars to our charity, Able Gamers.
Now that most of us have unwillingly spent weeks inside, unable to socialize, we have a sense of what many disabled folks contend with each and every day. Able Gamers helps them participate in online games by providing equipment tailored toward their needs. Sometimes the online community is the only community available to people who are housebound (as many of you learned this year). Dreams are important for all of us, as is being social, so please, if you decide to purchase this bundle, add a donation to AbleGamers.
Cat videos give people thirty seconds of enjoyment. This bundle gives readers days (maybe weeks) of enjoyment and helps disabled people socialize while stuck at home.
That sounds perfect for this strange year of 2020. Since we can't cancel our subscription to 2020, we may as well figure out how to cope with it.
I hope this bundle helps you cope.
Enjoy! – Kristine Kathryn Rusch
For StoryBundle, you decide what price you want to pay. For $5 (or more, if you're feeling generous), you'll get the basic bundle of four books in any ebook format—WORLDWIDE.
Whisper Bound by Bonnie Elizabeth
Cats Triumphant! by Jody Lynn Nye
Five Feline Fancies by Kristine Kathryn Rusch
Fiction River Presents: Cats! edited by Kristine Kathryn Rusch (StoryBundle exclusive!)
If you pay at least the bonus price of just $15, you get all four of the regular books, plus SIX more books, including five exclusives!
Cat Ladies of the Apocalypse by Lyn Worthen (StoryBundle exclusive!)
Sprinkled With Cats by Lisa Silverthorne (StoryBundle exclusive!)
Life, With Cats by Annie Reed (StoryBundle exclusive!)
Longhairs and Short Tales by Stefon Mears (StoryBundle exclusive!)
The Charming Trilogy, Vol. 1 by Kristine Grayson
Ring Game by Dean Wesley Smith (StoryBundle exclusive!)
This bundle is available only for a limited time via http://www.storybundle.com. It allows easy reading on computers, smartphones, and tablets as well as Kindle and other ereaders via file transfer, email, and other methods. You get multiple DRM-free formats (.epub and .mobi) for all books!
It's also super easy to give the gift of reading with StoryBundle, thanks to our gift cards – which allow you to send someone a code that they can redeem for any future StoryBundle bundle – and timed delivery, which allows you to control exactly when your recipient will get the gift of StoryBundle.
Why StoryBundle? Here are just a few benefits StoryBundle provides.
Get quality reads: We've chosen works from excellent authors to bundle together in one convenient package.
Pay what you want (minimum $5): You decide how much these fantastic books are worth. If you can only spare a little, that's fine! You'll still get access to a batch of exceptional titles.
Support authors who support DRM-free books: StoryBundle is a platform for authors to get exposure for their works, both for the titles featured in the bundle and for the rest of their catalog. Supporting authors who let you read their books on any device you want—restriction free—will show everyone there's nothing wrong with ditching DRM.
Give to worthy causes: Bundle buyers have a chance to donate a portion of their proceeds to AbleGamers!
Receive extra books: If you beat the bonus price, you'll get the bonus books!
StoryBundle was created to give a platform for independent authors to showcase their work, and a source of quality titles for thirsty readers. StoryBundle works with authors to create bundles of ebooks that can be purchased by readers at their desired price. Before starting StoryBundle, Founder Jason Chen covered technology and software as an editor for Gizmodo.com and Lifehacker.com.
For more information, visit our website at storybundle.com, tweet us at @storybundle and like us on Facebook. For press inquiries, please email press@storybundle.com.