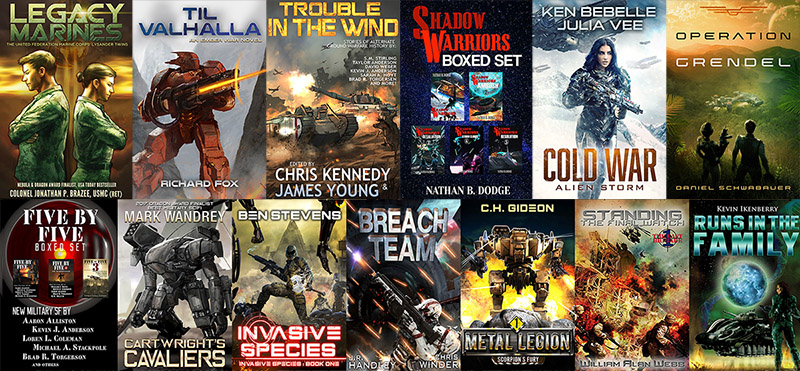 The Danger Zone Military SF Bundle - Curated by Kevin J. Anderson
Suit up, grab your blaster and your environment suit, and respond to a galactic call to arms—or at least a call to reading. Fire up your e-reader for this fast-paced StoryBundle of Military SF adventures, 19 titles (13 listed titles, two of which are boxed sets of 5 and 3 books each!) curated by New York Times bestselling author Kevin J. Anderson. Name your own price and get them all for as little as $15, with a portion of the proceeds going to benefit the Challenger Learning Centers.
The Five by Five Boxed Set contains three complete Military SF novella volumes by some of the best military SF writers out there, including William Dietz, Mike Stackpole, RM Meluch, Aaron Allston, BV Larson, and Kevin J. Anderson.
Richard Fox's Til Valhalla—On the battlefield of the future, armored mechs can turn the tide of any battle. With a nation under threat, a single small force of Armor joins the fight to hold the line against a merciless horde bent on total domination.
Trouble in the Wind, edited by Chris Kennedy, contains sixteen stories by eighteen outstanding authors of ground warfare that never happened. Throughout the human experience, historians have wondered, "What if?" What if Sherman had fought for the South in the U.S. Civil War? What if Germany had fought to the end in World War I? What if World War III had actually happened? Wonder no more, for these questions, along with many others, are answered within the pages of this book. Told by a variety of award-winning authors, like Sarah Hoyt and Kevin J. Anderson, the 2018 Dragon Award Winners for Alternate History, S.M. Stirling, the 2019 Dragon Award Winner for Alternate History, David Weber, a three-time Dragon Award Winner for Best Military Science Fiction, and Brad R. Torgersen, the winner of the 2019 Dragon Award for Best Science Fiction, "Trouble in the Wind," deals with ground combat that never happened in our world…but easily could have.
In Kevin Ikenberry's Runs in the Family, a shy wallflower volunteers to receive memories that are part of a classified military experiment. With the galaxy under threat of invasion, can she blossom into the warrior her ancestor was meant to be?
The Shadow Warriors Boxed Set by Nathan B. Dodge contains all five volumes of the pulse-pounding space adventures, in which five misfit teens kidnapped to space must create their own elite fighting force to confront an alien threat. Can they save themselves, save Earth, and save their own kidnappers?
Cold War: Alien Storm by Ken Bebelle and Julia Vee: Lt. Cam Alvarez thought she died, but the aliens brought her back as something twisted, neither human nor alien. Now, against impossible odds, Cam must escape her captors and make an unthinkable sacrifice to give humanity one last shot at survival.
A cynical military journalist impersonates an intelligence officer in order to write the story of a galactic invasion in Dan Schwabauer's Operaton Grendel. It's the war story he's dreamed of, but the battle may cost him his mind.
Jonathan Brazee's Legacy Marines: When your father was the most famous—or infamous, depending on the point of view—Marine in the United Federation Marine Corps, it can be hard to live in the shadow of his legacy. Twins Esther and Noah Lysander face untold obstacles as they enlist in the Corps and try to follow their father's footsteps yet still make make their own mark in their service to the Federation.
Cartwright's Cavaliers: Heir to one of the leading "Four Horsemen" mercenary companies, Jim Cartwright is having a bad year. Having failed his high school VOWS tests, he's just learned his mother bankrupted the family company before disappearing, robbing him of his Cavalier birthright.But the Horsemen of eras past were smart—they left a legacy of equipment Jim can use to complete the next contract and resurrect the company. It's up to Jim to find the people he needs to operate the machinery of war, train them, and lead them to victory. If he's good enough, the company can still be salvaged.But then again, he's never been good enough.
Breach Team by JR Handley—Who knew answering a rescue beacon could be so dangerous? But the everyone know no good deed goes unpunished. Who will win the hero's or the monsters.
America may be dead in Standing the Final Watch by William Alan Webb, but Nick Angriff will kick your ass to resurrect her. And in Invasive Species by Ben Stevens, he was born and bred to fight for the purity of the entire planet… Fight to survive…and then fight to win in Scorpion's Fire by CH Gideon.
As always with StoryBundle, you name your own price for these great Military SF reads. – Kevin J. Anderson
* * *
For StoryBundle, you decide what price you want to pay. For $5 (or more, if you're feeling generous), you'll get the basic bundle of four books in any ebook format—WORLDWIDE.
Shadow Warriors Boxed Set by Nathan B. Dodge
Til Valhalla by Richard Fox
Legacy Marines by Jonathan P. Brazee
Trouble in the Wind by Chris Kennedy & James Young
If you pay at least the bonus price of just $15, you get all four of the regular books, plus nine more books! That's a total of 13 titles (or 19 counting the boxed sets)!
Five By Five Boxed Set by Aaron Allston, Kevin J. Anderson, and more
Standing the Final Watch by William Alan Webb
Cold War: Alien Storm by Julia Vee and Ken Bebelle
Breach Team by J. R. Handley and Chris Winder
Operation Grendel by Daniel Schwabauer
Scorpion's Fury by C.H. Gideon
Cartwright's Cavaliers by Mark Wandrey
Invasive Species by Ben Stevens
Runs in the Family by Kevin Ikenberry
This bundle is available only for a limited time via http://www.storybundle.com. It allows easy reading on computers, smartphones, and tablets as well as Kindle and other ereaders via file transfer, email, and other methods. You get multiple DRM-free formats (.epub, .mobi) for all books!
It's also super easy to give the gift of reading with StoryBundle, thanks to our gift cards – which allow you to send someone a code that they can redeem for any future StoryBundle bundle – and timed delivery, which allows you to control exactly when your recipient will get the gift of StoryBundle.
Why StoryBundle? Here are just a few benefits StoryBundle provides.
Get quality reads: We've chosen works from excellent authors to bundle together in one convenient package.
Pay what you want (minimum $5): You decide how much these fantastic books are worth. If you can only spare a little, that's fine! You'll still get access to a batch of exceptional titles.
Support authors who support DRM-free books: StoryBundle is a platform for authors to get exposure for their works, both for the titles featured in the bundle and for the rest of their catalog. Supporting authors who let you read their books on any device you want—restriction free—will show everyone there's nothing wrong with ditching DRM.
Give to worthy causes: Bundle buyers have a chance to donate a portion of their proceeds to the Challenger Learning Center for Space Education!
Receive extra books: If you beat the bonus price, you'll get the bonus books!
StoryBundle was created to give a platform for independent authors to showcase their work, and a source of quality titles for thirsty readers. StoryBundle works with authors to create bundles of ebooks that can be purchased by readers at their desired price. Before starting StoryBundle, Founder Jason Chen covered technology and software as an editor for Gizmodo.com and Lifehacker.com.
For more information, visit our website at storybundle.com, tweet us at @storybundle and like us on Facebook. For press inquiries, please email press@storybundle.com.