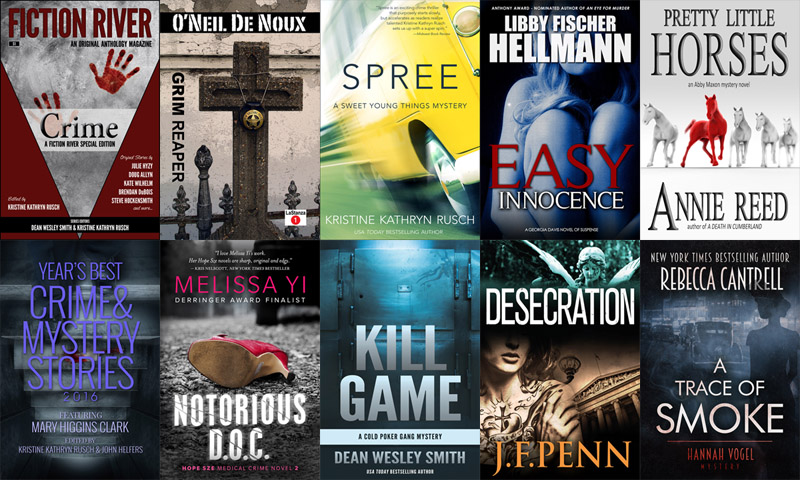 The Dark Crimes Bundle - Curated by Kristine Kathryn Rusch
I have only a handful of requirements of crime fiction—innovative characters, twisty plots, concrete settings, and great voice. Not many mystery writers manage to hit each requirement. I've read so much crime fiction that I'm hard to surprise. I get irritated when I can't "see" the setting. I don't want to hang out with the same kind of characters who show up on TV. And I really want to hear someone whisper in my ear as I'm reading.
Every writer in this bundle hits all my crime fiction requirements. In fact, every writer here exceeds them—always surprising me, always entertaining me.
I love the work of each writer in this bundle. In one way or another, I've worked with each one of them. I'm not the only one who recognizes their quality either. We have New York Times bestsellers, Macavity winners, Shamus winners, Derringer winners, ITW Thriller Writer award winners, and international bestsellers.
We have first books in some great ongoing series. We have some stellar short story collections, which will allow you to sample the work of even more writers. We have historicals—from 1931 Berlin to 1981 New Orleans. We have 21st century stories—from internet stalking to teenage bullying. We have international crime fiction—from London grave robbers to a Montreal medical mystery. And, with the inclusion of more than 30 short stories, we not only cover every single mystery and crime subgenre, we also manage to sample stories from Grand Masters and first-timers alike.
If you like mystery and crime fiction as much as I do, you'll love this bundle. And if you're new to the genre, this bundle will introduce you to enough authors to influence your reading for years to come.
Also, in the spirit of adventure, let me also point out our charity. In the past twenty years, the online gaming world has become a major place for people all over the world to interact with each other. AbleGamers makes it possible for people with disabilities to participate, by providing everything from equipment personalized for each person's needs to advice to the game developers on how to make their entertainment accessible.
Entertainment takes our mind off the troubles in the world, even when we're exploring the world's dark corners, as we do in this bundle. As you pick up a copy of this bundle, please consider throwing in a few dollars to help AbleGamers. You'll get great books to read, and someone somewhere will get a shiny piece of equipment to help them find a few hours of escape as well.
Thanks! – Kristine Kathryn Rusch
The initial titles in the Dark Crimes Bundle (minimum $5 to purchase) are:
Grim Reaper by O'Neil De Noux
Easy Innocence by Libby Fischer Hellmann
Spree by Kristine Kathryn Rusch
Fiction River Special: Crime by Fiction River
Pretty Little Horses by Annie Reed
If you pay more than the bonus price of just $15, you get all five of the regular titles, plus five more!
A Trace of Smoke by Rebecca Cantrell
Notorious D.O.C. by Melissa Yi
Year's Best Crime & Mystery Stories 2016 by Kristine Kathryn Rusch and John Helfers
Desecration by J.F. Penn
Kill Game - A Cold Poker Gang Mystery by Dean Wesley Smith
This bundle is available only for a limited time via http://www.storybundle.com. It allows easy reading on computers, smartphones, and tablets as well as Kindle and other ereaders via file transfer, email, and other methods. You get multiple DRM-free formats (.epub and .mobi) for all books!
It's also super easy to give the gift of reading with StoryBundle, thanks to our gift cards – which allow you to send someone a code that they can redeem for any future StoryBundle bundle – and timed delivery, which allows you to control exactly when your recipient will get the gift of StoryBundle.
Why StoryBundle? Here are just a few benefits StoryBundle provides.
Get quality reads: We've chosen works from excellent authors to bundle together in one convenient package.
Pay what you want (minimum $5): You decide how much these fantastic books are worth. If you can only spare a little, that's fine! You'll still get access to a batch of exceptional titles.
Support authors who support DRM-free books: StoryBundle is a platform for authors to get exposure for their works, both for the titles featured in the bundle and for the rest of their catalog. Supporting authors who let you read their books on any device you want—restriction free—will show everyone there's nothing wrong with ditching DRM.
Give to worthy causes: Bundle buyers have a chance to donate a portion of their proceeds to AbleGamers!
Receive extra books: If you beat the bonus price, you'll get the bonus books!
StoryBundle was created to give a platform for independent authors to showcase their work, and a source of quality titles for thirsty readers. StoryBundle works with authors to create bundles of ebooks that can be purchased by readers at their desired price. Before starting StoryBundle, Founder Jason Chen covered technology and software as an editor for Gizmodo.com and Lifehacker.com.
For more information, visit our website at storybundle.com, tweet us at @storybundle and like us on Facebook. For press inquiries, please email press@storybundle.com.