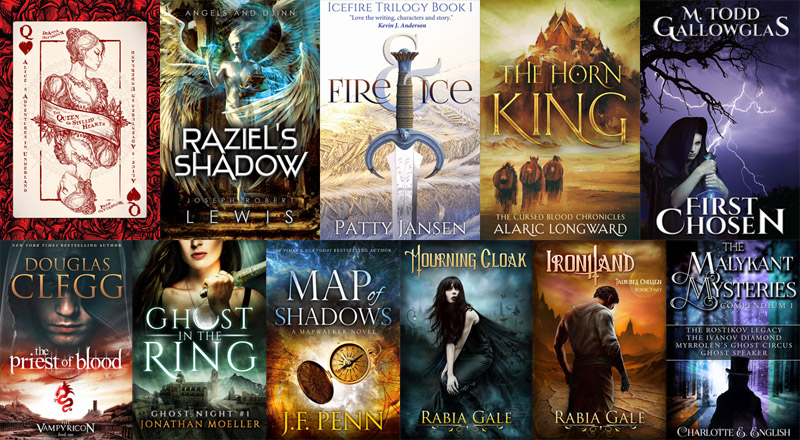 The Darkest Days Fantasy Bundle - Curated by Charlotte E. English
Since time immemorial, humankind has been fascinated with midnight tales of dark deeds, of horror and the supernatural, of what waits just out of sight until the sun goes down. As children, we were thrilled and terrified by ghosts and monsters, dangers and darkness; as adults… well, we pretty much still are.
Dark fantasy as a genre takes us back to those days of reading ghost stories under the blankets at night, by the wan light of a single torch. Borrowing from horror and Gothic fiction, mixing the macabre and the horrific with dark magic and fantasy tropes, these tales bring us ghosts and necromancers; dark wizards and witches; vampires and murderers; beleaguered detectives, alone against the dark; sorcerers and thieves; zombies, monsters, fallen angels and much more.
For this bundle, I've hand selected ten of the best indie writers working in the dark fantasy genre today. These books span the full range of the fantasy rainbow, from historical fantasy to contemporary, from epic to grimdark. Some are set in imaginative second worlds; others are set in the real world — perhaps just around the corner from you.
All will take you deep into the dark. – Charlotte E. English
The initial titles in The Darkest Days Fantasy Bundle (minimum $5 to purchase) are:
The Horn King by Alaric Longward
The Queen of Stilled Hearts by DeAnna Knippling
Raziel's Shadow by Joseph Robert Lewis
Fire & Ice by Patty Jansen
If you pay at least the bonus price of just $15, you get all four of the regular titles, plus SEVEN more!
The Vampyricon - Book 1 - The Priest of Blood by Douglas Clegg
Map of Shadows by J.F. Penn
First Chosen by M. Todd Gallowglas
Ghost in the Ring by Jonathan Moeller
The Malykant Mysteries Compendium 1 by Charlotte E. English
Mourning Cloak - Taurin's Chosen Book 1 by Rabia Gale
Ironhand - Taurin's Chosen Book 2 by Rabia Gale
This bundle is available only for a limited time via http://www.storybundle.com. It allows easy reading on computers, smartphones, and tablets as well as Kindle and other ereaders via file transfer, email, and other methods. You get multiple DRM-free formats (.epub and .mobi) for all books!
It's also super easy to give the gift of reading with StoryBundle, thanks to our gift cards – which allow you to send someone a code that they can redeem for any future StoryBundle bundle – and timed delivery, which allows you to control exactly when your recipient will get the gift of StoryBundle.
Why StoryBundle? Here are just a few benefits StoryBundle provides.
Get quality reads: We've chosen works from excellent authors to bundle together in one convenient package.
Pay what you want (minimum $5): You decide how much these fantastic books are worth. If you can only spare a little, that's fine! You'll still get access to a batch of exceptional titles.
Support authors who support DRM-free books: StoryBundle is a platform for authors to get exposure for their works, both for the titles featured in the bundle and for the rest of their catalog. Supporting authors who let you read their books on any device you want—restriction free—will show everyone there's nothing wrong with ditching DRM.
Give to worthy causes: Bundle buyers have a chance to donate a portion of their proceeds to Mighty Writers and Girls Write Now!
Receive extra books: If you beat the bonus price, you'll get the bonus books!
StoryBundle was created to give a platform for independent authors to showcase their work, and a source of quality titles for thirsty readers. StoryBundle works with authors to create bundles of ebooks that can be purchased by readers at their desired price. Before starting StoryBundle, Founder Jason Chen covered technology and software as an editor for Gizmodo.com and Lifehacker.com.
For more information, visit our website at storybundle.com, tweet us at @storybundle and like us on Facebook. For press inquiries, please email press@storybundle.com.