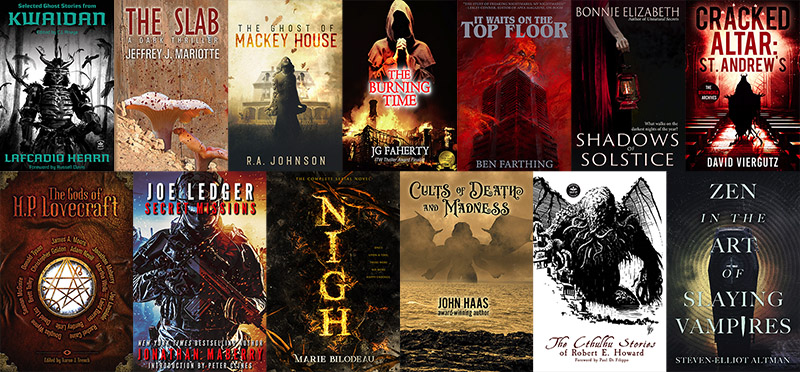 The Eldritch Chills Bundle - Curated by Kevin J. Anderson
Are you a reader who enjoys stories that make your skin crawl? When a bump in the night is more likely to be another book falling off the shelf?
I've curated a crypt full of creepy books about elder gods, ghosts, slimy monsters, ominous entities, and the brave souls who fight them—fourteen books in all in the Eldritch Chills StoryBundle. Even Cthulhu would be proud!
Let's start out with some classics, The Cthulhu Stories of Robert E. Howard—the creator of Conan also wrote in H.P. Lovecraft's grand creation, and these are his stories, collected in one volume. You'll also love the anthology The Gods of Lovecraft, edited by Aaron J. French, for more about those awful beings from beyond time and space. Cults of Death and Madness by John Haas is a frightening Victorian adventure of ancient idols, blood-sacrifice cults, and Elder Gods, while The Burning Time by JG Faherty is a more modern take on Cthulhu-inspired monsters in the town of Hastings Mills.
Another classic: British author Lafcadio Hearn introduced the Western world to Japanese ghost stories and different culture full of terrors; Kwaidan contains the best of these ghost stories. For a more modern twist, Jeffrey J. Mariotte's The Slab takes us into the minds of a group of men who hunt women for sport out in the California desert…until they encounter an abandoned slab, and an ancient evil.
Steven-Elliot Altman's Zen in the Art of Vampire Slaying offers a different perspective on saving us from the monsters in the shadows. And if you prefer ghosts to vampires, The Ghost of Mackey House by R.A. Johnson features a haunted bed and breakfast, a disappearing owner, and a mystery that goes back decades.
Who needs a haunted house, when you can have a haunted skyscraper? Find out in It Waits on the Top Floor by Ben Farthing. Cracked Altar by David Viergutz features a man under investigation for a crime he didn't commit, watching his life fall into ruins—but it gets far worse when a lurking presence also begins to stalk him. Bonnie Elizabeth's Shadows of Solstice offers a different kind of hero, young Mina Andresen, who must fight monsters in her own small town, as soon as she can believe in herself. For more small town horrors, Nigh by Marie Bilodeau takes place in another not-very-Mayberry RFD place: a disappearing witch, a thief in the night, spectral whispers, and a fog that won't dissipate…
But there's no need to be afraid—not when we have Joe Ledger and his team from the Department of Military Sciences to protect us. For this bundle, we have BOTH volumes of bestseller Jonathan Maberry's Joe Ledger: Secret Missions, tense battles against the supernatural, from the Antarctic to the harshest deserts, to your own back yard.
That should be enough to make your skin crawl for a long time. – Kevin J. Anderson
* * *
For StoryBundle, you decide what price you want to pay. For $5 (or more, if you're feeling generous), you'll get the basic bundle of four books in any ebook format—WORLDWIDE.
The Ghost of Mackey House by R.A. Johnson
The Burning Time by JG Faherty
The Slab by Jeffrey J. Mariotte
Selected Ghost Stories from Kwaidan by Lafcadio Hearn
If you pay at least the bonus price of just $20, you get all four of the regular books, plus NINE more books for a total of 13!
Nigh by Marie Bilodeau
Joe Ledger - Secret Missions by Jonathan Maberry
The Gods of H.P. Lovecraft edited by Aaron J. French
Cracked Altar: St. Andrew's by David Viergutz
Shadows of Solstice by Bonnie Elizabeth
It Waits on the Top Floor by Ben Farthing
Cults of Death and Madness by John Haas
The Cthulhu Stories of Robert E. Howard by Robert E. Howard
Zen in the Art of Slaying Vampires by Steven-Elliot Altman
This bundle is available only for a limited time via http://www.storybundle.com. It allows easy reading on computers, smartphones, and tablets as well as Kindle and other ereaders via file transfer, email, and other methods. You get multiple DRM-free formats (.epub, .mobi) for all books!
It's also super easy to give the gift of reading with StoryBundle, thanks to our gift cards – which allow you to send someone a code that they can redeem for any future StoryBundle bundle – and timed delivery, which allows you to control exactly when your recipient will get the gift of StoryBundle.
Why StoryBundle? Here are just a few benefits StoryBundle provides.
Get quality reads: We've chosen works from excellent authors to bundle together in one convenient package.
Pay what you want (minimum $5): You decide how much these fantastic books are worth. If you can only spare a little, that's fine! You'll still get access to a batch of exceptional titles.
Support authors who support DRM-free books: StoryBundle is a platform for authors to get exposure for their works, both for the titles featured in the bundle and for the rest of their catalog. Supporting authors who let you read their books on any device you want—restriction free—will show everyone there's nothing wrong with ditching DRM.
Give to worthy causes: Bundle buyers have a chance to donate a portion of their proceeds to The Challenger Center for Space Education!
Receive extra books: If you beat the bonus price, you'll get the bonus books!
StoryBundle was created to give a platform for independent authors to showcase their work, and a source of quality titles for thirsty readers. StoryBundle works with authors to create bundles of ebooks that can be purchased by readers at their desired price. Before starting StoryBundle, Founder Jason Chen covered technology and software as an editor for Gizmodo.com and Lifehacker.com.
For more information, visit our website at storybundle.com, tweet us at @storybundle and like us on Facebook. For press inquiries, please email press@storybundle.com.