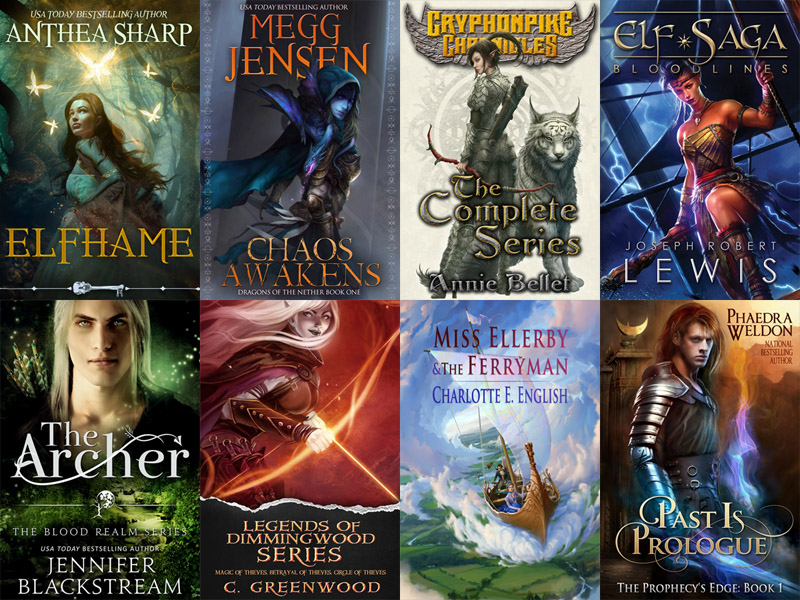 The Epic Elves Bundle - Curated by Anthea Sharp
Welcome to the Epic Elves StoryBundle, eight books featuring magic, adventure, and – of course – elves! You'll find stories here inspired by Tolkien, D&D, fairy tales, MMO gaming, and even Jane Austen. Escape the ordinary in this rich array of fantasy worlds filled with epic quests, fearsome warriors, and the best the genre has to offer – tales that help illuminate the heroes within us all.
This collection includes four USA Today bestselling authors and several award-winners, and features not one, but two exclusives available only in this StoryBundle: Annie Bellet's Gryphonpike omnibus, and Phaedra Weldon's brand new novel, Past is Prologue.
In this bundle of rousing stories, Joseph Lewis and Annie Bellet bring us classic tales of questing adventurers, while Jennifer Blackstream and Anthea Sharp spin fairytale-inspired stories. Phaedra Weldon introduces a warrior with a heroic destiny, and Megg Jensen delivers an epic fantasy world where good and evil clash. The shadows of the mystical forest of Dimmingwood are brought to life by C. Greenwood, and Charlotte English takes us to a Regency England full of class distinctions, proper behavior… and faerie folk.
Whatever the particular flavor, every author delivers a story full of memorable characters, heroic deeds, and richly-drawn fantasy lands. In addition to elves, you'll get orcs, magicians, and even a dragon or two into the bargain. So gird on your armor and sharpen your sword, conjure your fireballs at the ready, and prepare to step into the fantastic worlds of Epic Elves. – Anthea Sharp
The initial titles in the Epic Elves Bundle (minimum $4 to purchase) are:
Chaos Awakens by Megg Jensen
Bloodlines by Joseph Robert Lewis
The Gryphonpike Chronicles - The Complete Series by Annie Bellet
Elfhame by Anthea Sharp
If you pay more than the bonus price of just $12, you get all four of the regular titles, plus four more!
The Archer by Jennifer Blackstream
Miss Ellerby and the Ferryman by Charlotte E. English
Legends of Dimmingwood Series by C. Greenwood
Past is Prologue by Phaedra Weldon
This bundle is available only for a limited time via http://www.storybundle.com. It allows easy reading on computers, smartphones, and tablets as well as Kindle and other ereaders via file transfer, email, and other methods. You get multiple DRM-free formats (.epub and .mobi) for all books!
It's also super easy to give the gift of reading with StoryBundle, thanks to our gift cards – which allow you to send someone a code that they can redeem for any future StoryBundle bundle – and timed delivery, which allows you to control exactly when your recipient will get the gift of StoryBundle.
Why StoryBundle? Here are just a few benefits StoryBundle provides.
Get quality reads: We've chosen works from excellent authors to bundle together in one convenient package.
Pay what you want (minimum $4): You decide how much these fantastic books are worth. If you can only spare a little, that's fine! You'll still get access to a batch of exceptional titles.
Support authors who support DRM-free books: StoryBundle is a platform for authors to get exposure for their works, both for the titles featured in the bundle and for the rest of their catalog. Supporting authors who let you read their books on any device you want—restriction free—will show everyone there's nothing wrong with ditching DRM.
Give to worthy causes: Bundle buyers have a chance to donate a portion of their proceeds to Mighty Writers and Girls Write Now!
Receive extra books: If you beat the bonus price, you'll get the bonus books!
StoryBundle was created to give a platform for independent authors to showcase their work, and a source of quality titles for thirsty readers. StoryBundle works with authors to create bundles of ebooks that can be purchased by readers at their desired price. Before starting StoryBundle, Founder Jason Chen covered technology and software as an editor for Gizmodo.com and Lifehacker.com.
For more information, visit our website at storybundle.com, tweet us at @storybundle and like us on Facebook. For press inquiries, please email press@storybundle.com.