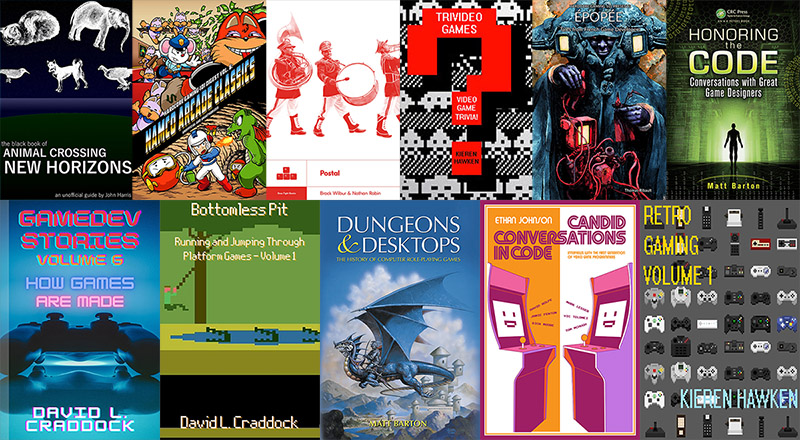 The Exclusive Retro Games Bundle - Curated by David L. Craddock
Whether rain or shine, this summer's Exclusive Retro Game Bundle at StoryBundle offers nearly a dozen eBooks about video game development and culture to keep your mind busy and make your thumbs itch—including six exclusives you won't find anywhere else. A portion of this DRM-free bundle will be donated to the World Health Organization (WHO) as it continues to bring relief to people around the world affected by Covid-19.
Author and game designer John Harris wrote The Black Book of Animal Crossing New Horizons: An Unofficial Guide for Players to help you get the better of Tom Nook. Author Brock Wilbur and Boss Fight Books regale you with the tumultuous development story of Postal.
Historian, professor, and Matt Chat host Matt Barton delves deep into the history of roleplaying games in Dungeons & Desktops, and introduces you to legendary game developers from the "Father of Video Games" Ralph Baer to Rebecca "Burger Becky" Heineman in Honoring the Code—both available as DRM-free epub and mobi books for the first time, exclusively in this bundle.
All that, plus loads more interviews with game developers past and present, Stay Awhile and Listen author David L. Craddock's diary-style writeups of playing early platformers, over 150 pages of video game trivia, and more.
StoryBundle is a pay-what-you-want platform for independent authors to share their works with readers (and gamers) like you. Paying at least $5 will get you three books from the Exclusive Retro Game Bundle, while paying $15 or more unlocks eight bonus books for a total of eleven. – David L. Craddock
* * *
For StoryBundle, you decide what price you want to pay. For $5 (or more, if you're feeling generous), you'll get the basic bundle of four books in any ebook format—WORLDWIDE.
GameDev Stories: Volume 6 - How Games Are Made by David L. Craddock (StoryBundle Exclusive!)
HG101 Presents: Épopée - Tales from French Game Developers by Thomas Ribault
Trivideo Games - Video Game Trivia! by Kieren Hawken (StoryBundle Exclusive!)
If you pay at least the bonus price of just $15, you get all four of the regular books, plus six more books, for a total of ten!
Dungeons & Desktops by Matt Barton (in .epub and .mobi for the first time!)
Honoring the Code by Matt Barton (in .epub and .mobi for the first time!)
HG101 Digest Vol. 6: Namco Arcade Classics by Kurt Kalata
Boss Fight Books: Postal by Brock Wilbur & Nathan Rabin
Retro Gaming - Volume 1 by Kieren Hawken (StoryBundle Exclusive!)
Candid Conversations in Code by Ethan Johnson (StoryBundle Exclusive!)
Bottomless Pit - Volume 1 by David L. Craddock (StoryBundle Exclusive!)
The Black Book of Animal Crossing New Horizons by John Harris (StoryBundle Exclusive!)
This bundle is available only for a limited time via http://www.storybundle.com. It allows easy reading on computers, smartphones, and tablets as well as Kindle and other ereaders via file transfer, email, and other methods. You get multiple DRM-free formats (.epub, .mobi) for all books!
It's also super easy to give the gift of reading with StoryBundle, thanks to our gift cards – which allow you to send someone a code that they can redeem for any future StoryBundle bundle – and timed delivery, which allows you to control exactly when your recipient will get the gift of StoryBundle.
Why StoryBundle? Here are just a few benefits StoryBundle provides.
Get quality reads: We've chosen works from excellent authors to bundle together in one convenient package.
Pay what you want (minimum $5): You decide how much these fantastic books are worth. If you can only spare a little, that's fine! You'll still get access to a batch of exceptional titles.
Support authors who support DRM-free books: StoryBundle is a platform for authors to get exposure for their works, both for the titles featured in the bundle and for the rest of their catalog. Supporting authors who let you read their books on any device you want—restriction free—will show everyone there's nothing wrong with ditching DRM.
Give to worthy causes: Bundle buyers have a chance to donate a portion of their proceeds to The World Health Organization (WHO)!
Receive extra books: If you beat the bonus price, you'll get the bonus books!
StoryBundle was created to give a platform for independent authors to showcase their work, and a source of quality titles for thirsty readers. StoryBundle works with authors to create bundles of ebooks that can be purchased by readers at their desired price. Before starting StoryBundle, Founder Jason Chen covered technology and software as an editor for Gizmodo.com and Lifehacker.com.
For more information, visit our website at storybundle.com, tweet us at @storybundle and like us on Facebook. For press inquiries, please email press@storybundle.com.