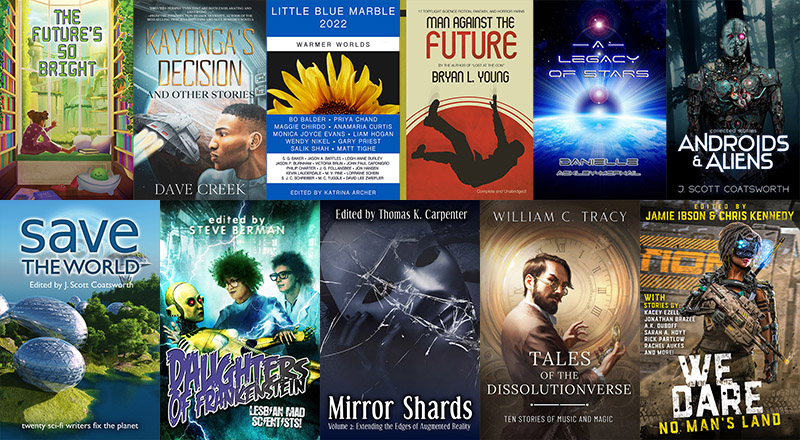 The Explore Sci-Fi Worlds Bundle - Curated by J. Scott Coatsworth
Other Worlds Ink is excited to be curating the Explore Sci-Fi Worlds StoryBundle for the second year – this time we have 176 Sci-Fi Worlds for you to explore – that's eleven sci-fi anthologies and collections showcasing 116 authors, but it's available for a limited time only – from July 19th to August 10th. This StoryBundle offers a large selection of ebooks from independent and small press fantasy writers. You can grab it now here: https://storybundle.com/anthology.
This StoryBundle features a wide variety of themes – radiant futures, Frankenstein re-imaginings, space marines, powerful cyborgs and tiny aliens, climate change, augmented reality, and much more. With more than a hundred talented authors, chances are that you'll find some new writers to love.
Charity proceeds support Renegade Relief Runners' work in Ukraine – the charity helps Ukrainian families and children caught in the unprovoked war. The Renegade Foundation has stepped up operations and capacity in Ukraine and neighboring countries, and is firmly committed to support all affected communities in Ukraine and countries in the region.
Once August 10th passes, this particular collection will be gone forever, so grab it now! – J. Scott Coatsworth
* * *
For StoryBundle, you decide what price you want to pay. For $5 (or more, if you're feeling generous), you'll get the basic bundle of four books in .epub format—WORLDWIDE.
Man Against the Future by Bryan Young
Kayonga's Decision and Other Stories by Dave Creek
Little Blue Marble 2022 - Warmer Worlds edited by Katrina Archer
The Future's So Bright edited by Water Dragon Publishing
If you pay at least the bonus price of just $20, you get all four of the regular books, plus seven more books for a total of 11!
We Dare - No Man's Land edited by Jamie Ibson and Chris Kennedy
A Legacy of Stars by Danielle Ackley-McPhail
Androids & Aliens by J. Scott Coatsworth
Save the World edited by J. Scott Coatsworth
Daughters of Frankenstein edited by Steve Berman
Mirror Shards Vol. 2 edited by Thomas K. Carpenter
Tales of the Dissolutionverse by William C. Tracy
This bundle is available only for a limited time via http://www.storybundle.com. It allows easy reading on computers, smartphones, and tablets as well as Kindle and other ereaders via file transfer, email, and other methods. You get a DRM-free .epub for all books!
It's also super easy to give the gift of reading with StoryBundle, thanks to our gift cards – which allow you to send someone a code that they can redeem for any future StoryBundle bundle – and timed delivery, which allows you to control exactly when your recipient will get the gift of StoryBundle.
Why StoryBundle? Here are just a few benefits StoryBundle provides.
Get quality reads: We've chosen works from excellent authors to bundle together in one convenient package.
Pay what you want (minimum $5): You decide how much these fantastic books are worth. If you can only spare a little, that's fine! You'll still get access to a batch of exceptional titles.
Support authors who support DRM-free books: StoryBundle is a platform for authors to get exposure for their works, both for the titles featured in the bundle and for the rest of their catalog. Supporting authors who let you read their books on any device you want—restriction free—will show everyone there's nothing wrong with ditching DRM.
Give to worthy causes: Bundle buyers have a chance to donate a portion of their proceeds to Renegade Relief Runners!
Receive extra books: If you beat the bonus price, you'll get the bonus books!
StoryBundle was created to give a platform for independent authors to showcase their work, and a source of quality titles for thirsty readers. StoryBundle works with authors to create bundles of ebooks that can be purchased by readers at their desired price. Before starting StoryBundle, Founder Jason Chen covered technology and software as an editor for Gizmodo.com and Lifehacker.com.
For more information, visit our website at storybundle.com, tweet us at @storybundle and like us on Facebook. For press inquiries, please email press@storybundle.com.