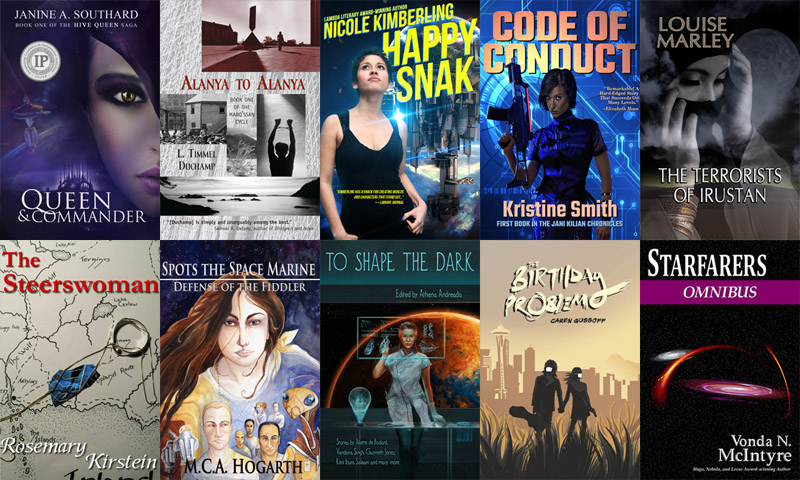 The Feminist Futures Bundle - Curated by Cat Rambo
In time for Women's History Month, here's a celebration of some of the best science fiction being written by women today. This bundle gathers a wide range of outlooks and possibilities, including an anthology that gives you a smorgasbord of other authors you may enjoy.
I used to work in the tech industry, and there I saw how diversity could enhance a team and expand its skillset. Women understand that marketing to women is something other than coming up with a lady-version of a potato chip designed not to crunch or a pink pen sized for our dainty hands. Diversity means more perspectives, and this applies to science fiction as well. I am more pleased with this bundle than any I've curated so far.
In her feminist literary theory classic How to Suppress Women's Writing, science fiction author Joanna Russ talked about the forces working against the works of women (and minority) writers. A counter to that is making a point of reading and celebrating such work, and for me this bundle is part of that personal effort, introducing you to some of my favorites.
And in the name of expanding one's knowledge and enjoyment of women writing SF, the majority of these books are first volumes of series, and I hope if you enjoy them, you'll find the others as well as telling other people about them. The Kirstein series is the only one where not all the books are available; she's currently working on book five and plans seven altogether. Many of them are independently or small press published, showing the depth and quality of work such publishing venues can yield.
I come to the task of writing these notes having just finished reading through a slush pile for an anthology I'm editing, If This Goes On, devoted to political science fiction. Some of the themes there are echoed in some of the works here, and it's been interesting to note the resonances. Other books in the bundle are more lighthearted or escapist. I hope everyone will find at least a few they enjoy, and that many readers will join me in thinking they're all swell.
I'll be doing some video interviews with authors about their books - look for the hashtag #thefutureisfeminist on social media or subscribe to my Youtube channel (https://www.youtube.com/user/spezzatura) or newsletter (http://www.kittywumpus.net/blog/newsletter/) to make sure you get notified when they appear! – Cat Rambo
The initial titles in the Feminist Futures Bundle (minimum $5 to purchase) are:
Happy Snak by Nicole Kimberling
Alanya to Alanya by L. Timmel Duchamp
Code of Conduct by Kristine Smith
The Birthday Problem by Caren Gussoff
If you pay at least the bonus price of just $15, you get all four of the regular titles, plus SIX more!
Starfarers Quartet Omnibus - Books 1-4 by Vonda N. McIntyre
The Steerswoman by Rosemary Kirstein
Spots the Space Marine by M.C.A. Hogarth
The Terrorists of Irustan by Louise Marley
Queen & Commander by Janine A. Southard
To Shape the Dark by Athena Andreadis
This bundle is available only for a limited time via http://www.storybundle.com. It allows easy reading on computers, smartphones, and tablets as well as Kindle and other ereaders via file transfer, email, and other methods. You get multiple DRM-free formats (.epub and .mobi) for all books!
It's also super easy to give the gift of reading with StoryBundle, thanks to our gift cards – which allow you to send someone a code that they can redeem for any future StoryBundle bundle – and timed delivery, which allows you to control exactly when your recipient will get the gift of StoryBundle.
Why StoryBundle? Here are just a few benefits StoryBundle provides.
Get quality reads: We've chosen works from excellent authors to bundle together in one convenient package.
Pay what you want (minimum $5): You decide how much these fantastic books are worth. If you can only spare a little, that's fine! You'll still get access to a batch of exceptional titles.
Support authors who support DRM-free books: StoryBundle is a platform for authors to get exposure for their works, both for the titles featured in the bundle and for the rest of their catalog. Supporting authors who let you read their books on any device you want—restriction free—will show everyone there's nothing wrong with ditching DRM.
Give to worthy causes: Bundle buyers have a chance to donate a portion of their proceeds to Mighty Writers and Girls Write Now!
Receive extra books: If you beat the bonus price, you'll get the bonus books!
StoryBundle was created to give a platform for independent authors to showcase their work, and a source of quality titles for thirsty readers. StoryBundle works with authors to create bundles of ebooks that can be purchased by readers at their desired price. Before starting StoryBundle, Founder Jason Chen covered technology and software as an editor for Gizmodo.com and Lifehacker.com.
For more information, visit our website at storybundle.com, tweet us at @storybundle and like us on Facebook. For press inquiries, please email press@storybundle.com.