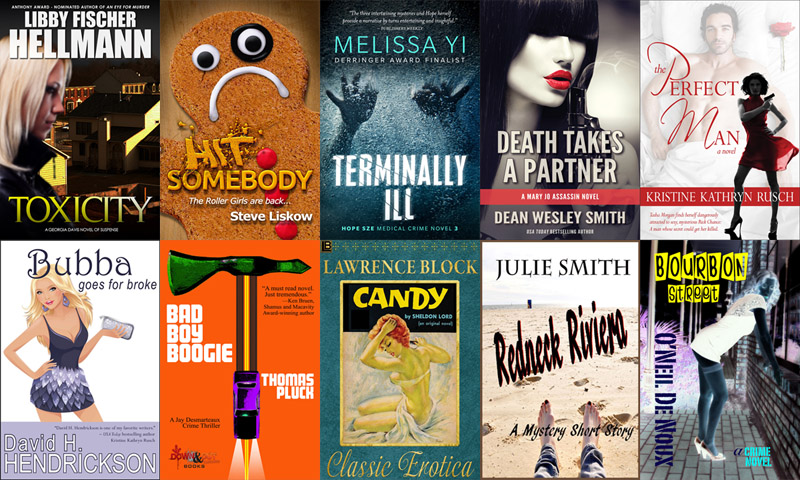 The Femme Fatale Bundle - Curated by O'Neil De Noux
The Femme Fatale, according to the Oxford Dictionary, is "An attractive and seductive woman, especially one who will ultimately bring disaster to a man who becomes involved with her." The Urban Dictionary gives this definition, "A woman with both intelligence and sex appeal that uses these skills to manipulate poor helpless men into doing what she wants. May cause death."
A good woman can bring out the best in a man. A bad woman can bring the exact opposite. While femme fatales can bring out both. These wily women use every God-given gift at their disposal, from the carnal to the cerebral, from crass to classy, from cunning to conniving to get their way. They are alluring, sometimes mesmerizing enough to lure their prey into destructive decisions. They are feline-exquisite, soft and beautiful, like the leopard — said to be pound for pound, nature's most efficient killing machine.
These women can suck the life out of good guys, turn winners into chumps and leave pain-in-the-ass innocent bystanders panting in the gutter. When a man loves a woman, all goes by the board.
We humans tend to think of our men as hunters and our women as nest builders, however, we know that's not always the way it goes. Which, in my opinion, makes humans the most interesting creatures on the planet. All right, I admit, my viewpoint is probably slanted, since I'm part of that species.
I am curating a new Femme Fatale bundle for StoryBundle, a terrific collection of ten outstanding novels by some phenomenal writers. As always, at StoryBundle, you name your own price – whatever you feel the books are worth, and a portion of the proceeds goes to charities Mighty Writers and Girls Write Now.
For StoryBundle, you decide what price you want to pay. For $5 (or more, if you feel generous), you'll get the basic bundle of four books in any ebook format – WORLDWIDE. If you pay $15 (or more, if you feel generous), you'll get the six bonus books as well.
The Femme Fatale bundle runs for three weeks only. This is a great deal, and a great way to pick up a batch of intriguing books in the long tradition of femme fatale mystery fiction. – O'Neil De Noux
The initial titles in the Femme Fatale Bundle (minimum $5 to purchase) are:
Redneck Riviera Box Set by Julie Smith
Bubba Goes for Broke by David H. Hendrickson
ToxiCity by Libby Fischer Hellmann
Bad Boy Boogie by Thomas Pluck
If you pay at least the bonus price of just $15, you get all four of the regular titles, plus SIX more!
Death Takes a Partner by Dean Wesley Smith
Terminally Ill by Melissa Yi
The Perfect Man by Kristine Kathryn Rusch
Candy by Lawrence Block
Bourbon Street by O'Neil De Noux
Hit Somebody by Steve Liskow
This bundle is available only for a limited time via http://www.storybundle.com. It allows easy reading on computers, smartphones, and tablets as well as Kindle and other ereaders via file transfer, email, and other methods. You get multiple DRM-free formats (.epub and .mobi) for all books!
It's also super easy to give the gift of reading with StoryBundle, thanks to our gift cards – which allow you to send someone a code that they can redeem for any future StoryBundle bundle – and timed delivery, which allows you to control exactly when your recipient will get the gift of StoryBundle.
Why StoryBundle? Here are just a few benefits StoryBundle provides.
Get quality reads: We've chosen works from excellent authors to bundle together in one convenient package.
Pay what you want (minimum $5): You decide how much these fantastic books are worth. If you can only spare a little, that's fine! You'll still get access to a batch of exceptional titles.
Support authors who support DRM-free books: StoryBundle is a platform for authors to get exposure for their works, both for the titles featured in the bundle and for the rest of their catalog. Supporting authors who let you read their books on any device you want—restriction free—will show everyone there's nothing wrong with ditching DRM.
Give to worthy causes: Bundle buyers have a chance to donate a portion of their proceeds to Mighty Writers and Girls Write Now!
Receive extra books: If you beat the bonus price, you'll get the bonus books!
StoryBundle was created to give a platform for independent authors to showcase their work, and a source of quality titles for thirsty readers. StoryBundle works with authors to create bundles of ebooks that can be purchased by readers at their desired price. Before starting StoryBundle, Founder Jason Chen covered technology and software as an editor for Gizmodo.com and Lifehacker.com.
For more information, visit our website at storybundle.com, tweet us at @storybundle and like us on Facebook. For press inquiries, please email press@storybundle.com.