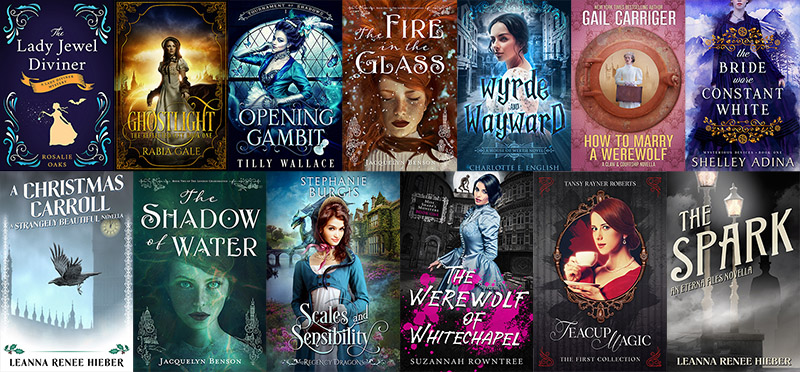 The Gaslamp Fantasy Bundle - Curated by Charlotte E. English
Take, first, a liberal dose of historical manners and mores: the grit and stench of a Victorian gutter, perhaps; the decorous charm of an eighteenth-century drawing room; the glitter and glamour, the depravity and decay of an era lit by gas light.
Add, then, the dazzle of sorcery or witchcraft, or the weirdness of the supernatural. Or, perhaps, heavy measures of both. Season with a dash of dragon, or something a little bit fey.
Mix. Bake.
Gaslamp fantasy is the result. Regency romps riotous with mages and werewolves. Psychics and dastardly dukes, vampires and Victorians. Ghosts and ghouls and Edwardian ballrooms.
In this bundle, we have it all. Take a step back in time – and deep into the imagination – with some of the best indies writing today. If you always felt like Jane Eyre really needed a vampire component, or Jane Austen would've been even more fun with dragons, well, we've got you. Dive in! – Charlotte E. English
* * *
For StoryBundle, you decide what price you want to pay. For $5 (or more, if you're feeling generous), you'll get the basic bundle of four books in any ebook format—WORLDWIDE.
Opening Gambit by Tilly Wallace
The Lady Jewel Diviner by Rosalie Oaks
Ghostlight by Rabia Gale
Wyrde and Wayward by Charlotte E. English
If you pay at least the bonus price of just $20, you get all four of the regular books, plus nine more books for a total of 13!
Teacup Magic - The First Collection by Tansy Rayner Roberts
The Werewolf of Whitechapel by Suzannah Rowntree
Scales and Sensibility by Stephanie Burgis
The Bride Wore Constant White by Shelley Adina
The Spark by Leanna Renee Hieber
A Christmas Carroll by Leanna Renee Hieber
The Shadow of Water - The London Charismatics Book 2 by Jacquelyn Benson
The Fire in the Glass - The London Charismatics Book 1 by Jacquelyn Benson
How to Marry a Werewolf by Gail Carriger
This bundle is available only for a limited time via http://www.storybundle.com. It allows easy reading on computers, smartphones, and tablets as well as Kindle and other ereaders via file transfer, email, and other methods. You get multiple DRM-free formats (.epub, .mobi) for all books!
It's also super easy to give the gift of reading with StoryBundle, thanks to our gift cards – which allow you to send someone a code that they can redeem for any future StoryBundle bundle – and timed delivery, which allows you to control exactly when your recipient will get the gift of StoryBundle.
Why StoryBundle? Here are just a few benefits StoryBundle provides.
Get quality reads: We've chosen works from excellent authors to bundle together in one convenient package.
Pay what you want (minimum $5): You decide how much these fantastic books are worth. If you can only spare a little, that's fine! You'll still get access to a batch of exceptional titles.
Support authors who support DRM-free books: StoryBundle is a platform for authors to get exposure for their works, both for the titles featured in the bundle and for the rest of their catalog. Supporting authors who let you read their books on any device you want—restriction free—will show everyone there's nothing wrong with ditching DRM.
Give to worthy causes: Bundle buyers have a chance to donate a portion of their proceeds to Girls Write Now!
Receive extra books: If you beat the bonus price, you'll get the bonus books!
StoryBundle was created to give a platform for independent authors to showcase their work, and a source of quality titles for thirsty readers. StoryBundle works with authors to create bundles of ebooks that can be purchased by readers at their desired price. Before starting StoryBundle, Founder Jason Chen covered technology and software as an editor for Gizmodo.com and Lifehacker.com.
For more information, visit our website at storybundle.com, tweet us at @storybundle and like us on Facebook. For press inquiries, please email press@storybundle.com.