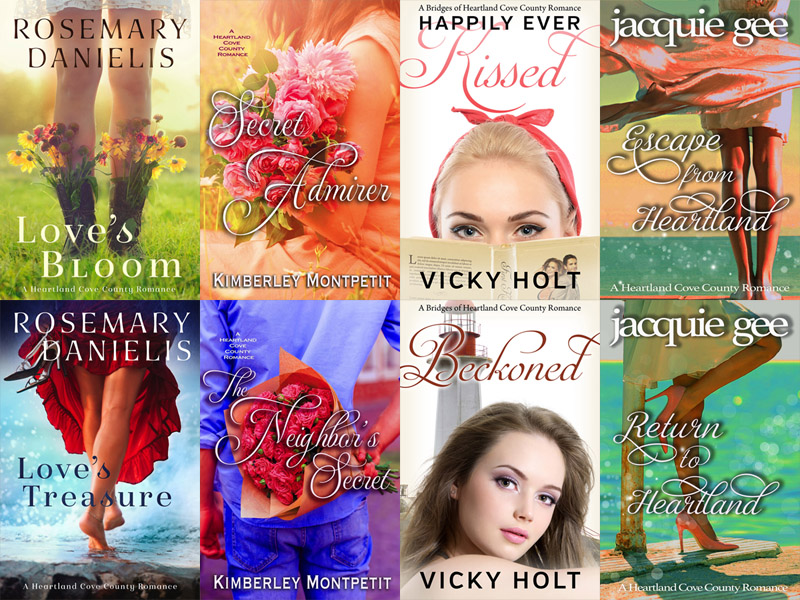 The Heartland Homecoming Universe Bundle - Curated by Jacquie Gee
Welcome to Heartland Cove, population 899. We just can't seem to get over that hump. We're just a little out of the way, about a half an hour off any main highway, in middle of rural, going-no-where-fast, small town, New Brunswick. We are known for our killer fries, buttered lobster, and our awesome scenery. Oh…and of course, the Heartbeat Bridge—the second longest covered bridge, in all of North America, next to our competitor down the road—the longest bridge, whose name we do not speak. Without Heartbeat Bridge, we'd be nothing. It is the single most important thing in our town. If it wasn't for the visitors that come to tour the bridge we'd be off the map by now. Thousands of tourists drop into town each year just to stroll across it nostalgic planks. People from all walks of life and from all corners of the Earth have visited Heartland, which makes it a very exciting place— for about four months out of the year, at least. The rest of the time, we're buried in snow, so it's good to have someone to curl up with. Join us for a romantic adventure, or two—or should I say eight—will you?
You never know who might show up in Heartland!
The Heartland Homecoming Universe Bundle set features eight books (so far!) about eight different romances, all struck up in small town Heartland Cove. In each of the books readers may catch a glimpse of other characters from subsequent books floating in and out of the pages (though authors may have taken some liberties to change their personalities a little.) As well, there is a secret visitor to Heartland Cove that lurks through books one to four. It's sort of like spotting Where's Waldo. But don't worry though, his identity is eventually revealed, so you won't have to wait long.
Each of the heroines in the books, is also either born and raised in Heartland Cove and has left it, only to be forced to come home, or, still lives in Heartland Cove and spends their days dreaming of how to get out. Each heroine hails from one of the small town's businesses that still miraculously flourish (though shakily) in and around Heartland Cove—Mom and Pop-style operations, that elsewhere in the world, have all gone by the wayside.
All the books take place in the fictional town of Heartland Cove, set in non-fictional New Brunswick, Canada. That's right, Canadian, eh! Though there is a town called Hartland, in New Brunswick, this is not that town. Though the authors admit, it was a huge source of inspiration, and send them a loving nod. As a result, you will find fictitious Heartland is geographically impossible. Don't even try to fit it on the map. That's because the authors have taken the best of what New Brunswick has to offer— albeit famed tourist attractions, food and culture— and woven them all into the tapestry of their own small town. They've also thrown in a dash of big city adventure in some of the books, just to spice things up.
There's a rumor, the authors are planning future sets starring some of the secondary characters you'll read about in these first eight books. So be sure to drop the authors a line when you're finished reading and vote on who you'd like to have a romantic adventure next! There's a rumor going around town there might be weddings. You can vote on that too, if you'd like!
Until then, you have the difficult decision of deciding which book to start with! Heartland Cove, our version of Stars Hollow! Dig in and enjoy! – Jacquie Gee
The initial titles in the Heartland Homecoming Universe Bundle (minimum $4 to purchase) are:
Happily Ever Kissed by Vicky Holt
Love's Bloom by Rosemary Danielis
Secret Admirer by Kimberley Montpetit
Escape From Heartland by Jacquie Gee
If you pay more than the bonus price of just $12, you get all four of the regular titles, plus four more!
Beckoned by Vicky Holt
Love's Treasure by Rosemary Danielis
The Neighbor's Secret by Kimberley Montpetit
Return to Heartland by Jacquie Gee
This bundle is available only for a limited time via http://www.storybundle.com. It allows easy reading on computers, smartphones, and tablets as well as Kindle and other ereaders via file transfer, email, and other methods. You get multiple DRM-free formats (.epub and .mobi) for all books!
It's also super easy to give the gift of reading with StoryBundle, thanks to our gift cards – which allow you to send someone a code that they can redeem for any future StoryBundle bundle – and timed delivery, which allows you to control exactly when your recipient will get the gift of StoryBundle.
Why StoryBundle? Here are just a few benefits StoryBundle provides.
Get quality reads: We've chosen works from excellent authors to bundle together in one convenient package.
Pay what you want (minimum $4): You decide how much these fantastic books are worth. If you can only spare a little, that's fine! You'll still get access to a batch of exceptional titles.
Support authors who support DRM-free books: StoryBundle is a platform for authors to get exposure for their works, both for the titles featured in the bundle and for the rest of their catalog. Supporting authors who let you read their books on any device you want—restriction free—will show everyone there's nothing wrong with ditching DRM.
Give to worthy causes: Bundle buyers have a chance to donate a portion of their proceeds to Mighty Writers and Girls Write Now!
Receive extra books: If you beat the bonus price, you'll get the bonus books!
StoryBundle was created to give a platform for independent authors to showcase their work, and a source of quality titles for thirsty readers. StoryBundle works with authors to create bundles of ebooks that can be purchased by readers at their desired price. Before starting StoryBundle, Founder Jason Chen covered technology and software as an editor for Gizmodo.com and Lifehacker.com.
For more information, visit our website at storybundle.com, tweet us at @storybundle and like us on Facebook. For press inquiries, please email press@storybundle.com.