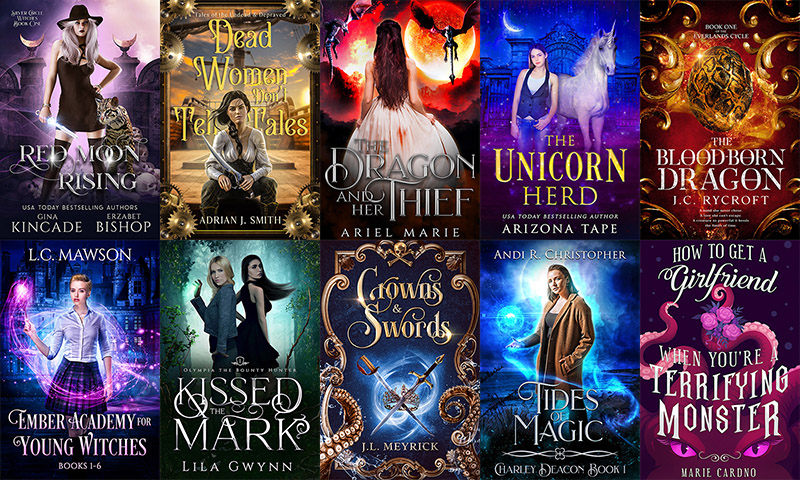 The Heroines of Magic and Might Bundle - Curated by Arizona Tape
I think the best thing about fantasy and urban fantasy books is that anything is possible. For the Heroines Of Magic And Might bundle, I banded together with nine amazing authors who all included books about heroines who find themselves embroiled in unusual magical situations, either in fantastical lands or in modern day cities. When they have time for romance, these heroines prefer the company of other women but there's always a lot else going on. Whether it's casting spells, tangling with mythical creatures, or sailing fantastical seas, there's never a boring moment.
I love that stories like this exist, with main characters that I can identify with but who also get to have full and rich adventures.
The books in this bundle make me wish I could have attended a magical school like the one in L.C. Mawson's Ember Academy For Young Witches, or that I could be a pirate sailing dangerous seas like in Crowns And Swords by J.L. Meyric and Dead Women Don't Tell Tales by Adrian J. Smith. I'm also intrigued by the mysterious way Andi R. Christopher paints New Zealand in Tides Of Magic. If only I could travel through portals like they can in How To Get A Girlfriend (When You're a Terrifying Monster) by Marie Cardno.
Mythical animals are one of my favourites to read and write about, as you might guess from my book The Unicorn Herd which is about a mythical sanctuary. It's also why I was so excited for the dragons in The Blood-Born Dragon by JC Rycroft and The Dragon And Her Thief by Ariel Marie.
And if you want something more mysterious, witches keep turning up dead in Red Moon Rising by Gina Kincade and Erzabet Bishop and there's a vampire conspiracy in Kissing The Mark by Lila Gwynn.
The variety in this bundle is enormous and it's perfect for anyone who loves reading about a range of sapphic heroines with magical problems, mythical beasts, mysteries, and a dash of action. – Arizona Tape
* * *
For StoryBundle, you decide what price you want to pay. For $5 (or more, if you're feeling generous), you'll get the basic bundle of four books in .epub format—WORLDWIDE.
Red Moon Rising by Gina Kincade and Erzabet Bishop
The Unicorn Herd by Arizona Tape
The Dragon and Her Thief by Ariel Marie
Dead Women Don't Tell Tales by Adrian J. Smith
If you pay at least the bonus price of just $20, you get all four of the regular books, plus six more books for a total of 10!
How to Get a Girlfriend (When You're a Terrifying Monster) by Marie Cardno
Kissed the Mark by Lila Gwynn
Ember Academy for Young Witches Books 1-6 by L.C. Mawson
Crowns & Swords by J.L. Meyrick
The Blood-Born Dragon by JC Rycroft
Tides of Magic by Andi R. Christopher
This bundle is available only for a limited time via http://www.storybundle.com. It allows easy reading on computers, smartphones, and tablets as well as Kindle and other ereaders via file transfer, email, and other methods. You get a DRM-free .epub for all books!
It's also super easy to give the gift of reading with StoryBundle, thanks to our gift cards – which allow you to send someone a code that they can redeem for any future StoryBundle bundle – and timed delivery, which allows you to control exactly when your recipient will get the gift of StoryBundle.
Why StoryBundle? Here are just a few benefits StoryBundle provides.
Get quality reads: We've chosen works from excellent authors to bundle together in one convenient package.
Pay what you want (minimum $5): You decide how much these fantastic books are worth. If you can only spare a little, that's fine! You'll still get access to a batch of exceptional titles.
Support authors who support DRM-free books: StoryBundle is a platform for authors to get exposure for their works, both for the titles featured in the bundle and for the rest of their catalog. Supporting authors who let you read their books on any device you want—restriction free—will show everyone there's nothing wrong with ditching DRM.
Give to worthy causes: Bundle buyers have a chance to donate a portion of their proceeds to Girls Write Now!
Receive extra books: If you beat the bonus price, you'll get the bonus books!
StoryBundle was created to give a platform for independent authors to showcase their work, and a source of quality titles for thirsty readers. StoryBundle works with authors to create bundles of ebooks that can be purchased by readers at their desired price. Before starting StoryBundle, Founder Jason Chen covered technology and software as an editor for Gizmodo.com and Lifehacker.com.
For more information, visit our website at storybundle.com, tweet us at @storybundle and like us on Facebook. For press inquiries, please email press@storybundle.com.