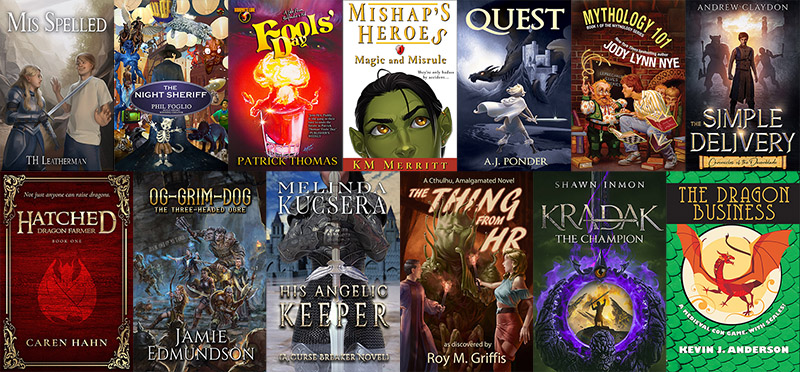 You'll laugh so hard, dragons will come out your nose.
I've curated a wonderful bunch of fantasy novels that show the lighter side of epic quests. Sometimes spells go wrong, magic swords have a bad attitude, and dragons just don't behave as they should. You'll have a laugh-out-loud time reading these fun adventures.
The Dragon Business by Kevin J.Anderson is like Dirty, Rotten Scoundrels meets Monty Python and the Holy Grail. A group of medieval con men sell their services as dragon slayers, but there's no dragon. Or is there?
Mythology 101 by Jody Lynn Nye—a good-hearted nerd and business major at college discovers a secret village of elves in his university library.
The Night Sheriff by Phil Foglio, a massive fantasy theme park is protected by the Night Sheriff…but now an attack by a monster hunter threatens everything.
In Kradak the Champion by Shawn Inmon, a big, strong actor who plays Kradak in a series of B-movies finds himself whisked through a fantasy portal to a world of real magic and monsters. The Thing from HR by Roy M. Griffis takes a darker twist on humorous fantasy. The untold story of the ghastly, unappreciated (and entirely expendable) minor monstrosities that support the Inscrutable Plans Of Dark Gods And Elder Things Beyond The Knowledge Of Men.
One minute, Texas. Next minute, fairyland. In Mis Spelled by TH Leatherman, to get back home, Evan has to complete three quests for the queen of the elves. Each quest is a near-impossible task to defeat fearsome beasts or overcome impossible odds. The chance of Evan succeeding is just like a fairytale, Grimm.
Not just anyone can raise dragons. In Hatched: Dragon Farmer, by Caren Hahn, magic is as much a nuisance as a blessing. Domesticated dragons. What could go wrong? And in Quest by A.J. Ponder, become a student of magic today, and discover the true fighter, warrior, and most unprincesslike Princess Sylvalla, as she battles for her place as a hero.
KM Merritt's Magic and Misrule: Vola might be new to this whole adventuring thing, but she's pretty sure this isn't how you're supposed to save the day. No one at her academy wanted an orc as a paladin, so they've sent her to the back end of a swamp, hoping she'll never find a quest good enough to earn her shield. Well, screw that. Vola's got divine help, and even a laughingstock of a goddess can do some righteous smiting.
Jamie Edmundson presents Og-Grim-Dog. Everyone knows ogres can't be heroes. But Og-Grim-Dog is no ordinary ogre. Recruited by a team of eccentric dungeon crawlers, all three heads are determined to prove everyone wrong.
In The Simple Delivery by Andrew Claydon, Nicolas loves his village life just the way it is, everything as it's supposed to be. When he is chosen for a task, he finds himself going out into a world he knows little about and feels completely unprepared for. His only comfort is that all he has to do is deliver a message. That should be pretty simple, right?
In Melinda Kucsera's His Angelic Keeper, Sovvan is dead but doesn't know it because the creatures who run the place don't want her to remember anything. They take every thought in her head, making it hard to outsmart them. But a demon threatens her twin, and she can't save him if she can't remember him, so those memory-eating creatures must go. Too bad no one will lend her a sword.
And finally, Fool's Day by Patrick Thomas— Every April Fools' Day tricksters of legend meet to see who has pulled the best prank. This year they recieve word from the future that the US military is about to nuke Faerie. They try to get help but no one believes them, thinking it is part of a prank. Now it's up to a handful of trickers and a bartender to save the world.
These books are amusing enough to put a smile on even the surliest orc's face, and you can name your price for the whole bundle, and a part of the proceeds goes to benefit the Challenger Learning Centers for Space Science Education. – Kevin J. Anderson
* * *
For StoryBundle, you decide what price you want to pay. For $5 (or more, if you're feeling generous), you'll get the basic bundle of four books in any ebook format—WORLDWIDE.
Mis Spelled by TH Leatherman
The Night Sheriff by Phil Foglio
Fools' Day by Patrick Thomas
Magic and Misrule by KM Merritt
If you pay at least the bonus price of just $20, you get all four of the regular books, plus nine more books for a total of 13!
The Dragon Business by Kevin J. Anderson
Mythology 101 by Jody Lynn Nye
Kradak the Champion by Shawn Inmon
The Thing from HR by Roy M. Griffis
His Angelic Keeper by Melinda Kucsera
Og-Grim-Dog by Jamie Edmundson
Hatched - Dragon Farmer Book One by Caren Hahn
The Simple Delivery by Andrew Claydon
Quest by A.J. Ponder
This bundle is available only for a limited time via http://www.storybundle.com. It allows easy reading on computers, smartphones, and tablets as well as Kindle and other ereaders via file transfer, email, and other methods. You get multiple DRM-free formats (.epub, .mobi) for all books!
It's also super easy to give the gift of reading with StoryBundle, thanks to our gift cards – which allow you to send someone a code that they can redeem for any future StoryBundle bundle – and timed delivery, which allows you to control exactly when your recipient will get the gift of StoryBundle.
Why StoryBundle? Here are just a few benefits StoryBundle provides.
Get quality reads: We've chosen works from excellent authors to bundle together in one convenient package.
Pay what you want (minimum $5): You decide how much these fantastic books are worth. If you can only spare a little, that's fine! You'll still get access to a batch of exceptional titles.
Support authors who support DRM-free books: StoryBundle is a platform for authors to get exposure for their works, both for the titles featured in the bundle and for the rest of their catalog. Supporting authors who let you read their books on any device you want—restriction free—will show everyone there's nothing wrong with ditching DRM.
Give to worthy causes: Bundle buyers have a chance to donate a portion of their proceeds to The Challenger Center for Space Education!
Receive extra books: If you beat the bonus price, you'll get the bonus books!
StoryBundle was created to give a platform for independent authors to showcase their work, and a source of quality titles for thirsty readers. StoryBundle works with authors to create bundles of ebooks that can be purchased by readers at their desired price. Before starting StoryBundle, Founder Jason Chen covered technology and software as an editor for Gizmodo.com and Lifehacker.com.
For more information, visit our website at storybundle.com, tweet us at @storybundle and like us on Facebook. For press inquiries, please email press@storybundle.com.