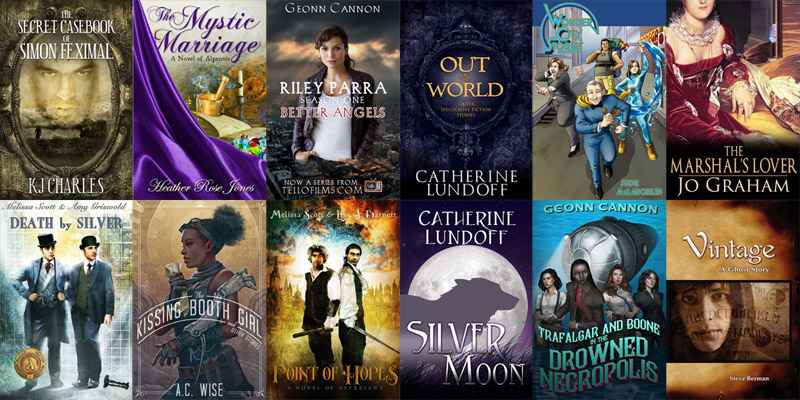 The LGBT+ Bundle - Curated by Melissa Scott
A couple of years ago, Steve Berman at Lethe Press asked me to co-edit Lethe's annual year's best lesbian SF/F anthology, Heiresses of Russ. I was, of course, honored to be asked, but I was even more delighted by the number and quality of the stories submitted. When I started writing SF/F, including queer characters and themes was, I was told, an active bar to getting published, and was, at best, likely to get you branded as just and only a queer writer, trapped forever in a ghetto within a ghetto. I knew that there had been a resurgence of queer spec fic in the 80s and 90s - I'd been part of it - but I hadn't realized how lasting that change had been. Reading for Heiresses of Russ introduced me to dozens of new stories and writers for whom intelligent, sensitive, nuanced writing about lesbians was simply a normal part of their range. When I proposed an LGBT+ StoryBundle to celebrate Pride, I knew I was going to run into the same abundance, but I had no idea just how abundant the field was going to be. I realized immediately that there was going to be no easy way to winnow the field to a dozen books.
To get there, I've made some arbitrary decisions. First, no novels in which being queer means you're evil, nor any in which it's a doomed and tragic fate. There are places for the latter, but this is June and Pride Month, and I want to share books that celebrate queerness. I've also decided to focus on small press offerings, as they are more likely to be overlooked than books from the mainstream houses. I've tried to pick newer novels, and to reintroduce some older writers, and in general to include books and writers who you might not have seen yet. Unfortunately, this didn't narrow things down very much at all. In the end, I went with books I loved, books that showed me new facets of the LGBT+ experience, books that made me feel proud of being queer and an SF/F fan. This is an admittedly eclectic group — you'll find historical fantasy, contemporary werewolves, superhero adventures, Victorian adventure, a YA ghost story, secondary world fantasies, a noir-inflected war between Heaven and Hell, and a couple of short story collections that individually span just as wide a range — but they are all written by authors at the top of their game. Six Spectrum and Lambda Literary Award finalists and winners are included in the group, and Riley Parra has been turned into a web series by Tello Films (and will debut in August, soon after our bundle ends!). You'll also find a diverse group of characters, worlds where the rules of sex and gender are profoundly different from our own, and stories that will hold you entranced until the very last word.
I don't claim that this is the (or even "a") definitive LGBT+ collection. The field is far too large now for anyone to claim that. What I can promise is that this is a celebration of queerness, a range of stories — gay, lesbian, bi, trans, and just plain queer — that shows off some of the best writers working today.
StoryBundle has always allowed its patrons to donate part of their payment to a related charity, and the appalling situation in Chechnya seemed to be one where donations could make a real and immediate difference. If you choose, you can donate part of the bundle's price to the Rainbow Railroad, a group helping LGBT people escape persecution and violence worldwide. At the moment, they are concentrating on helping the victims of the attacks on gay men in Chechnya; your donation will be a potentially life-saving gift. – Melissa Scott
The initial titles in the LGBT+ Bundle (minimum $5 to purchase) are:
The Secret Casebook of Simon Feximal by KJ Charles
Wonder City Stories by Jude McLaughlin
The Mystic Marriage by Heather Rose Jones
Riley Parra Season One by Geonn Cannon
Out of This World by Catherine Lundoff
If you pay more than the bonus price of just $15, you get all five of the regular titles, plus seven more!
The Marshal's Lover by Jo Graham
Vintage: A Ghost Story by Steve Berman
Point of Hopes by Melissa Scott and Lisa A. Barnett
Death by Silver by Melissa Scott and Amy Griswold
The Kissing Booth Girl and Other Stories by A.C. Wise
Trafalgar and Boone in the Drowned Necropolis by Geonn Cannon
Silver Moon by Catherine Lundoff
This bundle is available only for a limited time via http://www.storybundle.com. It allows easy reading on computers, smartphones, and tablets as well as Kindle and other ereaders via file transfer, email, and other methods. You get multiple DRM-free formats (.epub and .mobi) for all books!
It's also super easy to give the gift of reading with StoryBundle, thanks to our gift cards – which allow you to send someone a code that they can redeem for any future StoryBundle bundle – and timed delivery, which allows you to control exactly when your recipient will get the gift of StoryBundle.
Why StoryBundle? Here are just a few benefits StoryBundle provides.
Get quality reads: We've chosen works from excellent authors to bundle together in one convenient package.
Pay what you want (minimum $5): You decide how much these fantastic books are worth. If you can only spare a little, that's fine! You'll still get access to a batch of exceptional titles.
Support authors who support DRM-free books: StoryBundle is a platform for authors to get exposure for their works, both for the titles featured in the bundle and for the rest of their catalog. Supporting authors who let you read their books on any device you want—restriction free—will show everyone there's nothing wrong with ditching DRM.
Give to worthy causes: Bundle buyers have a chance to donate a portion of their proceeds to Rainbow Railroad!
Receive extra books: If you beat the bonus price, you'll get the bonus books!
StoryBundle was created to give a platform for independent authors to showcase their work, and a source of quality titles for thirsty readers. StoryBundle works with authors to create bundles of ebooks that can be purchased by readers at their desired price. Before starting StoryBundle, Founder Jason Chen covered technology and software as an editor for Gizmodo.com and Lifehacker.com.
For more information, visit our website at storybundle.com, tweet us at @storybundle and like us on Facebook. For press inquiries, please email press@storybundle.com.