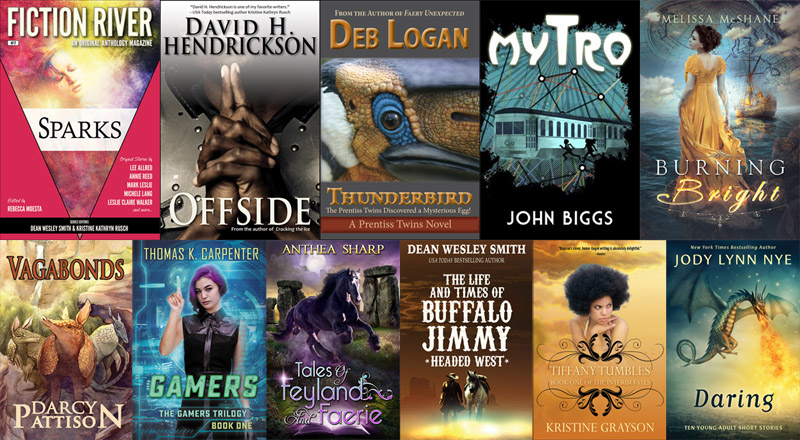 The Light in the Dark YA Bundle - Curated by Allyson Longueira
I love young adult fiction. And I'm not the only far-from-young adult who does. So, when I had the opportunity to curate another StoryBundle, I knew YA was the way to go.
Welcome to the Light in the Dark YA StoryBundle.
Each book in this bundle sparks a light in the dark. Sometimes, that light comes from within. Sometimes, the characters must fight back the darkness to find it. And their stories demonstrate the incredible diversity of young adult fiction, from lighthearted and inspirational to dark and gritty.
These eleven fantastically versatile authors provided thirteen books that offer magic, triumph, humor, daring, hardship, and resilience. Sometimes, all in one.
Join in the adventure as Buffalo Jimmy and his friends seek revenge and fight for survival in Dean Wesley Smith's Headed West; Galen and his clan sacrifice everything to find a future and hope for their families in Darcy Pattison's Vagabonds; the Prentiss twins discover more than they bargained for in Deb Logan's Thunderbird; and Turtle and Agata delve into a dangerous mystery in John Biggs' Mytro.
Experience youthful defiance with "Rabbit" Labelle as he deals with racism in David H. Hendrickson's Offside and Elinor Pembroke as she chooses an unorthodox path in Melissa McShane's Burning Bright. Go back to high school with Tiffany VanDerHoven as she comes to terms with her newfound mortality in Kristine Grayson's Tiffany Tumbles, and Gabby DeCorte as she plays the LifeGame in Thomas K. Carpenter's Gamers Trilogy.
And journey along with diverse tales of magic, adventure, dragons and more in Jody Lynn Nye's Daring, Anthea Sharp's Tales of Feyland and Faerie, and Fiction River: Sparks, edited by Rebecca Moesta.
The books in the Light in the Dark YA StoryBundle feature bestselling authors along with newer names you'll be glad you tried. As always at StoryBundle, you name your own price—whatever you feel the books are worth, and a portion of the proceeds goes to charity—in this case, SMART (Start Making a Reader Today). And if you pay at least $15, you'll get all thirteen books!
The Light in the Dark YA Bundle runs for three weeks only. So, reconnect with your youth and enjoy everything that young adult fiction has to offer. – Allyson Longueira
The initial titles in the The Light in the Dark YA Bundle (minimum $5 to purchase) are:
Sparks by Fiction River
Burning Bright by Melissa McShane
Mytro by John Biggs
Thunderbird by Deb Logan
Offside by David H. Hendrickson
If you pay more than the bonus price of just $15, you get all five of the regular titles, plus six more!
Tiffany Tumbles by Kristine Grayson
Headed West - The Life and Times of Buffalo Jimmy by Dean Wesley Smith
The Gamers Trilogy - Complete Box Set by Thomas K. Carpenter
Daring by Jody Lynn Nye
Vagabonds by Darcy Pattison
Tales of Feyland & Faerie by Anthea Sharp
This bundle is available only for a limited time via http://www.storybundle.com. It allows easy reading on computers, smartphones, and tablets as well as Kindle and other ereaders via file transfer, email, and other methods. You get multiple DRM-free formats (.epub and .mobi) for all books!
It's also super easy to give the gift of reading with StoryBundle, thanks to our gift cards – which allow you to send someone a code that they can redeem for any future StoryBundle bundle – and timed delivery, which allows you to control exactly when your recipient will get the gift of StoryBundle.
Why StoryBundle? Here are just a few benefits StoryBundle provides.
Get quality reads: We've chosen works from excellent authors to bundle together in one convenient package.
Pay what you want (minimum $5): You decide how much these fantastic books are worth. If you can only spare a little, that's fine! You'll still get access to a batch of exceptional titles.
Support authors who support DRM-free books: StoryBundle is a platform for authors to get exposure for their works, both for the titles featured in the bundle and for the rest of their catalog. Supporting authors who let you read their books on any device you want—restriction free—will show everyone there's nothing wrong with ditching DRM.
Give to worthy causes: Bundle buyers have a chance to donate a portion of their proceeds to SMART!
Receive extra books: If you beat the bonus price, you'll get the bonus books!
StoryBundle was created to give a platform for independent authors to showcase their work, and a source of quality titles for thirsty readers. StoryBundle works with authors to create bundles of ebooks that can be purchased by readers at their desired price. Before starting StoryBundle, Founder Jason Chen covered technology and software as an editor for Gizmodo.com and Lifehacker.com.
For more information, visit our website at storybundle.com, tweet us at @storybundle and like us on Facebook. For press inquiries, please email press@storybundle.com.