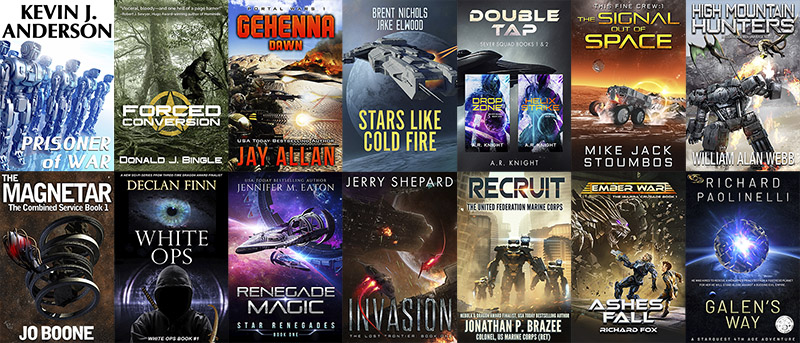 The Locked and Loaded Military SF Bundle - Curated by Kevin J. Anderson
Whether it's service in the galactic marines, or defending Earth from an alien invasion, or traveling with the Federation fleet to protect a new colony, Military SF always gives readers a great story.
This new Locked and Loaded Storybundle, curated by bestselling author Kevin J. Anderson, contains fifteen action-packed books across the whole range of Mil SF.
PRISONER OF WAR by Kevin J. Anderson is an authorized sequel to Harlan Ellison's classic Outer Limits episode "Soldier," the acknowledged inspiration for TERMINATOR. This is the only sequel Ellison ever approved for any of his works. In a war-torn world of endless conflict, children are bred, then trained from birth to become perfect soldiers, until one man begins to get the wrong sort of indoctrination.
Enlisting into the Marines can seem like just a way off-planet . . . until it becomes a calling in Jonathan P. Brazee's RECRUIT. In William Allen Webb's HIGH MOUNTAIN HUNTERS, their enemies on Earth fear them; now it's the Galactic Union's turn! Jo Boone's THE MAGNETAR is a second chance at life … or is it? THE SIGNAL OUT OF SPACE, by Mike Jack Stoumbos—Welcome to the Interstellar Initiative, the galaxy's best hope for bringing enemies together for a common purpose and giving humanity a second chance for a first impression … if an uninvited guest doesn't destroy them all first.
In GALEN'S WAY by Richard Paolinelli—they made two mistakes: The first was hiring the Andromeda Galaxy's most dangerous mercenary to rescue a kidnapped princess. The second was trying to kill them both when he succeeded. Declan Finn's WHITE OPS: Sean Patrick Ryan's White Ops team sees an alien race that wants to test our galaxy for weakness. To fight the enemy in the shadows, Sean will put together a strike team to light up the darkness — with nukes if necessary.
A young Man from beyond the galaxy's edge returns to Earth to fight against a brutal alien occupation in Richard Fox's ASHES FALL. GEHENNA DAWN by Jay Allen: Jake Taylor fought like hell on a hostile planet far from Earth…but then he found out everything he struggled for was a lie. It started with an assassination attempt in Brent Nichols' STARS LIKE COLD FIRE. It ended in interstellar war.
In FORCED CONVERSION, by Don Bingle, Virtual reality isn't a game; it's the future home of all mankind. Some people don't want to go. A signal beckons from deep space in Jerry Shepard's INVASION. It was a call they never should have answered.
A.R. Knight gives us a double-whammy with two books, DROP ZONE and HELIX STRIKE. Get in fast. Rescue the VIP. Get out. Sever Squad is outnumbered, outgunned, and every second on Dynas ticks them closer to a fiery end. And if you want a unique fantasy twist to your Mil SF, check out Jennifer M. Eaton's RENEGADE MAGIC. A crew of smugglers survives by keeping one step ahead of the law, until they kidnap a tyrannical cop hoping to convince her they're innocent…. what could possibly go wrong?
Name your price to get all 15 of these books and keep your e-reader locked and loaded! Support indie authors, and a portion of the proceeds goes to support the Challenger Learning Center for Space Science Education.
* * *
For StoryBundle, you decide what price you want to pay. For $5 (or more, if you're feeling generous), you'll get the basic bundle of four books in any ebook format—WORLDWIDE.
Prisoner of War by Kevin J. Anderson
Gehenna Dawn by Jay Allan
Forced Conversion by Donald J. Bingle
Stars Like Cold Fire by Brent Nichols
If you pay at least the bonus price of just $20, you get all four of the regular books, plus eleven more books for a total of 15!
Galen's Way by Richard Paolinelli
Ashes Fall by Richard Fox
Recruit by Jonathan P. Brazee
INVASION by Jerry Shepard
Renegade Magic by Jennifer M. Eaton
White Ops by Declan Finn
The Magnetar by Jo Boone
High Mountain Hunters by William Alan Webb
The Signal Out of Space by Mike Jack Stoumbos
Double Tap - Sever Squad Books 1 & 2 by A.R. Knight
This bundle is available only for a limited time via http://www.storybundle.com. It allows easy reading on computers, smartphones, and tablets as well as Kindle and other ereaders via file transfer, email, and other methods. You get multiple DRM-free formats (.epub, .mobi) for all books!
It's also super easy to give the gift of reading with StoryBundle, thanks to our gift cards – which allow you to send someone a code that they can redeem for any future StoryBundle bundle – and timed delivery, which allows you to control exactly when your recipient will get the gift of StoryBundle.
Why StoryBundle? Here are just a few benefits StoryBundle provides.
Get quality reads: We've chosen works from excellent authors to bundle together in one convenient package.
Pay what you want (minimum $5): You decide how much these fantastic books are worth. If you can only spare a little, that's fine! You'll still get access to a batch of exceptional titles.
Support authors who support DRM-free books: StoryBundle is a platform for authors to get exposure for their works, both for the titles featured in the bundle and for the rest of their catalog. Supporting authors who let you read their books on any device you want—restriction free—will show everyone there's nothing wrong with ditching DRM.
Give to worthy causes: Bundle buyers have a chance to donate a portion of their proceeds to the Challenger Center for Space Education!
Receive extra books: If you beat the bonus price, you'll get the bonus books!
StoryBundle was created to give a platform for independent authors to showcase their work, and a source of quality titles for thirsty readers. StoryBundle works with authors to create bundles of ebooks that can be purchased by readers at their desired price. Before starting StoryBundle, Founder Jason Chen covered technology and software as an editor for Gizmodo.com and Lifehacker.com.
For more information, visit our website at storybundle.com, tweet us at @storybundle and like us on Facebook. For press inquiries, please email press@storybundle.com.