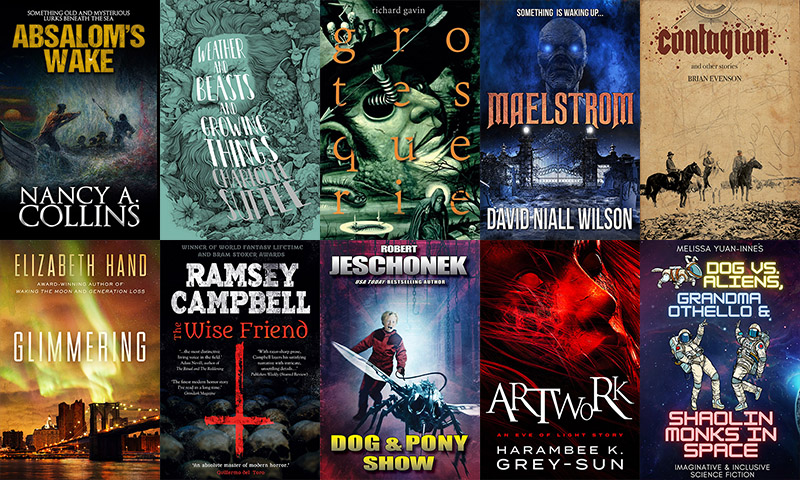 The Many Ways of Weird Fiction Bundle - Curated by Robert Jeschonek
Something doesn't feel quite right. The world around you seems a little…off. Things turn strange and fluid, as if you're trapped inside a dream…but you aren't. Something about you might have changed in a fundamental way that you sense but can't understand.
This is what weird fiction at its best feels like. It's more about unsettling dread than outright terror. It's more about the mysterious influence than the in-your-face threat. It's more about questioning the nature of reality than wondering what's about to jump out of the shadows at you.
Those are some of weird fiction's key characteristics…but there's much more to it than that. Those feelings of disorientation and dislocation, of foreboding and discomfort, are often found across literary genres—the many ways of weird fiction. Those are the highways and byways we've set out to explore in this bundle, diving deep into the works of a gallery of authors who dwell in the realms of the weird.
Let Ramsey Campbell, a grandmaster by any definition, guide you through the shadowy corners of weird horror. Powerhouse authors Brian Evenson, Nancy A. Collins, Richard Gavin, Elizabeth Hand, and David Niall Wilson will lead you even further down the dark and twisty weird horror highway. Even weirder fears and phenomena will grip you in the radically strange works of Harambee K. Grey-Sun and Robert Jeschonek. Just when you think you have this bundle figured out, the offbeat pleasures of Melissa Yuan-Innes will spin you in circles, and explosively challenging and lyrical debut author Charlotte Suttee will hurl you into realms in which all sense of familiarity is lost.
By the time you're done with the tour, you will have a deeper understanding of weird fiction's many outposts and byways…and perhaps you'll have a greater desire to explore that intricate universe more thoroughly.
Just remember, feeling off-balance and worried when traveling these weird worlds isn't unusual. Experiencing the unexpected and losing your grasp of reality are not uncommon.
And let's face it, that's pretty much how things are in the reality we call home, as well.
– Robert Jeschonek
* * *
For StoryBundle, you decide what price you want to pay. For $5 (or more, if you're feeling generous), you'll get the basic bundle of four books in .epub format—WORLDWIDE.
Grotesquerie by Richard Gavin
Absalom's Wake by Nancy A. Collins
Weather and Beasts and Growing Things by Charlotte Suttee
Maelstrom by David Niall Wilson
If you pay at least the bonus price of just $20, you get all four of the regular books, plus six more books for a total of 10!
Dog and Pony Show by Robert Jeschonek (StoryBundle Exclusive)
The Wise Friend by Ramsey Campbell
Dog Vs. Aliens, Grandma Othello & Shaolin Monks in Space by Melissa Yuan-Innes
Glimmering by Elizabeth Hand
Artwork - An Eve of Light Story by Harambee K. Grey-Sun (StoryBundle Exclusive)
Contagion and Other Stories by Brian Evenson
This bundle is available only for a limited time via http://www.storybundle.com. It allows easy reading on computers, smartphones, and tablets as well as Kindle and other ereaders via file transfer, email, and other methods. You get a DRM-free .epub for all books!
It's also super easy to give the gift of reading with StoryBundle, thanks to our gift cards – which allow you to send someone a code that they can redeem for any future StoryBundle bundle – and timed delivery, which allows you to control exactly when your recipient will get the gift of StoryBundle.
Why StoryBundle? Here are just a few benefits StoryBundle provides.
Get quality reads: We've chosen works from excellent authors to bundle together in one convenient package.
Pay what you want (minimum $5): You decide how much these fantastic books are worth. If you can only spare a little, that's fine! You'll still get access to a batch of exceptional titles.
Support authors who support DRM-free books: StoryBundle is a platform for authors to get exposure for their works, both for the titles featured in the bundle and for the rest of their catalog. Supporting authors who let you read their books on any device you want—restriction free—will show everyone there's nothing wrong with ditching DRM.
Give to worthy causes: Bundle buyers have a chance to donate a portion of their proceeds to AbleGamers!
Receive extra books: If you beat the bonus price, you'll get the bonus books!
StoryBundle was created to give a platform for independent authors to showcase their work, and a source of quality titles for thirsty readers. StoryBundle works with authors to create bundles of ebooks that can be purchased by readers at their desired price. Before starting StoryBundle, Founder Jason Chen covered technology and software as an editor for Gizmodo.com and Lifehacker.com.
For more information, visit our website at storybundle.com, tweet us at @storybundle and like us on Facebook. For press inquiries, please email press@storybundle.com.