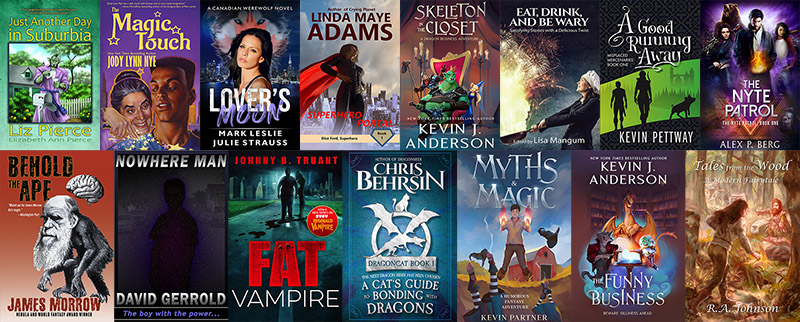 The Mirth and Magic Humorous Fantasy Bundle - Curated by Kevin J. Anderson
Time to kick back and relax in the sun with an e-reader full of hilarious fantasy books in the new Humorous Fantasy StoryBundle curated by bestselling author Kevin J. Anderson. We have fifteen books covering the funny side of the fantasy genre. Traditional fantasy, magic, urban fantasy, superhero fantasy, even a few goofy horror titles. You'll laugh so hard, orcs will come out your nose!
This is the perfect all-you-can-eat buffet of fun. Anderson contributes two titles, a brand new novel in his "Dragon Business" medieval caper series, Skeleton in the Closet—It's Die Hard in a castle as a group of medieval con men (and one former princess) try to drive away an invading orc army by haunting the castle. He has also collected all of his comedic short fiction into one new volume, The Funny Business. Both of these titles are currently exclusive to StoryBundle, not yet available to the general public.
Other traditional fantasy titles that will make you smile include A Good Running Away, by Kevin Pettway—The Thirteen Kingdoms of the Misplaced Mercenaries universe create what a standard fantasy world might look like if you pantsed it, set it on fire, and kicked it into a pigpen full of switchblade-armed rattlesnakes. And Just Another Day in Suburbia, by Liz Pierce—The neighborhood hasn't been the same since the trolls came to town... Myths and Magic by Kevin Partner, the first book in a comic fantasy series with witches, an everyman hero with exploding hands, and a pioneer of chicken-powered aviation all set against a sadistic faerie king with a grudge and a horde of goblins. And who can resist A Cat's Guide to Bonding with Dragons, by Chris Behrsin?A Bengal cat, after getting yanked into another dimension by an evil warlock, becomes a dragon rider. Together, as cat and dragon, this unlikely duo might just save the world.
But wait, we can get even stranger, as in Behold the Ape, by James Morrow—In 1930's Hollywood, a popular horror-film actress and a gorilla whose skull houses the cryo-preserved brain of Charles Darwin team up to make a series of evolution-themed monster movies.
Or do you need a fairy godmother? "Every child deserves one miracle," is the motto of the Fairy Godmothers Union in The Magic Touch by Jody Lynn Nye. Apprentice fairy godfather Raymond Crandall is skeptical whether he wants to be a part of something that sounds so hokey, but he finds that granting wishes to children touches something in himself that he never knew was there.
Or a superhero? Being a superhero could kill her in Linda Maye Adams' Superhero Portal. In the wonderful young adult adventure Nowhere Man, by David Gerrold: What would you do if you had the power to stop time? In Nyte Patrol, by Alex P. Berg, when college softball player Lexie Rodriguez meets washed-up sorcerer Larry Stuttgart, sword master Dawn Blayde, werebear munitions expert Tank Johnson, and immortal zombie head-in-a-jar Bill, her life is about to get a lot more dangerous—and way weirder.
In Tales from the Wood, by R.A. Johnson—inspired by the Jethro Tull album Songs from the Wood—Cindy may inherit a fortune from her estranged grandfather, but it comes with a catch: she must listen to his favorite record, which propels her into a world of myth, magic, and music. Will she get lost in that world, losing her Way until going back and going home are not the same?
For darker humor, Fat Vampire by Johnny B. Truant is the basis for the hilarious SyFy Channel show Reginald the Vampire. All vampires aren't sexy and sparkly, and they have problems like the most average of us. And Lover's Moon, by Mark Leslie and Julie Strauss—He's an alpha wolf and a beta boyfriend. She's dated every monster in New York City. It's time for their Meat-Cute. Speaking of teeth… Eat, Drink, and Be Wary, edited by Lisa Mangum, is an anthology of nineteen stories that combine food, drink, and a surprising twist to serve up a delicious tale you can sink your teeth into.
It's better than three magic wishes—it's fifteen ebooks. And this bundle will only be available for three weeks. – Kevin J. Anderson
* * *
For StoryBundle, you decide what price you want to pay. For $5 (or more, if you're feeling generous), you'll get the basic bundle of four books in .epub format—WORLDWIDE.
The Magic Touch by Jody Lynn Nye
Lover's Moon by Mark Leslie and Julie Strauss
Just Another Day in Suburbia by Liz Pierce
Superhero Portal by Linda Maye Adams
If you pay at least the bonus price of just $20, you get all four of the regular books, plus eleven more books for a total of 15, including two StoryBundle exclusives!
Skeleton in the Closet by Kevin J. Anderson (StoryBundle Exclusive)
Eat, Drink and Be Wary edited by Lisa Mangum
The Funny Business by Kevin J. Anderson (StoryBundle Exclusive)
Tales from the Wood: A Modern Fairytale by R.A. Johnson
A Good Running Away by Kevin Pettway
Myths and Magic by Kevin Partner
Nowhere Man by David Gerrold
A Cat's Guide to Bonding with Dragons by Chris Behrsin
The Nyte Patrol by Alex P. Berg
Behold the Ape by James Morrow
Fat Vampire by Johnny B. Truant
This bundle is available only for a limited time via http://www.storybundle.com. It allows easy reading on computers, smartphones, and tablets as well as Kindle and other ereaders via file transfer, email, and other methods. You get a DRM-free .epub for all books!
It's also super easy to give the gift of reading with StoryBundle, thanks to our gift cards – which allow you to send someone a code that they can redeem for any future StoryBundle bundle – and timed delivery, which allows you to control exactly when your recipient will get the gift of StoryBundle.
Why StoryBundle? Here are just a few benefits StoryBundle provides.
Get quality reads: We've chosen works from excellent authors to bundle together in one convenient package.
Pay what you want (minimum $5): You decide how much these fantastic books are worth. If you can only spare a little, that's fine! You'll still get access to a batch of exceptional titles.
Support authors who support DRM-free books: StoryBundle is a platform for authors to get exposure for their works, both for the titles featured in the bundle and for the rest of their catalog. Supporting authors who let you read their books on any device you want—restriction free—will show everyone there's nothing wrong with ditching DRM.
Give to worthy causes: Bundle buyers have a chance to donate a portion of their proceeds to the Challenger Center for Space Education!
Receive extra books: If you beat the bonus price, you'll get the bonus books!
StoryBundle was created to give a platform for independent authors to showcase their work, and a source of quality titles for thirsty readers. StoryBundle works with authors to create bundles of ebooks that can be purchased by readers at their desired price. Before starting StoryBundle, Founder Jason Chen covered technology and software as an editor for Gizmodo.com and Lifehacker.com.
For more information, visit our website at storybundle.com, tweet us at @storybundle and like us on Facebook. For press inquiries, please email press@storybundle.com.