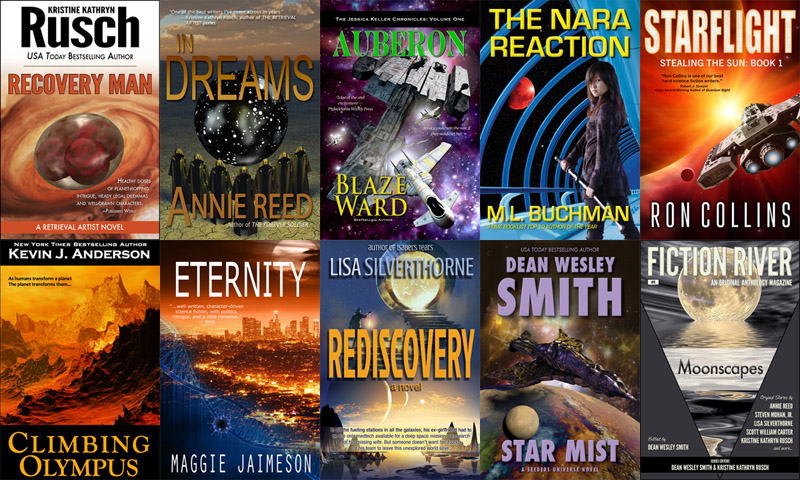 The Moonscapes Bundle - Curated by Dean Wesley Smith
I love science fiction. Always have, always will. Of all types.
Years and years ago, as Kristine Kathryn Rusch and I were working on the idea of a bi-monthly anthology series, I said I wanted to edit a volume called Fiction River: Moonscapes. It would be a hard science fiction anthology. And the idea stuck and the volume turned out to be the sixth book in the Fiction River series.
When editing, I got lucky to find eleven great hard-sf stories from eleven top science fiction writers. Over seventy thousand words of fiction. I was and still am very proud of the volume.
But as the years went on, I wanted to keep the idea of Moonscapes going. Either a Moonscapes Two volume for Fiction River, or something else. Then the chance to do this science fiction bundle came up and working it around Fiction River: Moonscapes just seemed to be a logical idea.
Six of the authors in Fiction River: Moonscapes had hard science fiction novels that would fit in this bundle. And three other great sf writers, including Kevin J. Anderson, joined the fun.
So nine hard science fiction novels plus the volume of Fiction River: Moonscapes. Ten books all for one money.
M.L. Buchman, Blaze Ward, and Ron Collins all contributed first novels in their vast science fiction series. So for a small amount of money you get first books to see if you will enjoy the different series. I'm betting you will.
Kristine Kathryn Rusch gives you a major book, a turning point novel, in her acclaimed Retrieval Artist series. If you are not reading the Retrieval Artist books, you are missing some of the best hard science being done.
Kevin J. Anderson with Climbing Olympus brings hard sf down to a human level on Mars in a way that made Kevin so many millions of readers. I love a lot of Kevin's books, but this is one of the best.
My novel Star Mist is set in my Seeder's Universe where humans travel so fast entire galaxies go by like fence posts along a highway, and the real size of the universe starts to emerge.
Both Annie Reed and Maggie Jamison's novels are looks at aspects of the human condition in very possible futures.
While M.L. Buchman's novel gives us a glimpse of an apocalyptic distant future where unlikely companions must fight for their very survival.
Add in the eleven science fiction stories in Fiction River: Moonscapes and you have some fantastic science fiction reading ahead of you for very little money.
As excited as I am about this fantastic group of science fiction novels and stories, I'm most excited about the charity we've attached to the bundle.
Our charity, AbleGamers, helps people with disabilities enjoy the imaginary worlds of video games. The organization provides one-on-one assistance to help people with a variety of disabilities join the lively interactive world of gaming, easing the social isolation that being disabled can bring.
And science fiction is a major part of gaming. So this is a perfect fit.
So here's what you can do: buy the bundle for yourself or your science fiction friends, then toss in a few bucks for AbleGamers. Helping others while getting some top science fiction novels to read.
And remember, this won't last long. So pick up this bundle today, and throw some of that money you saved not buying ten books toward AbleGamers. You'll make someone's life a little brighter, and have hours of reading in the process. – Dean Wesley Smith
The initial titles in the Moonscapes Bundle (minimum $5 to purchase) are:
Starflight by Ron Collins
The Nara Reaction by M. L. Buchman
Recovery Man by Kristine Kathryn Rusch
Auberon by Blaze Ward
In Dreams by Annie Reed
If you pay more than the bonus price of just $15, you get all five of the regular titles, plus five more!
Eternity by Maggie Jaimeson
Rediscovery by Lisa Silverthorne
Climbing Olympus by Kevin J. Anderson
Fiction River: Moonscapes by Fiction River
Star Mist by Dean Wesley Smith
This bundle is available only for a limited time via http://www.storybundle.com. It allows easy reading on computers, smartphones, and tablets as well as Kindle and other ereaders via file transfer, email, and other methods. You get multiple DRM-free formats (.epub and .mobi) for all books!
It's also super easy to give the gift of reading with StoryBundle, thanks to our gift cards – which allow you to send someone a code that they can redeem for any future StoryBundle bundle – and timed delivery, which allows you to control exactly when your recipient will get the gift of StoryBundle.
Why StoryBundle? Here are just a few benefits StoryBundle provides.
Get quality reads: We've chosen works from excellent authors to bundle together in one convenient package.
Pay what you want (minimum $5): You decide how much these fantastic books are worth. If you can only spare a little, that's fine! You'll still get access to a batch of exceptional titles.
Support authors who support DRM-free books: StoryBundle is a platform for authors to get exposure for their works, both for the titles featured in the bundle and for the rest of their catalog. Supporting authors who let you read their books on any device you want—restriction free—will show everyone there's nothing wrong with ditching DRM.
Give to worthy causes: Bundle buyers have a chance to donate a portion of their proceeds to AbleGamers!
Receive extra books: If you beat the bonus price, you'll get the bonus books!
StoryBundle was created to give a platform for independent authors to showcase their work, and a source of quality titles for thirsty readers. StoryBundle works with authors to create bundles of ebooks that can be purchased by readers at their desired price. Before starting StoryBundle, Founder Jason Chen covered technology and software as an editor for Gizmodo.com and Lifehacker.com.
For more information, visit our website at storybundle.com, tweet us at @storybundle and like us on Facebook. For press inquiries, please email press@storybundle.com.