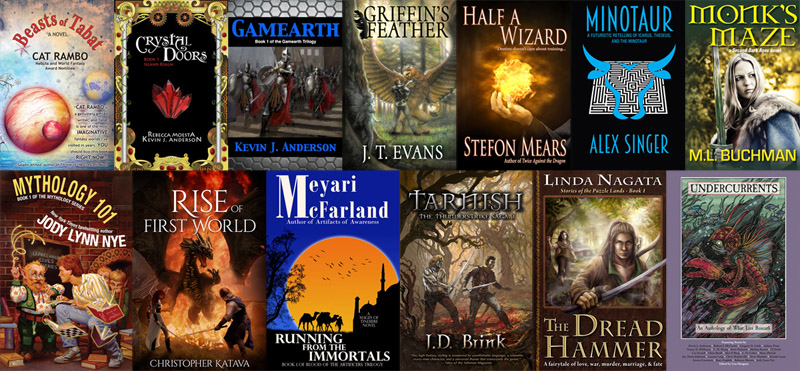 The Myths & Legends Fantasy Bundle - Curated by Kevin J. Anderson
Dragons! Swords! Magic and wizards! I've curated a new StoryBundle that's packed with all the legendary wonder you've come to expect from your favorite fantasy novels.
These thirteen books cover a range of classic fantasy types, from epic quests, to modern retellings of classic myths, to humorous encounters with Little Folk, to lit-RPG adventures, to sea monsters, ancient curses, and saving the world. These indie-published authors include Cat Rambo, Kevin J. Anderson, Rebecca Moesta, Jody Lynn Nye, M.L. Buchman, J.T. Evans, Christopher Katava, Stefon Mears, Alex Singer, Meyari McFarland, J.D. Brink, and Linda Nagata, and there's also the Undercurrents anthology edited by Lisa Mangum, stories of "what lies beneath" (proceeds from this anthology benefit the Don Hodge Memorial Scholarship Fund for the Superstars Writing Seminar).
If you're not familiar with how StoryBundle works, you name your own price and get the whole batch instantly delivered to your e-reader. For as little as $5 you get the base bundle of five novels, or for $15 or more you will receive all 13 books, enough to keep your reading life filled with magic for a long time.
As always with StoryBundle, a portion of the proceeds goes directly to benefit a charity, in this case the Challenger Learning Centers for Space Science Education. When you pick up a copy of the Myths and Legends storybundle, you'll receive a lot of great books for around a dollar apiece, you'll support indie authors, and contribute to a very worthwhile cause. Everybody wins!
But this bundle will be available for only a limited time. After May 30, it goes away. – Kevin J. Anderson
The initial titles in the The Myths & Legends Fantasy Bundle (minimum $5 to purchase) are:
Crystal Doors Book 1 - Island Realm by Kevin J. Anderson and Rebecca Moesta
Gamearth - Book 1 by Kevin J. Anderson
Mythology 101 by Jody Lynn Nye
Griffin's Feather by J.T. Evans
Rise of First World by Christopher Katava
If you pay at least the bonus price of just $15, you get all five of the regular titles, plus EIGHT more!
Beats of Tabat by Cat Rambo
Undercurrents by Lisa Mangum
Minotaur by Alex Singer
Half a Wizard by Stefon Mears
Running from the Immortals - Blood of the Artificers Book 1 by Meyari McFarland
Monk's Maze by M.L. Buchman
The Dread Hammer by Linda Nagata
Tarnish by J. D. Brink
This bundle is available only for a limited time via http://www.storybundle.com. It allows easy reading on computers, smartphones, and tablets as well as Kindle and other ereaders via file transfer, email, and other methods. You get multiple DRM-free formats (.epub and .mobi) for all books!
It's also super easy to give the gift of reading with StoryBundle, thanks to our gift cards – which allow you to send someone a code that they can redeem for any future StoryBundle bundle – and timed delivery, which allows you to control exactly when your recipient will get the gift of StoryBundle.
Why StoryBundle? Here are just a few benefits StoryBundle provides.
Get quality reads: We've chosen works from excellent authors to bundle together in one convenient package.
Pay what you want (minimum $5): You decide how much these fantastic books are worth. If you can only spare a little, that's fine! You'll still get access to a batch of exceptional titles.
Support authors who support DRM-free books: StoryBundle is a platform for authors to get exposure for their works, both for the titles featured in the bundle and for the rest of their catalog. Supporting authors who let you read their books on any device you want—restriction free—will show everyone there's nothing wrong with ditching DRM.
Give to worthy causes: Bundle buyers have a chance to donate a portion of their proceeds to the Challenger Learning Centers for Space Science Education!
Receive extra books: If you beat the bonus price, you'll get the bonus books!
StoryBundle was created to give a platform for independent authors to showcase their work, and a source of quality titles for thirsty readers. StoryBundle works with authors to create bundles of ebooks that can be purchased by readers at their desired price. Before starting StoryBundle, Founder Jason Chen covered technology and software as an editor for Gizmodo.com and Lifehacker.com.
For more information, visit our website at storybundle.com, tweet us at @storybundle and like us on Facebook. For press inquiries, please email press@storybundle.com.