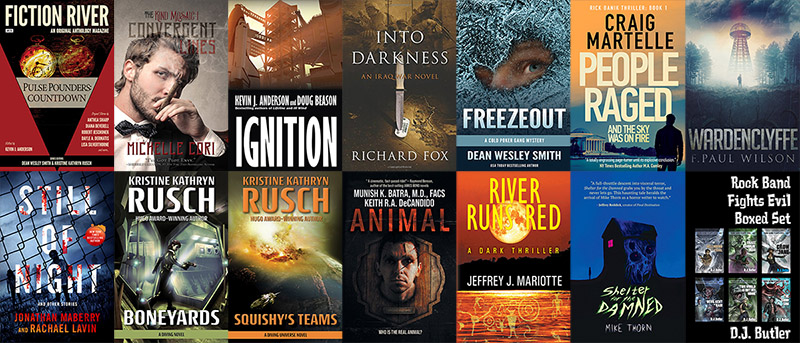 Buckle up your e-reader—the Pulse Pounders Thriller Bundle - Curated by Kevin J. Anderson
Take a breath and hold on. I've curated a new "Pulse Pounders" StoryBundle, 13 action-packed books, plus a bonus, guaranteed to put you on the edge of your reading chair. Thrillers, suspense, action, dark fantasy, adventure—the common denominator is that they are all page turners—all for as little as $15. Name your own price, and the proceeds go to support indie authors and publishers, and a portion goes to support the Challenger Learning Centers.
A few years ago, I edited an anthology series from WMG, Pulse Pounders, and one of those collections is the cornerstone of the bundle, intense stories in a variety of genres. But that's just the start of this batch of excellent books.
D.J. Butler offers an omnibus of six complete novels in his Rock Band Fights Evil series. Heaven doesn't want them. Do they have a chance in Hell? In ANIMAL, Dr. Munish Batra and Keith R.A. DeCandido present an edgy, intense thriller of a serial killer targets those who torture innocent animals—who is the real animal?
New York Times bestselling author Jonathan Maberry and Rachael Lavin take you right into the zombie apocalypse in Still of Night. The dead rose. We fell. But not everyone thinks the war for survival is over. Heroes rise in times of crisis, and these are their stories....
As a StoryBundle special sneak preview, before the book is released anywhere else, we're including Mike Thorn's Shelter for the Damned. While looking for a secret place to smoke cigarettes with his two best friends, troubled teenager Mark discovers a mysterious shack in a suburban field. Alienated from his parents and peers, Mark finds within the shack an escape greater than anything he has ever experienced. But it isn't long before the place begins revealing its strange, powerful sentience. And it wants something in exchange for the shelter it provides.
Wardenclyffe by F. Paul Wilson takes readers into the mind of genius inventor Nikola Tesla, in a 1906 experiment with a giant electrical tower to transmit power worldwide…but Tesla abandoned his experiment. Was it a conspiracy…or a terrifying discovery?
In Jeffrey J. Mariotte's River Runs Red—As teenagers, Molly, Byrd, and Wade faced inconceivable evil in an underground labyrinth on the banks of the Rio Grande. Reunited as adults, they discover that their terrifying experience was only the beginning.
In Craig Martelle's political thriller People Raged and the Sky Was on Fire, a terrorist plotting an attack on Washington DC. stays one step ahead by hiding in plain sight, always there, but never seen. Rick Banik—a patriot for the new age.A race against time. A fight against bureaucracy. A maze of red tape and dots that don't want to be connected. How many people must die for the plot to be uncovered? How many will die if it isn't?
Richard Fox offers a tense Iraq War thriller, Into Darkness. After a deadly ambush in Iraq leaves two soldiers in terrorist hands, intelligence officer Eric Ritter journeys into hostile territory to rescue them.
Turning farther from our normal world, in Michelle Cori's Convergent Lines, human-fae hybrids have existed alongside humanity for thousands of years. With long lives and magic, they shaped the world. Until a curse ...
Dean Wesley Smith shares a Cold Poker Gang novel, Freezeout, and Kristine Kathryn Rusch presents a new Diving Universe novel, Squishy's Teams and a bonus—a previous novel in the series, Boneyards.
That's fourteen books total that will keep your pulse racing, your eyes darting across the sentences, and your imagination engaged. Three weeks only. – Kevin J. Anderson
* * *
For StoryBundle, you decide what price you want to pay. For $5 (or more, if you're feeling generous), you'll get the basic bundle of five books in any ebook format—WORLDWIDE.
Convergent Lines by Michelle Cori
Into Darkness by Richard Fox
Freezeout by Dean Wesley Smith
Pulse Pounders: Countdown by Fiction River
Ignition by Kevin J. Anderson and Doug Beason
If you pay at least the bonus price of just $15, you get all five of the regular books, plus NINE more! That's 14 books total!
People Raged and the Sky Was on Fire by Craig Martelle
Wardenclyffe by F. Paul Wilson
Shelter for the Damned by Mike Thorn (StoryBundle Exclusive)
Still of Night by Jonathan Maberry and Rachael Lavin
Squishy's Teams by Kristine Kathryn Rusch
Boneyards by Kristine Kathryn Rusch
Animal by Munish K. Batra M.D., FACS and Keith R.A. DeCandido
River Runs Red by Jeffrey J. Mariotte
Rock Band Fights Evil 1-6 Boxed Set by D.J. Butler
This bundle is available only for a limited time via http://www.storybundle.com. It allows easy reading on computers, smartphones, and tablets as well as Kindle and other ereaders via file transfer, email, and other methods. You get multiple DRM-free formats (.epub, .mobi) for all books!
It's also super easy to give the gift of reading with StoryBundle, thanks to our gift cards – which allow you to send someone a code that they can redeem for any future StoryBundle bundle – and timed delivery, which allows you to control exactly when your recipient will get the gift of StoryBundle.
Why StoryBundle? Here are just a few benefits StoryBundle provides.
Get quality reads: We've chosen works from excellent authors to bundle together in one convenient package.
Pay what you want (minimum $5): You decide how much these fantastic books are worth. If you can only spare a little, that's fine! You'll still get access to a batch of exceptional titles.
Support authors who support DRM-free books: StoryBundle is a platform for authors to get exposure for their works, both for the titles featured in the bundle and for the rest of their catalog. Supporting authors who let you read their books on any device you want—restriction free—will show everyone there's nothing wrong with ditching DRM.
Give to worthy causes: Bundle buyers have a chance to donate a portion of their proceeds to the Challenger Center for Space Education!
Receive extra books: If you beat the bonus price, you'll get the bonus books!
StoryBundle was created to give a platform for independent authors to showcase their work, and a source of quality titles for thirsty readers. StoryBundle works with authors to create bundles of ebooks that can be purchased by readers at their desired price. Before starting StoryBundle, Founder Jason Chen covered technology and software as an editor for Gizmodo.com and Lifehacker.com.
For more information, visit our website at storybundle.com, tweet us at @storybundle and like us on Facebook. For press inquiries, please email press@storybundle.com.