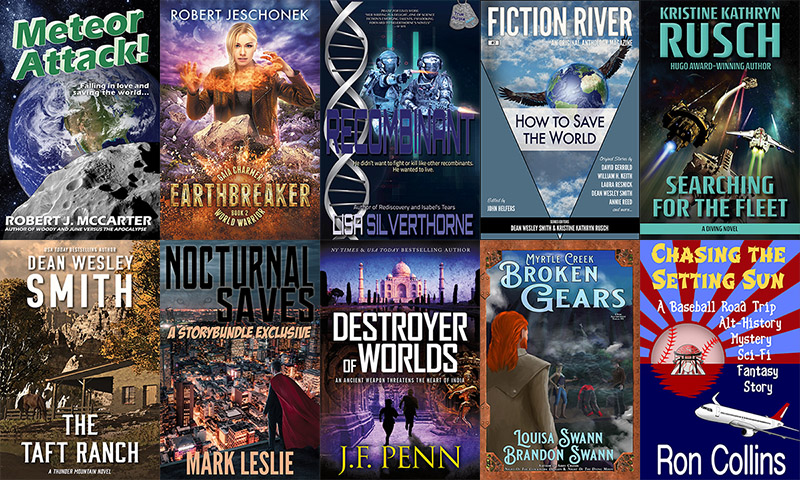 How Many Worlds Can Be Saved?
I set off to put this bundle together with a goal. I wanted to find as many ways as possible to save the world and as many worlds as possible to save. I figured that would be really fun for me to read and I hoped that a lot of you would feel the same.
And what I was lucky enough to end up with is eight novels and two major collections of short stories, all fantastic. And fun.
And on top of that, four of the books in this bundle can ONLY be found in this bundle. That's right, they are exclusive to the bundle.
Louisa Swann, writing with her son, Brandon Swann, gives us an exclusive novel, Broken Gears. A fantastic character blends magic and metal working to solve a town's deepest secret and stop a plot that could destroy the entire world. Combination of mystery and magic and fast-paced action. Can't ask for much more in one book. And you can only get it here.
Lisa Silverthorne also gives us an exclusive novel to this bundle. In Recombinant, she takes us into deep space where a force of Recombinants fights to save Earth. Lisa is a master of many forms of fiction in her novels and short stories, and everything she writes has heart. This exclusive novel, the first of a series, is no exception.
Fabulous bestselling writer and exceptional fiction editor, Mark Leslie, did a story collection just for this StoryBundle. Nocturnal Saves deals with a bunch of ways that the world can be saved, or maybe destroyed, at night. While Louisa Swann gives us mystery and magic, and Lisa Silverthorne gives us science fiction with heart, Mark Leslie is known for his fantastic horror stories and you will love this sampling of his incredible work.
New York Times and USA Today bestselling writer J.F. Penn changes gears for the bundle once again with Destroyer of Worlds. In this fast-paced thriller, an ancient weapon threatens the heart of India. There is no one better at writing fast-paced, edge-of-the-seat stories than J.F. Penn. And I promise that after you read this one, you will look for many more of her books.
Since it has been my desire to really mix-up the different ways to save the world for this bundle, bestselling writer Ron Collins helped me a lot. In Chasing the Setting Sun, he calls the novel "A baseball road trip, alt-history, mystery, sci-fi, fantasy story." And only someone with the writing and storytelling skills of Ron Collins can pull off a book like that, and he does. Wonderfully. Get the bundle just for this wild book. You won't be sorry.
Robert Jeschonek is the bestselling author of more books, comics, and short stories than he can count. One reviewer called him "the love child of Tim Burton and Neil Gaiman." Yup, I agree with that completely. In this novel, Earthbreaker, Robert takes us back to his bestselling series where Gaia Charmer has the power of the entire Earth at her fingertips. And wow, does she use it.
Robert J. McCarter might have one of the most distinctive voices in fiction. And he brings all that fantastic power and strange ways of looking at the world to bear in his novel Meteor Attack! Superheroes falling in love and saving the world. But in Robert's masterful hands, these are not just regular superheroes. And they don't just regularly save the world. Fantastic fun.
Next, I added New York Times bestselling writer Kristine Kathryn Rusch to this all-star bundle. She also has written hundreds of novels, comics, and short stories, but is best known for her award-winning science fiction and her award-winning mystery fiction under her Kris Nelscott name. I talked her into giving the bundle Searching for the Fleet, a stand alone novel smack in the middle of her bestselling Diving Series. I feel very lucky to have this fantastic sf novel in this bundle.
Bestselling writer Dean Wesley Smith (that's me) added The Taft Ranch, a stand-alone novel in his western/time travel Thunder Mountain series. I just didn't have enough of the western genre in this bundle, so couldn't pass it up. I have written around two hundred novels, comics, and more short stories than I can count and there are at least twelve stand alone novels in the Thunder Mountain western/time travel series.
Then, for good measure, I put in the collection from Fiction River that helped name this bundle. Fiction River: How to Save the World is a collection of eleven stories. Kristine Kathryn Rusch, Ron Collins, Lisa Silverthorne and I have stories in the volume and books in this bundle. But the collection also includes stories by David Gerrold, Laura Resnick, Annie Reed, and others. Wonderful reading, all on the topic of Saving the World.
But wait, even after all that, it does get better if you decide to support our fantastic charity AbleGamers.com. I hope you do. There is no better feeling than helping a great cause and then reading a great book.
Or ten. Enjoy.
– Dean Wesley Smith
For StoryBundle, you decide what price you want to pay. For $5 (or more, if you're feeling generous), you'll get the basic bundle of four books in any ebook format—WORLDWIDE.
Earthbreaker by Robert Jeschonek
Meteor Attack! by Robert J. McCarter
Recombinant by Lisa Silverthorne
How to Save the World by Fiction River
If you pay at least the bonus price of just $15, you get all four of the regular books, plus SIX more books!
Chasing the Setting Sun by Ron Collins
Nocturnal Saves by Mark Leslie
Broken Gears by Louisa Swann
Searching for the Fleet by Kristine Kathryn Rusch
Destroyer of Worlds by J.F. Penn
The Taft Ranch by Dean Wesley Smith
This bundle is available only for a limited time via http://www.storybundle.com. It allows easy reading on computers, smartphones, and tablets as well as Kindle and other ereaders via file transfer, email, and other methods. You get multiple DRM-free formats (.epub and .mobi) for all books!
It's also super easy to give the gift of reading with StoryBundle, thanks to our gift cards – which allow you to send someone a code that they can redeem for any future StoryBundle bundle – and timed delivery, which allows you to control exactly when your recipient will get the gift of StoryBundle.
Why StoryBundle? Here are just a few benefits StoryBundle provides.
Get quality reads: We've chosen works from excellent authors to bundle together in one convenient package.
Pay what you want (minimum $5): You decide how much these fantastic books are worth. If you can only spare a little, that's fine! You'll still get access to a batch of exceptional titles.
Support authors who support DRM-free books: StoryBundle is a platform for authors to get exposure for their works, both for the titles featured in the bundle and for the rest of their catalog. Supporting authors who let you read their books on any device you want—restriction free—will show everyone there's nothing wrong with ditching DRM.
Give to worthy causes: Bundle buyers have a chance to donate a portion of their proceeds to AbleGamers!
Receive extra books: If you beat the bonus price, you'll get the bonus books!
StoryBundle was created to give a platform for independent authors to showcase their work, and a source of quality titles for thirsty readers. StoryBundle works with authors to create bundles of ebooks that can be purchased by readers at their desired price. Before starting StoryBundle, Founder Jason Chen covered technology and software as an editor for Gizmodo.com and Lifehacker.com.
For more information, visit our website at storybundle.com, tweet us at @storybundle and like us on Facebook. For press inquiries, please email press@storybundle.com.