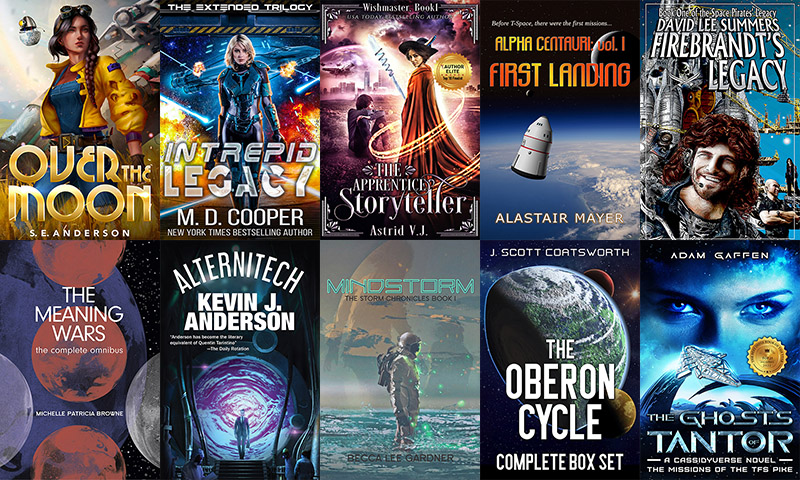 The Sci-Fi Exploration Bundle - Curated by Adam Gaffen
Exploration.
It's hardwired into humanity's genes.
As far back into history you want to go, there have always been people who want to push the boundaries of what we know. Whether that was looking to the stars and wondering where those twinkling lights came from, or what was across that intimidating-looking ocean, or what the purpose of all that red stuff inside the human body, the questions never seemed to end.
That spirit of exploration has never stopped. It's alive today, as we push boundaries in space, on the planet, and into the dreams of cyberspace.
We've gathered ten notable authors to give you their takes on where humanity's endless curiosity might take us.
Come with us as our voyage of exploration begins!
"Imagination will often carry us to worlds that never were, but without it we go nowhere." - Carl Sagan
Here's a FEW of the books in this bundle!
OVER THE MOON
Ding Dong, the Technowitch is dead.
As an illegal clone of the murdered galactic princess, Dora's face would get her killed the minute she steps off her dull farming moon. She spends her days tinkering with gadgets and gears, with Tau, her kitchen-timer-bot, for company. But when forces close in and threaten her family, her escape attempt lands her deep in the Outer Zone — and on top of the Technowitch of Night, crushing her in the process.
Now a fugitive in two solar systems, Dora's only chance of survival is to find her way to the mysterious Technomage on his Emerald moon. In a place where science has advanced to be indistinguishable from magic, she must accept the help of an unlikely trio: a cryogenically preserved girl with no memory, an obsolete theme park droid, and a bioengineered beast with a penchant for the dramatic.
As Dora realizes there's more to the princess's death than what the universe has been told, she must choose — save her family, or risk everything to right a centuries-old wrong.
INTREPID LEGACY
Right after she finishes her BLT, disgraced Major Tanis Richards is off to save the day one more time.
Tanis is looking forward to a long journey in stasis before arriving at the newly terraformed world of New Eden. New Life. New Start. Getting a berth on the Intrepid is her ticket out of the Sol System.
But nothing proves easy for Major Tanis Richards. Nothing is at it seems. What should be a simple trip is fraught with danger and filled with adventure. An array of forces seek to stop the Intrepid—no matter the cost, or lives lost. From competing corporations, to stellar eco-terrorists, no one wants the Intrepid to arrive at New Eden.
Through their journey, the crew of the Intrepid will face rival stellar governments, civil war, and the most wanted serial killer known to the galaxy. Pivoting their role from colonists to saviors.
Perhaps it's because the Intrepid carries the most valuable secret known to humanity. Or maybe it's just Tanis's luck.
ALTERNITECH
"Alternitech" is a company that sends prospectors into alternate but similar timelines where tiny differences yield significant changes: a world where the Beatles never broke up, or where Lee Harvey Oswald wasn't gunned down after the Kennedy assassination, where an accidental medical breakthrough offers the cure to a certain disease, where a struggling author really did write the great American novel, or where a freak accident reveals the existence of a serial killer. Alternitech finds those differences—and profits from them.
THE GHOSTS OF TANTOR
They think they're ready for this mission. They're wrong.
The Terran Federation is finally at peace and ready to begin serious exploration. The TFS Pike is the newest ship in the Fleet, purpose-built for deep space missions. Four kilometers long, with a crew of four thousand, she's well-equipped for the years ahead. If only the crew was as prepared.
Ensign Nicole Crozier, the former Premier of the Luna Free State, has left politics behind to pursue a career in the Fleet. But her stint as the Artemis Minister of War has landed her in Tactical instead of Science, her passion, and she's not happy about it.
Everything changes when Nicole discovers a rogue planet, and she's given command of the landing party. On the surface, an ancient alien artifact emerges from the ice. As Nicole and her team explore the interior, the planet and her team vanish. The crew of the Pike must use all the tricks and tools available to get their missing people back.
When they finally do, Nicole brings aboard a discovery which could change the course of history.
Or end it.
If you're a fan of Star Trek: Voyager, Battlestar Galactica 2003, Interstellar, or 2001: A Space Odyssey, then this is for you.
All these books - and six more! - available for you in the Exploration StoryBundle.
But don't delay! This bundle has places to be, and once it leaves orbit, it's gone for good! – Adam Gaffen
* * *
For StoryBundle, you decide what price you want to pay. For $5 (or more, if you're feeling generous), you'll get the basic bundle of four books in .epub format—WORLDWIDE.
Over the Moon by S.E. Anderson
Intrepid Legacy - The Extended Trilogy by M. D. Cooper
The Apprentice Storyteller by Astrid V.J.
Alpha Centauri: Vol. 1 - First Landing by Alastair Mayer
If you pay at least the bonus price of just $20, you get all four of the regular books, plus six more books for a total of 10!
Firebrandt's Legacy by David Lee Summers
The Meaning Wars by Michelle Patricia Browne
Alternitech by Kevin J. Anderson
The Oberon Cycle - Complete Box Set by J. Scott Coatsworth
Mindstorm by Becca Lee Gardner
The Ghosts of Tantor by Adam Gaffen
This bundle is available only for a limited time via http://www.storybundle.com. It allows easy reading on computers, smartphones, and tablets as well as Kindle and other ereaders via file transfer, email, and other methods. You get a DRM-free .epub for all books!
It's also super easy to give the gift of reading with StoryBundle, thanks to our gift cards – which allow you to send someone a code that they can redeem for any future StoryBundle bundle – and timed delivery, which allows you to control exactly when your recipient will get the gift of StoryBundle.
Why StoryBundle? Here are just a few benefits StoryBundle provides.
Get quality reads: We've chosen works from excellent authors to bundle together in one convenient package.
Pay what you want (minimum $5): You decide how much these fantastic books are worth. If you can only spare a little, that's fine! You'll still get access to a batch of exceptional titles.
Support authors who support DRM-free books: StoryBundle is a platform for authors to get exposure for their works, both for the titles featured in the bundle and for the rest of their catalog. Supporting authors who let you read their books on any device you want—restriction free—will show everyone there's nothing wrong with ditching DRM.
Give to worthy causes: Bundle buyers have a chance to donate a portion of their proceeds to Mighty Writers!
Receive extra books: If you beat the bonus price, you'll get the bonus books!
StoryBundle was created to give a platform for independent authors to showcase their work, and a source of quality titles for thirsty readers. StoryBundle works with authors to create bundles of ebooks that can be purchased by readers at their desired price. Before starting StoryBundle, Founder Jason Chen covered technology and software as an editor for Gizmodo.com and Lifehacker.com.
For more information, visit our website at storybundle.com, tweet us at @storybundle and like us on Facebook. For press inquiries, please email press@storybundle.com.