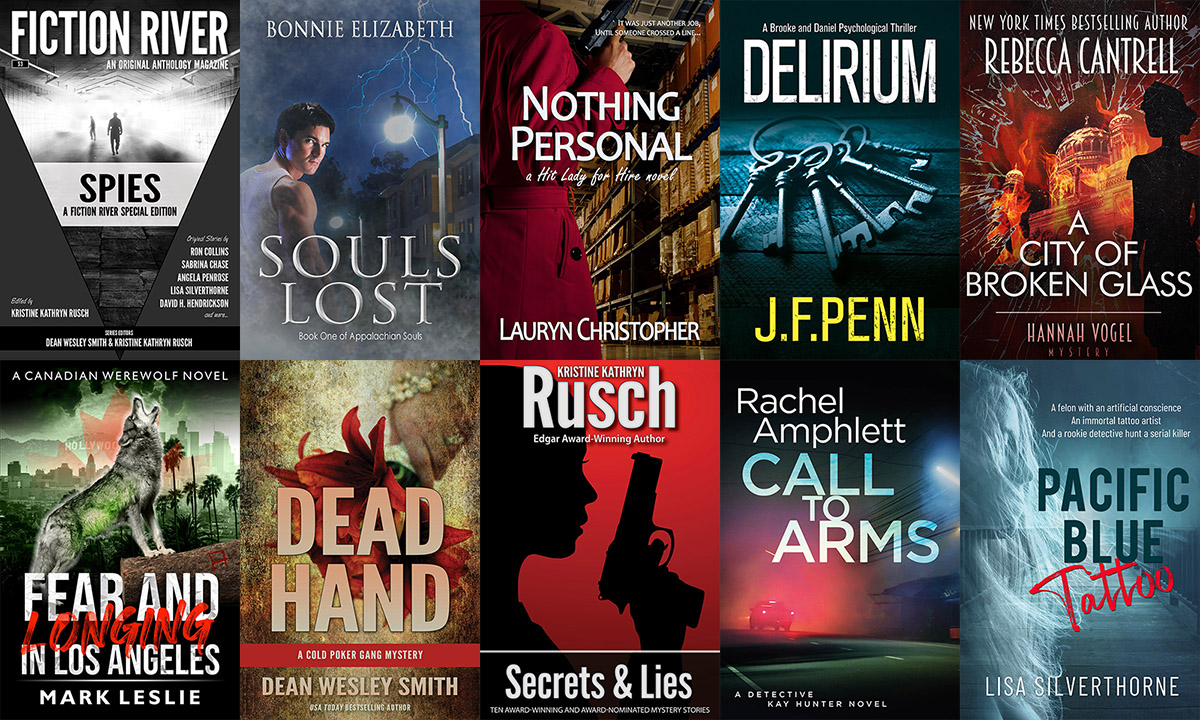 The Secrets & Lies Bundle - Curated by Kristine Kathryn Rusch
Want me to pick up a book? Put the word "secret" on the cover. Secret histories, secret lives, or heck, just the word "secrets" by itself. I love secrets. Secrets imply something slightly nefarious, something untoward, something that must be kept hidden for the good of the individual, the club, the country, or even the world.
Most crime stories have a secret at their heart. My favorite crime stories have ancient secrets, secrets that someone tried to keep hidden for a lifetime.
Usually with a lie.
When lies unravel, when secrets unravel, well, then people unravel, and that often leads to murder most foul. Or at least a great screaming fight.
I had two criteria when I asked writers into this bundle. The first was that they had a crime story for me. The second was that the book had a secret or a lie at its core. Most of the writers came back to me with more than one choice of book because, hey, y'know, secrets and lies make for great crime fiction.
A few of the books have a large paranormal element. A few have a minor paranormal element, and many have no paranormal element at all. But the crime has to be front and center, which it most certainly is in all of these books.
The other nifty thing about secrets and lies? They're like rocket fuel to any novel that includes them. The readers speed through the text, heading straight for the reveal, knowing it'll be dangerous, but wondering just how dangerous it will be.
Each one of these books will keep you reading late into the night.
And…on your way to some great reading, please throw a few dollars at our charity. Because our authors come from England and Canada and Australia and the U.S., we chose a charity that responds to disasters around the world.
All of 2020 was a disaster, particularly for people doing their best to feed their families. Restaurants also got hard hit, and restaurant workers found themselves unable to afford food rather than serving it. Our charity, World Central Kitchen, provides food to people in need and provides support to restaurants here in the U.S. It also a network that aspires to create food resilience around the world.
So, please, when you pick up your books, designate a few dollars to World Central Kitchen. You'll be feeding families while you enjoy some spectacular entertainment.
Thanks! – Kristine Kathryn Rusch
* * *
For StoryBundle, you decide what price you want to pay. For $5 (or more, if you're feeling generous), you'll get the basic bundle of four books in any ebook format—WORLDWIDE.
Spies - Special Edition by Fiction River
Nothing Personal by Lauryn Christopher
Delirium by J.F. Penn
Souls Lost by Bonnie Elizabeth
If you pay at least the bonus price of just $15, you get all four of the regular books, plus SIX more! That's 10 books total!
A City of Broken Glass by Rebecca Cantrell
Dead Hand by Dean Wesley Smith
Secrets & Lies by Kristine Kathryn Rusch
Call to Arms by Rachel Amphlett
Fear and Longing in Los Angeles by Mark Leslie
Pacific Blue Tattoo by Lisa Silverthorne (StoryBundle Exclusive)
This bundle is available only for a limited time via http://www.storybundle.com. It allows easy reading on computers, smartphones, and tablets as well as Kindle and other ereaders via file transfer, email, and other methods. You get multiple DRM-free formats (.epub, .mobi) for all books!
It's also super easy to give the gift of reading with StoryBundle, thanks to our gift cards – which allow you to send someone a code that they can redeem for any future StoryBundle bundle – and timed delivery, which allows you to control exactly when your recipient will get the gift of StoryBundle.
Why StoryBundle? Here are just a few benefits StoryBundle provides.
Get quality reads: We've chosen works from excellent authors to bundle together in one convenient package.
Pay what you want (minimum $5): You decide how much these fantastic books are worth. If you can only spare a little, that's fine! You'll still get access to a batch of exceptional titles.
Support authors who support DRM-free books: StoryBundle is a platform for authors to get exposure for their works, both for the titles featured in the bundle and for the rest of their catalog. Supporting authors who let you read their books on any device you want—restriction free—will show everyone there's nothing wrong with ditching DRM.
Give to worthy causes: Bundle buyers have a chance to donate a portion of their proceeds to World Central Kitchen!
Receive extra books: If you beat the bonus price, you'll get the bonus books!
StoryBundle was created to give a platform for independent authors to showcase their work, and a source of quality titles for thirsty readers. StoryBundle works with authors to create bundles of ebooks that can be purchased by readers at their desired price. Before starting StoryBundle, Founder Jason Chen covered technology and software as an editor for Gizmodo.com and Lifehacker.com.
For more information, visit our website at storybundle.com, tweet us at @storybundle and like us on Facebook. For press inquiries, please email press@storybundle.com.