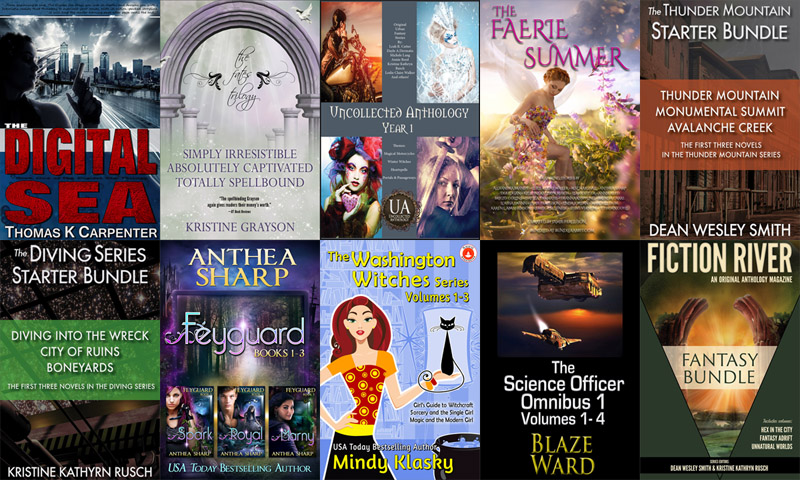 The SF&F Binge Reader Bundle - Curated by Kristine Kathryn Rusch
Binge readers! You wanted summer reading, right? You hate the sixty seconds it takes to download the next book in a series you just discovered. You want to turn the virtual page and get back into the story.
Well, then, do I have a deal for you. A bundle of bundles. Here's your summer reading in one gigantic package, wrapped in a virtual bow.
Okay. There's no bow, no wrapping. Just a wealth of great fiction.
Usually, StoryBundle provides bundles of books, individual titles by individual authors who band together to provide a great reading bundle.
This time, individual authors and editors have banded together with bundled books to give you the deal of the summer.
By my count (and I might be a bit math-challenged), you get 19 standalone novels in this bundle. Some of the novels are long, and some of them are short. But 19 novels! Plus more short stories than I'm willing to count, wrapped in 7 anthologies and a gigantic bundle that is bigger than your average anthology.
What kind of fiction will you find here? Science fiction and fantasy only, but written in such a way as to blur the lines of genre. You'll find books in which high-tech gaming meets the world of faerie, books which hack reality (and involve crime lords!), time travel to the Old West, wreck diving in space, space pirates (!), librarian witches (complete with feline familiars), and the Fates—who just got fired.
And that's just the novels. The short stories cover the entire fantasy genre (with a bit of sf). They take us back to fairie, give us great urban fantasy, (sometimes on motorcycles), and provide a short introduction to some of the best writers working today, including Seanan McGuire, Dave Farland, Jane Yolen, and Esther M. Friesner.
The bundles also form mini bundles of their own. If you like adventurous science fiction, start with these bundles: The Science Officer Omnibus, and The Diving Series Starter Bundle. If you had a tough few months and want books that will make you smile, start with The Washington Witches, The Thunder Mountain Series Starter Kit, and The Fates Trilogy. If you want to focus on gaming or the digital universe, try The Digital Sea Trilogy and The Feyguard Books. And if you're in a short story mood, we have the Fiction River Fantasy Bundle, the first year of the acclaimed Uncollected Anthology, and Faerie Summer.
I've been excited about this bundle since I came up with the idea months ago. If you like science fiction and fantasy, if you love binge reading, if you like discovering the best writers working in the genre today, then this is the bundle for you.
And one last thing. We always bundle in a charity, so you have the option of giving a few dollars to a worthy cause. This bundle's worthy cause is Able Gamers. (I figured it was a good fit, considering our books cover high-tech gaming and a digital sea.) Able Gamers helps people with disabilities participate in the world of high tech gaming, by customizing equipment. Gaming has become one of the most social activities in our world, and this enables everyone to participate.
If you buy this bundle, you're saving more than a hundred dollars on your book habit. So toss a few of those dollars at Able Gamers on the way out the door.
Thanks for bundling with us—and enjoy! (I know I will.) – Kristine Kathryn Rusch
The initial titles in the Bundle Bundle (minimum $5 to purchase) are:
The Digital Sea Complete Box Set by Thomas K. Carpenter
Uncollected Anthology: Year 1 by Uncollected Anthology
The Fates Trilogy by Kristine Grayson
The Faerie Summer Bundle by Jamie Ferguson
If you pay more than the bonus price of just $15, you get all four of the regular titles, plus SIX more!
The Washington Witches Series, Volumes 1-3 by Mindy Klasky
The Diving Series Starter Bundle by Kristine Kathryn Rusch
Fantasy Bundle by Fiction River
The Thunder Mountain Starter Bundle by Dean Wesley Smith
The Science Officer Omnibus 1 - Volumes 1-4 by Blaze Ward
Feyguard Books 1-3 by Anthea Sharp
This bundle is available only for a limited time via http://www.storybundle.com. It allows easy reading on computers, smartphones, and tablets as well as Kindle and other ereaders via file transfer, email, and other methods. You get multiple DRM-free formats (.epub and .mobi) for all books!
It's also super easy to give the gift of reading with StoryBundle, thanks to our gift cards – which allow you to send someone a code that they can redeem for any future StoryBundle bundle – and timed delivery, which allows you to control exactly when your recipient will get the gift of StoryBundle.
Why StoryBundle? Here are just a few benefits StoryBundle provides.
Get quality reads: We've chosen works from excellent authors to bundle together in one convenient package.
Pay what you want (minimum $5): You decide how much these fantastic books are worth. If you can only spare a little, that's fine! You'll still get access to a batch of exceptional titles.
Support authors who support DRM-free books: StoryBundle is a platform for authors to get exposure for their works, both for the titles featured in the bundle and for the rest of their catalog. Supporting authors who let you read their books on any device you want—restriction free—will show everyone there's nothing wrong with ditching DRM.
Give to worthy causes: Bundle buyers have a chance to donate a portion of their proceeds to AbleGamers
Receive extra books: If you beat the bonus price, you'll get the bonus books!
StoryBundle was created to give a platform for independent authors to showcase their work, and a source of quality titles for thirsty readers. StoryBundle works with authors to create bundles of ebooks that can be purchased by readers at their desired price. Before starting StoryBundle, Founder Jason Chen covered technology and software as an editor for Gizmodo.com and Lifehacker.com.
For more information, visit our website at storybundle.com, tweet us at @storybundle and like us on Facebook. For press inquiries, please email press@storybundle.com.