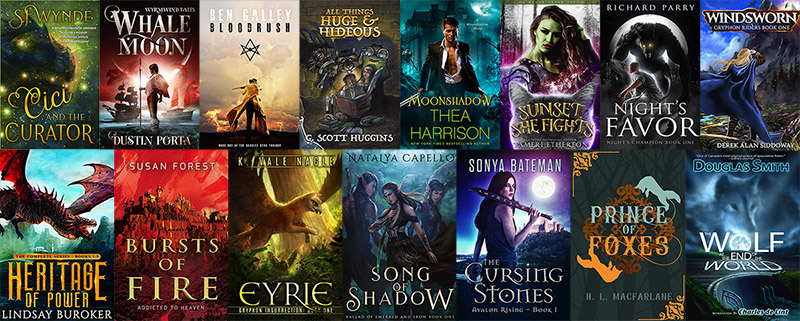 The SFWA Fantastic Beasts Bundle
Throughout human history, the creatures of myth have always been with us. From the gryphon's embodiment of nobility to the world-devouring snake that coils beneath the world till the end times, these beasts embody our hopes and fears. In these uncertain times, we need their strength, whether the great dragon is an obstacle to conquer or a friend to ride into battle. However they are used, they are the stars of this bundle, The Fantastic Beasts.
SFWA is an organization dedicated to promoting and supporting science fiction and fantasy writers in the United States and worldwide. The Fantastic Beasts bundle was curated by SFWA members, presenting the works of fifteen different authors as they take on the theme in many different ways.
The bundle includes: Moonshadow, the first book in the three-part series by USA TODAY and New York Times bestselling author Thea Harrison; The Heritage of Power series (Books 1-5) by Amazon bestselling author Lindsay Buroker; and Bloodrush, part one of the bestselling Scarlet Star series by Ben Galley, among many others.
* * *
For StoryBundle, you decide what price you want to pay. For $5 (or more, if you're feeling generous), you'll get the basic bundle of five books in any ebook format—WORLDWIDE.
Moonshadow by Thea Harrison
Cici and the Curator by S. J. Wynde
All Things Huge and Hideous by G. Scott Huggins
Whalemoon by Dustin Porta
Bloodrush by Ben Galley
If you pay at least the bonus price of just $15, you get all five of the regular books, plus TEN more more books, for a total of fifteen!
Eyrie by K. Vale Nagle
Sunset, She Fights by Tameri Etherton
Bursts of Fire by Susan Forest
The Cursing Stones by Sonya Bateman
Night's Favor by Richard Parry
Song of Shadow by Natalya Capello
Heritage of Power - The Complete Series Books 1-5 by Lindsay Buroker
Prince of Foxes by H. L. Macfarlane
The Wolf at the End of the World by Douglas Smith
Windsworn by Derek Alan Siddoway
This bundle is available only for a limited time via http://www.storybundle.com. It allows easy reading on computers, smartphones, and tablets as well as Kindle and other ereaders via file transfer, email, and other methods. You get multiple DRM-free formats (.epub, .mobi) for all books!
It's also super easy to give the gift of reading with StoryBundle, thanks to our gift cards – which allow you to send someone a code that they can redeem for any future StoryBundle bundle – and timed delivery, which allows you to control exactly when your recipient will get the gift of StoryBundle.
Why StoryBundle? Here are just a few benefits StoryBundle provides.
Get quality reads: We've chosen works from excellent authors to bundle together in one convenient package.
Pay what you want (minimum $5): You decide how much these fantastic books are worth. If you can only spare a little, that's fine! You'll still get access to a batch of exceptional titles.
Support authors who support DRM-free books: StoryBundle is a platform for authors to get exposure for their works, both for the titles featured in the bundle and for the rest of their catalog. Supporting authors who let you read their books on any device you want—restriction free—will show everyone there's nothing wrong with ditching DRM.
Give to worthy causes: Bundle buyers have a chance to donate a portion of their proceeds to the Science Fiction and Fantasy Writers of America!
Receive extra books: If you beat the bonus price, you'll get the bonus books!
StoryBundle was created to give a platform for independent authors to showcase their work, and a source of quality titles for thirsty readers. StoryBundle works with authors to create bundles of ebooks that can be purchased by readers at their desired price. Before starting StoryBundle, Founder Jason Chen covered technology and software as an editor for Gizmodo.com and Lifehacker.com.
For more information, visit our website at storybundle.com, tweet us at @storybundle and like us on Facebook. For press inquiries, please email press@storybundle.com.