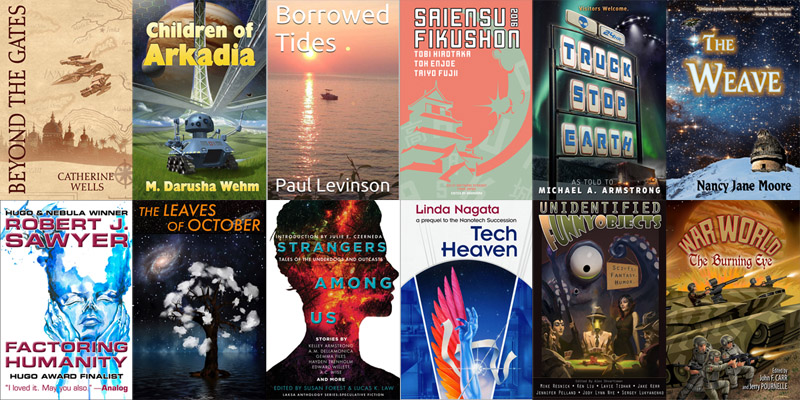 The SFWA Science Fiction Bundle - Curated by Cat Rambo
I am so pleased to present the first ever SFWA-focused StoryBundle. The idea for it has been hovering in my head for a several years but it was only last year that we finally had the contacts and volunteer structure to actually enact it. Last year I asked SFWA members to send in their science fiction and fantasy works for consideration in the bundles, and the enthusiastic response to that call let me assemble this awesome bundle as well as a second one, this time with a fantasy focus, for later this year. Midway through this year, we'll open up the call for applications for the 2018 bundles.
If you're curious about other SFWA offerings, sign up for our quarterly newsletter, which features new and backlist releases from our members in the area of fiction, games, and other offerings.
One reason I've pushed this StoryBundle along is because it's a program that works well for our small press and independently published members, whose market agility allows them to make full use of the bundle. The membership voted to accept these new members in 2015 and one of the challenges was making sure SFWA served their needs. They've added immense enthusiasm and knowledge to our hive mind, and it's great to have a way that helps them promote their work while also supporting the organization's Givers Fund, which gives grants each year to encourage and promote fantasy and science fiction writing, including organizations such as the the African Speculative Fiction Society, Alpha Workshop, Clarion and Clarion West, and Launchpad.
If you're unfamiliar with the Science Fiction and Fantasy Writers of America, it's over 50 years old, and has a membership of professional writers and publishing professionals from around the globe. It administers the Nebula Awards each year. If you're in the Pittsburgh area, stop by the mass autographing session on the evening of May 19, which will feature (literally) dozens of authors, including many authors on this year's ballot and SFWA's latest Grand Master, Jane Yolen. Check out the SFWA website at sfwa.org for information on genre writing, the field, and other services. – Cat Rambo
The initial titles in the SFWA Science Fiction Bundle (minimum $5 to purchase) are:
Saiensu Fikushon 2016 by TOBI Hirotaka, Toh Enjoe and Taiyo Fujii
Borrowed Tides by Paul Levinson
The Weave by Nancy Jane Moore
Truck Stop Earth by Michael A. Armstrong
Children of Arkadia by M. Darusha Wehm
Beyond the Gates by Catherine Wells
If you pay more than the bonus price of just $15, you get all six of the regular titles, plus SIX more!
Unidentified Funny Objects by Alex Shvartsman
Factoring Humanity by Robert J. Sawyer
Strangers Among Us by Susan Forest and Lucas K. Law
Tech Heaven by Linda Nagata
The Burning Eye by John F. Carr
The Leaves of October by Don Sakers
This bundle is available only for a limited time via http://www.storybundle.com. It allows easy reading on computers, smartphones, and tablets as well as Kindle and other ereaders via file transfer, email, and other methods. You get multiple DRM-free formats (.epub and .mobi) for all books!
It's also super easy to give the gift of reading with StoryBundle, thanks to our gift cards – which allow you to send someone a code that they can redeem for any future StoryBundle bundle – and timed delivery, which allows you to control exactly when your recipient will get the gift of StoryBundle.
Why StoryBundle? Here are just a few benefits StoryBundle provides.
Get quality reads: We've chosen works from excellent authors to bundle together in one convenient package.
Pay what you want (minimum $5): You decide how much these fantastic books are worth. If you can only spare a little, that's fine! You'll still get access to a batch of exceptional titles.
Support authors who support DRM-free books: StoryBundle is a platform for authors to get exposure for their works, both for the titles featured in the bundle and for the rest of their catalog. Supporting authors who let you read their books on any device you want—restriction free—will show everyone there's nothing wrong with ditching DRM.
Give to worthy causes: Bundle buyers have a chance to donate a portion of their proceeds to The Science Fiction and Fantasy Writers of America!
Receive extra books: If you beat the bonus price, you'll get the bonus books!
StoryBundle was created to give a platform for independent authors to showcase their work, and a source of quality titles for thirsty readers. StoryBundle works with authors to create bundles of ebooks that can be purchased by readers at their desired price. Before starting StoryBundle, Founder Jason Chen covered technology and software as an editor for Gizmodo.com and Lifehacker.com.
For more information, visit our website at storybundle.com, tweet us at @storybundle and like us on Facebook. For press inquiries, please email press@storybundle.com.