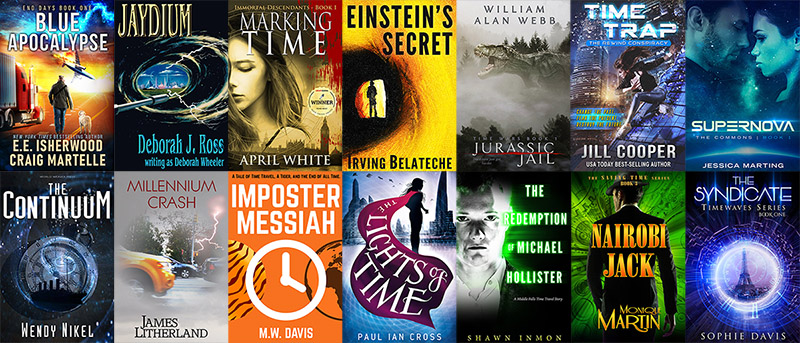 A Matter of Time Bundle - Curated by the Science Fiction and Fantasy Writers of America
What better way to forget about the present than by exploring the past and future? Ever since H.G. Wells turned the dials on his famous machine, time travel has been a staple of science fiction, and the Science Fiction and Fantasy Writers of America's A Matter of Time StoryBundle continues this rich tradition by presenting fourteen temporally vibrant novels by both bestselling authors and rising stars.
SFWA is an organization dedicated to promoting and supporting science fiction and fantasy writers in the United States and elsewhere. The A Matter of Time bundle was curated by SFWA members to showcase the incredible range of thought-provoking stories that can be explored through the conceit of time travel, from adventures in the distant past to the far future.
And the bundle also includes Blue Apocalypse, the first book in a new series by New York Times bestselling author Craig Martelle, Time Trap by USA Today Bestselling author Jill Cooper, and Nairobi Jack by Monique Martin, among many others. The A Matter of Time bundle will run for three weeks only. This is a terrific way to sample a wide variety of stories and discover great new writers!
For StoryBundle, you decide what price you want to pay. For $5 (or more, if you're feeling generous), you'll get the basic bundle of five books in any ebook format—WORLDWIDE.
Jurassic Jail - Time Wars Book 1 by William Alan Webb
Einstein's Secret by Irving Belateche
Jaydium by Deborah J. Ross
Blue Apocalypse - End Days Book 1 by E.E. Isherwood and Craig Martelle
Marking Time - Immortal Descendants Book 1 by April White
If you pay at least the bonus price of just $15, you get all five of the regular books, plus NINE more!
The Continuum by Wendy Nikel
The Syndicate - Timewaves Series Book 1 by Sophie Davis
The Redemption of Michael Hollister by Shawn Inmon
The Lights of Time by Paul Ian Cross
Nairobi Jack by Monique Martin
Imposter Messiah by M.W. Davis
Time Trap by Jill Cooper
Supernova - The Commons Book 1 by Jessica Marting
Millennium Crash by James Litherland
This bundle is available only for a limited time via http://www.storybundle.com. It allows easy reading on computers, smartphones, and tablets as well as Kindle and other ereaders via file transfer, email, and other methods. You get multiple DRM-free formats (.epub and .mobi) for all books!
It's also super easy to give the gift of reading with StoryBundle, thanks to our gift cards – which allow you to send someone a code that they can redeem for any future StoryBundle bundle – and timed delivery, which allows you to control exactly when your recipient will get the gift of StoryBundle.
Why StoryBundle? Here are just a few benefits StoryBundle provides.
Get quality reads: We've chosen works from excellent authors to bundle together in one convenient package.
Pay what you want (minimum $5): You decide how much these fantastic books are worth. If you can only spare a little, that's fine! You'll still get access to a batch of exceptional titles.
Support authors who support DRM-free books: StoryBundle is a platform for authors to get exposure for their works, both for the titles featured in the bundle and for the rest of their catalog. Supporting authors who let you read their books on any device you want—restriction free—will show everyone there's nothing wrong with ditching DRM.
Give to worthy causes: Bundle buyers have a chance to donate a portion of their proceeds to The Science Fiction and Fantasy Writers of America!
Receive extra books: If you beat the bonus price, you'll get the bonus books!
StoryBundle was created to give a platform for independent authors to showcase their work, and a source of quality titles for thirsty readers. StoryBundle works with authors to create bundles of ebooks that can be purchased by readers at their desired price. Before starting StoryBundle, Founder Jason Chen covered technology and software as an editor for Gizmodo.com and Lifehacker.com.
For more information, visit our website at storybundle.com, tweet us at @storybundle and like us on Facebook. For press inquiries, please email press@storybundle.com.