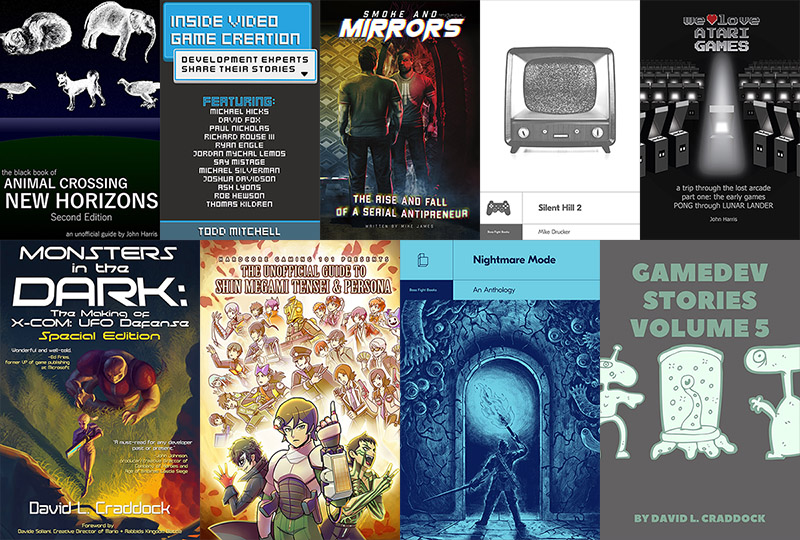 The Snowed In Game Bundle - Curated by David L. Craddock
For some of us, winter means snow storms that leave our vehicles buried beneath mounds of snow and ice, or months of rain. For all of us—for you—winter means the arrival of the Snowed In Game Bundle, 9 books to read from under the comfort of your coziest blanket and with a mug of hot cocoa in hand.
Boss Fight Books author Mike Drucker claws through the mists surrounding the development and cult status of Silent Hill 2. Mike James recounts the story of the ill-fated Coleco Chameleon console and its troubled creator. Prolific games writer John Harris plumbs the depths of Atari Games' catalog in the FIRST of a three-part series, and gaming historian David L. Craddock offers the EXCLUSIVE digital special edition of Monsters in the Dark: The Making of X-COM: UFO Defense, which includes bonus interviews following the author's narrative of legendary game designer Julian Gollop's early career.
All that, plus interviews with indie and triple-A developers, plus a deep dive into the history of Atari's canceled coin-op games, a collection of lost chapters and essays by Boss Fight Books authors including Alyse Knorr and Chris Kohler, an exploration of the Persona and Megami Tensei franchises, and more.
StoryBundle is a pay-what-you-want platform for independent authors to share their works with readers (and gamers) like you. Paying at least $5 will get you three books from the Snowed In Game Bundle, while paying $15 or more unlocks all six bonus books for a total of nine! – David L. Craddock
* * *
For StoryBundle, you decide what price you want to pay. For $5 (or more, if you're feeling generous), you'll get the basic bundle of three books in any ebook format—WORLDWIDE.
Inside Video Game Creation by Todd Mitchell
Smoke and Mirrors - The Rise and Fall of a Serial Antipreneur by Mike James
The Black Book of Animal Crossing New Horizons: Second Edition by John Harris
If you pay at least the bonus price of just $15, you get all three of the regular books, plus SIX more books, for a total of 9, including three StoryBundle-exclusives not found anywhere else!
The Unofficial Guide to Shin Megami Tensei and Persona by Kurt Kalata
We Love Atari Games: Part 1 by John Harris (StoryBundle Exclusive)
GameDev Stories: Volume 5 by David L. Craddock (StoryBundle Exclusive)
Monsters in the Dark: The Making of X-COM by David L. Craddock (StoryBundle Exclusive)
Boss Fight Books: Nightmare Mode by Gabe Durham and Michael P. Williams
Boss Fight Books: Silent Hill 2 by Mike Drucker
This bundle is available only for a limited time via http://www.storybundle.com. It allows easy reading on computers, smartphones, and tablets as well as Kindle and other ereaders via file transfer, email, and other methods. You get multiple DRM-free formats (.epub, .mobi) for all books!
It's also super easy to give the gift of reading with StoryBundle, thanks to our gift cards – which allow you to send someone a code that they can redeem for any future StoryBundle bundle – and timed delivery, which allows you to control exactly when your recipient will get the gift of StoryBundle.
StoryBundle is pleased to partner with Women in Games, a nonprofit founded for the purpose of fostering equality and diversity in the gaming industry. Per womeningames.org, the organization seeks "to establish a gaming industry, culture and community free from discrimination, where full equity of opportunity, treatment and conditions empowers all girls and women, from all ethnicities, of all orientations, to achieve their full potential in the games and esports industries." For more information visit https://www.womeningames.org/.
Why StoryBundle? Here are just a few benefits StoryBundle provides.
Get quality reads: We've chosen works from excellent authors to bundle together in one convenient package.
Pay what you want (minimum $5): You decide how much these fantastic books are worth. If you can only spare a little, that's fine! You'll still get access to a batch of exceptional titles.
Support authors who support DRM-free books: StoryBundle is a platform for authors to get exposure for their works, both for the titles featured in the bundle and for the rest of their catalog. Supporting authors who let you read their books on any device you want—restriction free—will show everyone there's nothing wrong with ditching DRM.
Give to worthy causes: Bundle buyers have a chance to donate a portion of their proceeds to Women in Games!
Receive extra books: If you beat the bonus price, you'll get the bonus books!
StoryBundle was created to give a platform for independent authors to showcase their work, and a source of quality titles for thirsty readers. StoryBundle works with authors to create bundles of ebooks that can be purchased by readers at their desired price. Before starting StoryBundle, Founder Jason Chen covered technology and software as an editor for Gizmodo.com and Lifehacker.com.
For more information, visit our website at storybundle.com, tweet us at @storybundle and like us on Facebook. For press inquiries, please email press@storybundle.com.